7 Copywriting Frameworks That Sell More
Why learn about copywriting frameworks?
Because their formulas are proven to sell.
It's that simple!
Have you ever wondered why some people seem to be able to sell anything? It's like they don't even need to try.
They can start a business from scratch and grow it into a multi-million dollar empire.
They can promote their products with charisma, confidence and a smile on their face.
And they always make it look easy!
It's not because they're smarter or better than you…
It's because they've learned how to use copywriting frameworks and principles that are time tested and proven to drive sales.
The same copywriting frameworks and formulas that have been used over and over for decades by the most successful copywriters in history.
And you can use them too…
They're easy to learn AND simple to use!
If you're like most people, you've probably never even heard about these copywriting frameworks before.
But once you do, you'll never look at marketing the same way again!
Copywriting frameworks are formulas for success. They give you an outline of how to write high-converting content that sells.
And when it comes down to it, selling is what it's all about… getting people to buy from you.
So why not make that process easier by using a tried-and-true format?
And once you've mastered them, they'll become like second nature…
… simply follow the formula… get on with your life… and watch the sales come pouring in!
To help you get started, I've put together this easy copywriting frameworks beginners guide.
I'll show you the top 7 copywriting frameworks that can help you sell more. I'll walk you through each step of the formula and explain why each one is important.
I'll also show you how you can easily generate your own copywriting frameworks in just a few clicks!
Ready to start selling more?
Great. Let's dive in!
What Are Copywriting Frameworks?
Copywriting frameworks are step-by-step formats that help you write better, more effective sales messages.
Also known as copywriting formulas, copywriting frameworks consist of a set of simple rules, guidelines, and best practices that help you write more persuasive sales copy.
In this way, copywriting frameworks are like templates that give you a structured way of approaching copywriting.
They give you the foundation to make sure that you're saying the right thing at the right time.
And when you follow these rules, you'll write better sales messages that are more likely to convert your visitors into buyers.
The best copywriting frameworks are easy to understand and simple to apply. They help you to create better adverts, landing pages, sales pages, emails and should be a foundation for all your other digital marketing materials.
Why Are Copywriting Frameworks Important?
Copywriting frameworks are critical to making sure that your writing is effective and persuasive. They're an essential tool for every marketer.
Copywriting frameworks help you create better copy for your business. They're like blueprints for writing compelling content that sells.
The more effective your copy, the better your sales and conversion rates will be.
How Copywriting Frameworks Work
The most effective copywriting frameworks are based on the psychology of persuasion.
They are effective because they contain power words target emotional triggers that motivate us to act – whether that's buying a product, signing up for an event or clicking through an article.
When you understand this structure, you can use copywriting frameworks to create persuasive copy that converts your visitors into buyers.
Who Uses Copywriting Frameworks?
So who uses copywriting frameworks?
The short answer:
Everyone who is already succeeding online!
So if you're not using one, you're leaving money on the table…
… you're missing out on a lot of conversions and sales.
Copywriting frameworks are everywhere in marketing – they're used by successful copywriters, salespeople, and marketers alike to sell their products and services.
The most successful entrepreneurs, bloggers, and influencers also use copywriting frameworks to help them create high-converting sales pages, emails, blog posts and more.
The truth is, copywriting is a craft. It's an art form. And it's a skill that can be learned, practiced, and honed.
It's also a science … with formulas that are proven to work time and time again.
And the best copywriters know this…
They know that there are certain copywriting frameworks they can always use to improve the effectiveness AND persuasiveness of their writing.
And you can too!
Add POWER To Your Copywriting Frameworks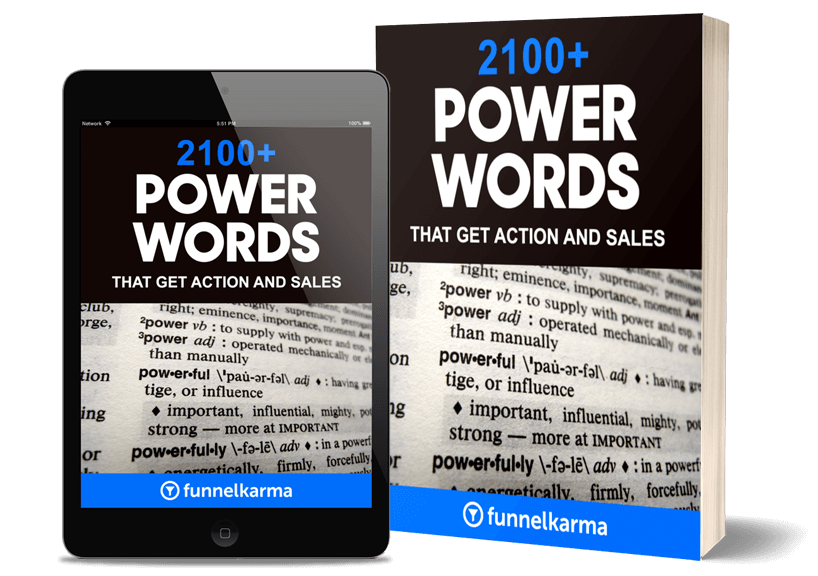 Grab Your FREE Power Words PDF Now!
Benefits of Copywriting Frameworks
Here are just some of the many benefits of copywriting frameworks:
More Conversions And Sales
The biggest benefit of copywriting frameworks is that they help to boost your conversions and sales.
If your sales pages are filled with fluff and jargon, then no one will want to buy from you – even if your products or services are amazing!
But by using proven copywriting frameworks you ensure that your sales pages are clear, persuasive, and compelling.
This helps to ensure that your visitors will read and understand what you're saying – and convert into paying customers!
Save Time And Effort
Copywriting frameworks also benefit you by helping you to be more productive.
Copywriting frameworks give you a step-by-step process for writing great content. This means you don't need to spend hours researching and testing your own copywriting techniques.
Instead, you can simply follow a formula that works, and be confident that your sales pages will convert well for you.
Avoid Writer's Block
Copywriting frameworks benefit you by helping to remove writer's block.
When you get stuck on how to start writing or what to write next, a copywriting framework will guide you through the process.
This means that you don't get overwhelmed and give up before reaching the end of your article or landing page copy… or even starting the marketing campaign in the first place!
Create Better Content
Similar to the previous two benefits, copywriting frameworks are an excellent way to help you create better content.
Copywriting frameworks make your content creation process more structured and easier to follow. This results in a better end product.
It also helps you to create content that is more likely to resonate with your audience.
And, by creating better content that they can absorb more effectively, you have a greater ability to convert them into customers.
More Confidence
Copywriting frameworks can help to boost your confidence in what you're writing… and in yourself.
Since copywriting frameworks show exactly where each sentence should go, they help eliminate any doubt about whether your message will resonate with readers – because it's already been tested and proven!
Higher Brand Authority
Copywriting frameworks also benefit you by helping to create a consistent voice for your business and brand.
When you follow a copywriting framework, it ensures that all your content is written according to copywriting best practices.
This is important because it helps you establish credibility and trust. That makes your customers more likely to buy from you, which is good for business!
Competitive Edge
Finally, using copywriting frameworks can give you an advantage over your competitors. They improve your marketing strategy and make it more effective.
With good structure and copywriting formulas to follow, you'll stand out from your competitors by producing better content than them.
This gives you an edge over them by converting more of your visitors AND retaining more of your existing customers.
7 Copywriting Frameworks That Sell More
There are many different types of copywriting frameworks out there, and some are better than others.
Some are very short and simple… while others are more complex.
But they all have one thing in common… they're proven to work!
Here are 7 copywriting frameworks that are time tested to sell more:
The AIDA Framework
The PAS Framework
The BAB Framework
The FAB Framework
The 4Ps Framework
The ACCA Framework
The QUEST Framework
Let's take a closer look at each of them.
The AIDI Copywriting Framework
The AIDA Model is a copywriting framework that's been used for over 100 years. It works so well because it's simple and effective.
AIDA stands for Attention, Interest, Desire, and Action.
Its framework contains a sequence of four stages in which a reader's emotions and desires build toward the purchase decision.
Here's how the AIDA Copywriting Formula works:
Attention – Here you capture your prospects' attention with an attention-grabbing headline.
Interest – Next, you lure them into reading more by telling them why they should care about what you're offering – or what problem it solves.
Desire – Then by describing the benefits, you build desire by convincing them that buying from you will make their lives better in some way – either emotionally or financially, or both.
Action – Finally, you offer them a clear call-to-action (CTA) that tells them exactly what to do next to buy from you. For example "Click here to buy now!".
AIDI copywriting frameworks are particularly effective because they help you to create a structure for your content that will make it easier for people to understand, remember and act on.
And the content doesn't have to be long. With the AIDA framework, you can use just one sentence for each step, as long as it's compelling and contains the right information.
This makes the AIDA framework particularly well-suited for email marketing campaigns and other types of sales copy in which you need to capture your audience's attention immediately.
The PAS Copywriting Framework
The PAS Framework is one of the most widely used and successful copywriting frameworks.
PAS stands for Problem, Agitate, Solve.
Its framework is based on the three key steps to making a sale:
Step 1 – Present a problem
Step 2 – Agitate it
Step 3 – Solve it
Your copy needs to address each of these pillars in order to be effective and convert readers into buyers.
Here's how the PAS Copywriting Formula works:
Problem – What is the problem you are solving? You want to clearly articulate what the pain point is for your prospect.
Agitate – Next, you will agitate that problem by explaining why it's so painful. This will help drive home the fact that they need your product as soon as possible!
Solution – Finally, you come to the solution. What do you offer that solves their pain point?
PAS copywriting frameworks are extremely effective because they are simple and easy to understand. Your copy doesn't have to be long or complex in order to be powerful.
You just need to clearly articulate the problem, agitate it, and then offer a solution.
The BAB Copywriting Framework
The BAB Framework is one of the easiest copywriting formulas to use because it's so simple.
BAB stands for Before, After, Bridge.
Its framework contains a three-step formula that is used to describe the process of your prospect's transformation.
Before a prospect uses your product or service, they are in a certain state. After they use it, they will be in a different state.
Your job is to explain how using your product (or service) will make them feel better than before.
Here's how the BAB Copywriting Formula works:
Before – Show your prospect where they are now. Explain what their problem is, the negative aspects of that situation, and why it is unsatisfactory.
After – This is where you talk about how your product or service can make a difference in their lives. You show how much better things will be after they use your product or service.
Bridge – Finally, the bridge is where you connect the two sections by explaining how your product or service can solve the problems in their lives – by providing them with an experience that's better than what they had before.
BAB copywriting frameworks are extremely powerful because they help you create a story that your prospect can relate to and empathize with.
This is what allows them to see themselves in that situation and feel the pain of their current problem. And when they are more aware of the pain of their current situation, then they are much more likely to be open to a solution.
The FAB Copywriting Framework
The FAB Framework is the most widely used copywriting formulas in the world, and for good reason. It's easy to understand, simple to use and it works.
FAB stands for Features, Advantages, Benefits.
This three-step framework helps you turn features into advantages, which are then turned into benefits. This makes it easier for your customers to understand why they should buy your product or service.
Here's how the FAB Copywriting Formula works:
Features – What's in it for me? In other words, what your product does, what makes it unique and how it can solve a problem for your customer?
Advantages – Why is it better than what I have now? Or, to put it another way, why your customers should buy from you rather than from your competitors?
Benefits – How will my life be better because of this product or service? In other words, what will your customers get out of using your product or service?
FAB copywriting frameworks are simple, yet powerful formulas to create marketing and sales copy that differentiates you from your competitors.
FAB frameworks are widely used in ecommerce and affiliate marketing because they can be implemented quickly, with little effort. They also help create a strong value proposition for any type of product or service.
The 4Ps Copywriting Framework
The 4Ps Framework is a classic copywriting formula that has been used by copywriters and marketers for decades.
There are many variations of this formula, but they all have some of the same components:
The 4Ps stands for Problem, Promise, Proof, and Proposal.
This four-stage framework is extremely effective if you have a lot of testimonials and social proof.
Here's how the 4Ps Copywriting Formula works:
Problem – What problem does your product or service solve? What pain do you relieve? What need do you fulfill?
Promise – How will you solve the problem? How will your product benefit them in the long run? Why should people buy from your company instead of your competitors?
Proof – How can you prove that your product will work as promised? How have you successfully solved the problem in the past. How have other customers benefited from using it before?
Proposal – What is your proposal to solve their problem? What will you do to help them succeed with your product? Explain clearly what action(s) they need to take in order to get started with solving their problem.
With the emphasis on social proof, 4Ps copywriting frameworks are the best way to position your product as a proven solution.
The most important part of this process is to actually solve their problem.
In order to do this, make sure that your copywriting is relevant and solves the problems of real people, not just vague ideas or hypothetical situations.
The ACCA Copywriting Framework
The ACCA Framework is one of the most popular copywriting frameworks out there. It helps you create messages that are clear, concise and compelling.
ACCA stands for Awareness, Comprehension, Conviction, and Action.
It's a four-step framework that can be used to help people understand a new product or service and get them interested in buying.
Here's how the ACCA Copywriting Formula works:
Awareness – First, you make your audience aware that there's a problem that needs to be solved. The goal here is to get your prospect's attention and make them want to learn more about what you have to offer.
Comprehension – Next, you make sure your prospect understands exactly how you can help them solve their problem or achieve their goal. They might not be convinced yet, but they know what it is and why it's important to them.
Conviction – The third step is about convincing your prospect that your product or service can solve their problem. It's about convincing people that they can trust you and believe what you're saying. You need to show them how much better things will be after buying from you.
Action – Finally, you'll want to help them take action on what they learned and felt during the three previous steps. You'll want to make it easy for them to take action and buy your product or service.
ACCA copywriting frameworks are a great way to make sure you're always thinking about what's happening in your prospect's head.
They help you understand what motivates your reader and how to write copy that will resonate with them.
The QUEST Copywriting Framework
The QUEST Framework is another classic copywriting formula that sells more. It excels because it helps you to qualify your prospects.
QUEST stands for Qualify, Understand, Educate, Stimulate, and Transition.
It's a simple process that helps you understand what your prospect really wants, and what they're willing to pay for it.
Here's how the QUEST Copywriting Formula works:
Qualify – Is the prospect a good fit for your offer? This is where you find out if the person is actually interested in what you have to offer.
Understand – Once you've qualified your prospect, it's important that you show that you clearly understand their problem or need. If you don't understand their problem then how can you possibly solve it?
Educate – How does your product or service help them? Your goal here is to educate them on the unique benefits of buying from you instead of someone else.
Stimulate – How can you make them want to buy from you? Now you stimulate their emotions and get them excited about what you have to offer. This is what gets people to buy!
Transition – In the final step, you transition them into taking action. This is where you ask them to buy your product or service and make it easy for them to do so with a simple call-to-action.
This is the most important part, as it's what gets people to buy from you!
With the first qualifying step, QUEST copywriting frameworks are designed to help you qualify your prospects so that you can weed out the people who aren't a good fit for your business.
This will save you time and money in the long term.
Instead you can concentrate your efforts on people who are more likely to buy from you further down your sales funnel.
How To Create Your Own Copywriting Frameworks
So now you know the 7 best copywriting frameworks and formulas out there to help you sell more. How do you get started and create your own?
Well, it's pretty simple…
If you want to use a copywriting framework, you basically have three options:
Write your own from scratch
Copy someone else's framework and tweak it to fit your product or service, or
Use a copywriting framework generator tool
As you might have guessed, the third option is the easiest way to get started.
With today's AI writing tools, like Copy.ai, Jasper, Writesonic and others, it's easy to generate your own version of these top copywriting frameworks in just a few clicks.
Best of all, they're simple, easy to use, and most importantly… they work!
At FunnelKarma, the copywriting framework tool we recommend is Copy.ai.
With Copy.ai you get to quickly create six of the seven copywriting frameworks mentioned in this guide.
And, it's super simple to get started.
All you have to do is choose which one of the copywriting frameworks or formulas you want to use – Copy.ai has all of them except the ACCA framework.
Then enter your product name and description into the software.
And then choose a tone for your marketing copy. You can choose tones like professional, empathetic, persuasive, adventurous, and more.
Then just let Copy.ai do its thing!
In a few seconds, you get the perfect copywriting framework for your product. You get to choose from several variations and see which one works best for you.
You can also easily edit or tweak the results for your needs. That's it!
Your own professionally written copywriting frameworks based on time-tested principles but created with the amazing benefit of today's AI software.
Of course, these AI copywriting tools don't beat the real thing. That is the human element of a truly skilled copywriter…
… but, you'll see… they come pretty close for most short-form online purposes!
The fact that over 3 million professionals and teams now use Copy.ai, including brands like Microsoft, eBay, and Nestle show you that these copywriting tools are here to stay.
So, if you don't want to get left behind, I urge you to try them out.
Their copy formulas will make your life a whole lot easier AND help you to sell more.
They're truly a powerful tool to have in your copywriting arsenal.
That's why I love them… and you will too!
Conclusion
Copywriting frameworks are not just for pros. They're for YOU.
If you want to sell more stuff online, learn how to use a copywriting formula. It's that simple.
You don't have to reinvent the wheel…
Just follow tried-and-true formulas that already work… and use AI software to create your own copywriting frameworks in just a few clicks.
Before you know it, you'll be generating more leads, attracting more customers, and growing your business faster than you ever could before.
And it's not just about money – it's about time saved!
If you're able to save time on one part of your business, you can spend it elsewhere growing your company further.
The truth is, when it comes to selling online, being original isn't really what matters most.
What matters is getting results and making money – and if you follow a proven formula, you'll do both!
So what are you waiting for? Start YOUR own copywriting frameworks today!
Want To Learn More About Sales Funnels?
Get Free Sales Funnel Tips, Examples, and Other Helpful Resources To Grow Your Business Better.