Sales Funnels For Beginners: The Ultimate EASY Guide [2023]
Looking for an easy sales funnels for beginners guide? Sales funnels are key to online business success. They help convert online visitors into more paying customers in just a few simple steps.
Despite this, many entrepreneurs, marketers, and business owners find sales funnels tricky to understand. The truth is, sales funnels are easier to master than you think.
In this guide for beginners, I explain what is a sales funnel, how funnels work, and how you can easily create a sales funnel. I also answer some of the most frequently asked sales funnel questions that I hear from beginners.
What Is A Sales Funnel?
A sales funnel is a series of ordered web pages that guide online visitors to a buying decision.
Also called a marketing funnel, a sales funnel is a term used in digital marketing and ecommerce. It refers to the step-by-step process that customers go through from first finding you to finally buying from you.
A sales funnel has precise stages that convert visitors into leads, and then into paying customers.
A sales funnel also helps to increase the average value of each order using upsells, downsells, and order bumps.
In this way, a sales funnel helps you to:
get sales
increase those sales
make more money from each sale
and grow your business faster
Sales funnels have a minimum of two web pages but are often longer.
They are called sales 'funnels' because their shape is like a real-world funnel. Sales funnels are wide at the top with many visitors who start your sales process.
In contrast, the bottom of a sales funnel is narrow with fewer visitors who decide to sign-up or buy.
The Key To Online Business Success
Sales funnels are key to online business success. Sales funnels help you to sell more products and services. Funnels also help you to get more sign-ups for webinars and events.
No matter what you have to sell, a sales funnel helps you to sell more and grow your business faster.
In fact, some of the most successful entrepreneurs use nothing but a sales funnel to launch entire new businesses.
They know that having a sales funnel is like having their own 24-hour automated marketing and sales machine!
Related Post: Sales Funnel vs Marketing Funnel: Is There A Difference?
How Sales Funnels Work
Sales funnels work by guiding online visitors through a series of stages, and helping them to take a specific action. For example, giving information, signing-up for an event, or making a purchase.
When visitors take action, it is called a conversion. So, a sales funnel works to get you more conversions.
In their simplest form, online sales funnels Attract, Engage, and Sell.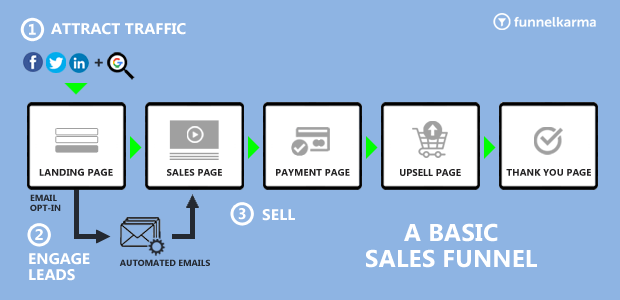 A basic sales funnel works to:
Attract visitors (or traffic) via social media or search engines
Send this traffic to a landing page
Convert traffic into leads using email opt-in forms
Engage and nurture these leads using automated emails
Get your leads to buy with upsells to raise cart value
Woo leads back if they abandon their order
Handle all of the Selling and Payment process so you get paid
In fact, the best types of sales funnels use effective copywriting that can convert visitors into leads, and then into paying customers in minutes. They also effectively convert these paying customers into repeat, or regular customers too.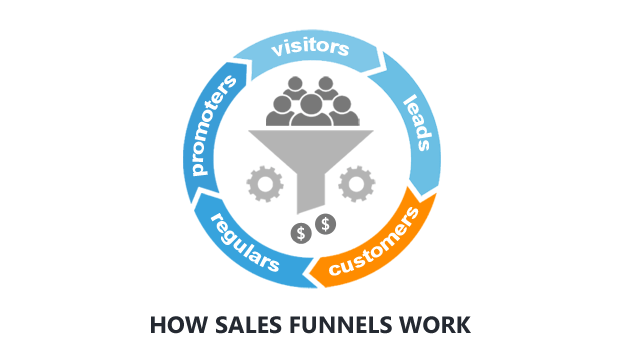 When happy customers return to buy more, your funnels continue to work by creating promoters of your brand. These recommendations drive even more new visitors to the start of your sales funnel.
And, so your 'website-visitor-to-sales conversion machine' goes around and around!
Why Are Sales Funnels Important?
Here are just 6 reasons why sales funnels are important:
Sales funnels convert visitors into paying customers
Sales funnels get your visitors to take a specific action
Funnels generate more qualified leads
Sales funnels increase your sales and your average order value per sale
Sales funnels get your customers to return to buy more
Funnels grow your business faster
Ultimately, sales funnels can put your whole online business on autopilot. Their benefits will save you time, money, and free you up to do more of what you enjoy.
Who Uses Sales Funnels?
Sales funnels are not just for beginners to help them start, or quickly grow, a small business. Funnels can be found everywhere. They are used by all of the biggest and most successful companies around the world.
For example, here are some well-known brands, organizations, and entrepreneurs that use some form of sales or marketing funnels.
1. Netflix
Netflix uses lead generation funnels to sell its media streaming service. Website visitors must give an email address on its homepage to start using its service.
2. Tesla
Tesla uses product launch sales funnels to drive up demand for its vehicles. Buyers are required to register to view the live events online. Immediately after watching, they get special access to pre-order their car.
3. Linkedin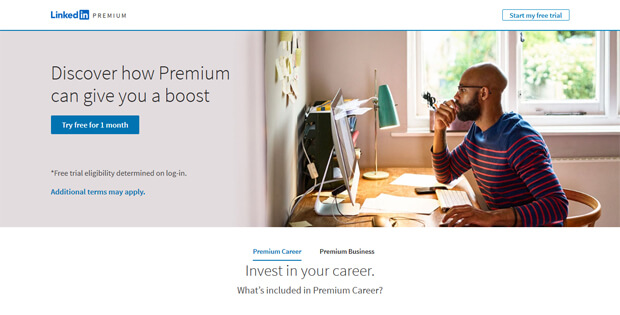 The professional networking site Linkedin uses membership sales funnels to offer premium privileges to its free users.
4. World Wildlife Fund
Funnels are not only used to drive sales. That's why they are also called marketing funnels. Here, the World Wildlife Fund uses funnels to get its visitors to take action on animal and nature conservation.
5. Tony Robbins
Motivational speaker and entrepreneur Tony Robbins uses sales funnels to promote and sell his self-help seminars, webinars, courses, and books.
6. Grant Cardone
Like Tony Robbins, bestselling author, sales trainer and real-estate investor Grant Cardone also uses funnels to promote and sell his books, conferences, and training too.
7. Dean Graziosi
Dean Graziosi is another very successful author, investor, and entrepreneur who uses funnels to promote and sell all his books, training and his latest Mastermind venture.
Sales Funnel Stages
Understanding sales funnel stages is important for beginners. So, let's have a brief look at each one.
Here are the six stages of a sales funnel:
Awareness
Interest
Desire (or Decision)
Action (or Purchase)
Retention
Repeat Action and Advocacy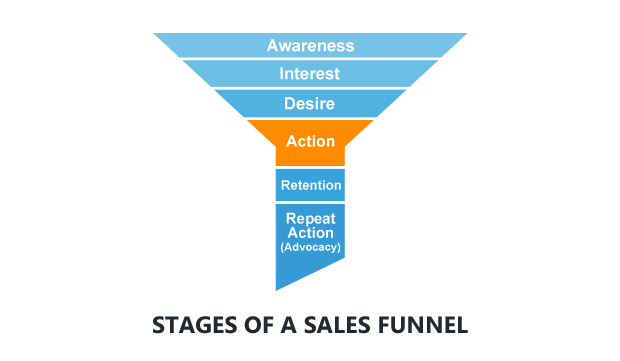 1. Awareness
In the awareness stage of a sales funnel, potential customers find you online via search engines or social media. These prospects have a problem or need, and are looking for a solution.
2. Interest
In the sales funnel interest stage, prospects show enthusiasm for your solution. On a landing page, they sign up for information, or give an email address in return for a free offer. This is called a lead magnet and your prospects become leads.
3. Desire (or Decision)
In the desire (or decision) stage of a funnel, prospects consider buying from you. They are excited by your solutions and helpful content. They may follow you on social media. Email marketing with value-packed offers help them to decide to buy.
4. Action (or Purchase)
In the action stage of the sales funnel, prospects make a purchase. Fewer visitors will reach this stage than the number who started your funnel.
5. Retention
The sales funnel retention stage creates more awareness, interest, and desire with your existing customers. Email marketing continues to add value. Customers feel valued and are happy to return.
6. Repeat Action and Advocacy
If you keep your promises AND help your customers, then the repeat action stage will take care of itself. Paying customers return to your sales funnels to buy again.
Even more sales will come from recommendations. These loyal customers now act as free promoters and advocates of your brand.
Sales Funnel Example
Let's have a look at a sales funnel example to see how all these stages work together.
Suppose, as beginners, you need to start a sales funnel for a restaurant. Here's how the funnel might look:
Creating Awareness
As beginners starting sales funnels, step one is to create awareness. Sales funnel marketing using social media and Google local search is the best way to begin.
First, consider your restaurant target audience? What is their problem and need? Simply, they need great food, service, and value.
The most effective way for restaurants to go about raising awareness is to give away free food. For example, a downloadable coupon for a free drink, desert, appetizer, or meal.
Local social media posts with your irresistible free offers will raise awareness for your food. A testimonial video with social proof from happy customers will get more people through your door.
Generating Interest
Generating interest for your sales funnel begins in the second step. Those interested in your free food will click on your social media, or local search links, and go to your landing page.
A sales funnel landing page is easy to create using sales funnel software, or a landing page builder.
Here, you ask for your prospect's contact information in exchange for your irresistible offer. You will be amazed how easy it is to get an email address when you offer a free drink or dessert coupon!
With email addresses, you are now beginning to get your first funnel conversions. You have leads.
Building Desire
Now, you begin to build desire for your sales funnel products. In this example, a great dining experience. Here, you reach out to your interested leads with an automated email marketing campaign.
Using the same sales funnel software, you can:
Present mouth-watering cocktail or menu suggestions to redeem their coupon
Highlight positive social proof reviews from happy customers
Show excitement towards your leads that you want them as guests
By exciting and educating your leads about your food AND dining experience, you are now adding more value and building trust.
But, what about those leads that are not ready to take up your offer? Recall, how at the beginning of this guide, I mentioned that leads will drop out your funnel.
Well, to prevent them leaving now, you can reach out with more empathetic soft sell offers such as:
Preferential seating with a confirmed reservation
Options on healthier ingredients and chef preparations
A quick survey to find out what they like in a great dining experience
If you're lucky, these leads will appreciate you care and take up these softer offers.
Getting Customers To Take Action
For beginners, action is the first money-making and exciting sales funnel step. Having built trust and offered something of value for free, your leads take action. They visit your restaurant and get their free drink or dessert.
Chances are, they will enjoy your offer and pay for some of your other dishes. After all, they have already seen so many appetizing suggestions prior to coming. How could they refuse your upsells?
You have your second lot of funnel conversions. And your first paying customers! Now the real power of your sales funnel truly starts.
Retention is key for sales funnel beginners to understand. In fact, for a restaurant, customer retention makes a lot more money than relying on new customers alone.
Retaining Customers
Retention is really the beginning of re-engaging once again with your diners. Using your sales funnel software, you can reach out to them with:
'Thank you for dining' follow-ups and customer feedback surveys
Additional promotional offers and special meal deals
Examples of new menus and dish choices
A Dining loyalty or rewards program
This generates continued awareness, interest, and desire for your food, service, and hospitality. Most importantly, it continues to build trust and establish you as a great restaurateur.
Getting Repeat Action & Advocacy
Sales funnels make more money from repeat action and advocacy than from new customers. By continuing to raise awareness, build trust, and add value to your paying diners, they will return to eat and spend more.
Now you have repeat customers and your third type of funnel conversions. You're beginning to increase sales.
Chances are, these happy diners will tell their friends, family, and co-workers too. And, so you'll attract even more new customers. Right in to the start of your sales funnel.
Better still. These new visitors are already high-quality leads. So, they are easier to convert, AND you're getting them for free!
Why Sales Funnels Work In This Example
This simple sales funnel example shows how easy it is for any business to increase sales using funnels.
Of course, instead of a sales funnel, you could pass out free food and flyers outside your restaurant. Or, you could pay a company like Groupon for a promotion.
Both will get customers but your numbers will be up and down. Worse still, your customers tend to stop when your promotion stops too.
On the other hand, sales funnels give you control of the flow of customers with a proven system.
Simply, offer irresistible deals where you audience hangs out. Build great landing pages. Educate, nurture, and add value to your leads. And keep converting them into repeat customers.
That's all you have to do. This system works for beginners and experts alike!
For more sales funnel examples, please check out:
How To Create A Sales Funnel As A Beginner
Most beginners tell me that they've heard building a sales funnel is difficult. Well, it used to be. But, today there is now a lot of software available that makes it easy for anyone to create funnels.
At FunnelKarma, I have created a list of the best sales funnel software for beginners. These builders are very easy to use, and you can start a sales funnel in just a few clicks.
Hopefully, you may already have an idea of the type of funnel you need. You may also have seen a few examples of effective sales funnels from your competitors in your niche.
But, if you're not sure of where to start. Look at the most successful companies that are already doing what you want to do.
They will most likely already be using sales funnels. For beginners, this process is often referred to by some in the industry as funnel hacking.
Or, head over to my post on the 8 types of sales funnels that convert more. Find a type of sales funnel that is similar to your goal. This will give you a better idea of which type of funnel to create.
Now that you're ready to start.
Here's how to create a sales funnel as a beginner:
Start by choosing a sales funnel builder and get yourself a free account. All of the best builders provide 14-day free trials to see which software you like best.
Choose a sales funnel template for the action you need (like lead opt-in, event, or to make sales)
Create your sales funnel landing page using the drag-and-drop editor
Edit the other pages for your product or service and your brand
Setup an email marketing campaign and payment collection – sales funnel software can also help you to build your email list and take payments too
Drive your traffic to your funnel (emails, social media, ads, website)
Monitor your funnel's performance using the software's built-in analytics and optimize accordingly
My advice is to just get started. Don't worry about having everything perfectly in order when you begin. Everybody's sales funnels need tweaking at first, beginners and experts too!
The sooner you get started, the better your sales funnels will be.
Sales Funnels For Beginners FAQs
I created FunnelKarma to help sales funnels beginners. Since its first day, I have helped beginners get started with sales funnels and have been answering funnel related questions every day.
Here are some of the most frequently asked sales funnel questions that I hear from beginners.
What Is Sales Funnel Traffic?
Sales funnel traffic is the number of people who visit any given sales funnel. All sales funnels need traffic. This is especially so for beginners who are just starting a sales funnel.
Sales funnel traffic comes from five possible sources:
Search engines like Google, Bing, Yahoo, or DuckDuckGo
Social media channels like Facebook, Twitter, YouTube, Instagram, and LinkedIn
Direct traffic when users type your website name directly in their browser
Referral traffic from other websites who refer you and include a link to your site
Affiliate marketing traffic from affiliates who promote your brand
Then, for search engines and social media channels, your traffic can be paid or free.
Paid Sales Funnel Traffic
Paid search engine traffic uses advertising from either Google or Microsoft. Similarly, paid social media sales traffic is available on the big five social networks mentioned in the list above.
Affiliate marketing is another source of paid traffic. Your brand affiliates pay for your traffic using adverts or their own content. You then pay your affiliate with a commission after the referred sale.
Free Sales Funnel Traffic
Free sales funnel traffic includes:
Organic search engine traffic using great search engine optimization (SEO)
Social media traffic using links on free posts, YouTube videos, tweets, and shared images
Direct traffic from those who have heard of your brand
Referral traffic from other websites and online influencers
For more on this topic, please see my beginners guide on how to drive traffic to a sales funnel in 2023.
What Is A Sales Funnel Marketing Strategy?
A sales funnel marketing strategy is simply a digital marketing business model that uses funnels to attract customers. It is also known as a sales funnel strategy.
As sales funnels beginners, if you take just ONE thing away from this guide, this is it:
If you want to sell more AND make more money online today, you need to START with a sales funnel strategy or mindset.
Today, the most successful entrepreneurs and companies build all their business around funnels. Not around their online store or website. All their business strategy begins with a sales funnel mindset.
What Is A Social Media Sales Funnel?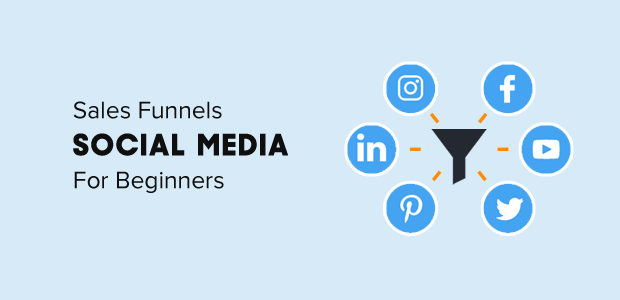 A social media sales funnel is an online funnel that uses social media marketing to attract its visitors. They are also known as social media funnels, or digital marketing funnels.
Most beginners often ask us "what's the difference between social media funnels and a sales funnels?"
The truth is, if you're using funnels properly, there is no difference. A good sales funnel already uses social media to attract its customers.
So, Can You Use Social Media For Every Stage Of A Sales Funnel?
Absolutely. The most effective sales funnels use social media for all six stages:
Awareness Stage – free social media posts and paid adverts are the quickest way to get noticed and attract customers to your funnels
Interest and Desire Stages – positive social media reviews, social proof video testimonials, guides and case studies keep customers moving forward in your funnels
Action Stage – social media adverts with a limited time offer, coupons, percent discount, and free shipping help to close the sale
Retention Stage – post-sale social media marketing with existing customers keeps interest in new products and builds desire to buy more. Customer follow-ups, surveys and additional product guides add even more value
Repeat Action Stage – social media adverts with coupon codes for more irresistible offers excite your customers to return and buy again
Advocacy Stage – social media is the best platform for happy customers to share their brand loyalty and refer their friends. This raises more awareness and attracts more new customers to the start of your funnel
What Is A Sales Funnel Template?
A sales funnel template makes creating sales funnels even easier. Not just for beginners but for experts too.
The best online sales funnels builders come with ready-made sales funnel templates that are already tested and proven to work.
Using templates, you can easily create:
Landing pages
Opt-in and squeeze pages
Sales pages
Membership sites
Webinars and event pages
Order form pages
Complete sales funnels with upsells and downsells
All you need to do is choose a template for your sales funnel goal. Like an email opt-in, for example. Then, simply edit the sales copy and customize it for your brand.
It's that easy to get started!
What Is Sales Funnel Software?
Sales funnel software is the online platform and tools to help you build, automate, and manage funnels. The software tracks multiple sales and marketing funnel processes in one place. It also analyzes the performance of each funnel using metrics.
Sales funnel software is also known online as a sales funnel builder. It enables you to build and automate all your online business and digital marketing needs including:
Website and landing page creation
Lead generation
Customer relationship management (CRM)
Email marketing
Ecommerce checkout
Payment processing
Funnel metrics and analytics
Not so long ago, you needed many separate tools to 'glue' a sales funnel together. Now, the software helps you to build and manage all of your funnels in one place.
So what is the best sales funnel software for beginners?
There are many sales funnel software tools available online.
Some of the best ones include:
Nearly all of these sales funnel builders have free trials so you can find the one that works best for you.
What Is Sales Funnel Management?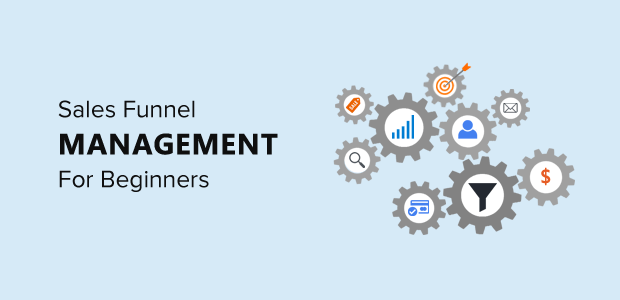 Sales funnel management is the organization and automation of all your funnels so as to efficiently increase conversions and sales. It is the process of overseeing the operation of each sales funnel and the buying journey of each customer.
So, how do you start as beginners?
Simply, you manage your sales funnels with the same software that you use to build your funnels.
The best sales funnel software can manage all your:
Lead generation
Ecommerce store and payment processing
Email marketing
Sales funnel metrics and analytics, and
Affiliate programs
With all of these management tools built-in to one piece of software, you can save a lot of time, money, and stress.
What Are Sales Funnel Metrics?
Sales funnel metrics is the collection, reporting and analysis of sales funnel data. It's a way of finding out more about what's happening in your sales funnel so that you can optimize it.
These metrics, or analytics, show if your funnels are working or not. They use key performance indicators (KPI) to help you see where your profit, or worse, a loss is coming from.
The truth is, most people (not just beginners) don't like data. But, with the right funnel software, all this data is simplified so it is easy to understand.
For instance, three of the top metrics used by funnel-based companies today, are:
Overall conversion rate
Total revenue generated, and
Number of leads generated
As you can see, these metrics are very easy to understand. But, most businesses don't know them accurately at all.
With only a few key metrics, you can begin to learn a lot about your ecommerce business and your sales funnel customers.
What Is Sales Funnel Optimization?
Sales funnel optimization is the process of adjusting, or fine-tuning, every stage of your funnels to increase acquisition, conversion, and retention of your customers. It is the process of testing the performance of your sales funnels, and making changes to achieve the highest level of conversions.
Optimizing sales funnels is like tuning an engine in a car so it runs better. As soon as you do it, you'll immediately notice the difference.
When website visitors leave your funnel before taking the action you need of them, it is called a leak. And, the reality is that all funnels leak. Not just the ones built by beginners, the very best ones built by experts too.
People leave funnels for all sorts of reasons. So, sales funnel optimization is about finding, understanding, and minimizing the leaks.
Using good sales funnel software, with built-in metrics, you can find out where the leaks are. You can then address each issue and optimize the page, or funnel stage, accordingly.
Do Sales Funnels Really Work For Beginners?
One question I always hear from beginners is "Do sales funnels really work?".
Well, here's the short answer: Absolutely yes! Just look at the top brands who use funnels that I showed you earlier in this guide.
But, what about some numbers to back that up?
Sales funnels come under the business category of marketing automation. And, according to a recent industry report, marketing automation is growing at an amazing rate.
Here are a few key sales funnel statistics from that report.
In 2023, the Marketing Automation Industry is estimated to be a $12.3 billion market, and
The Marketing Automation Industry is growing more than 20% annually
94% of the best companies report that marketing automation is very important
The report also showed that the top three main benefits of marketing automation include:
Saving time
Lead generation, and
Increase in revenue
Very simply, sales funnels work. They work for the biggest companies, the best entrepreneurs, and they work for beginners too. Funnels are essential for your online business to compete, grow, and succeed today.
Disclosure: This content is reader supported, which means that if you click on some of our links then we may earn a small commission at no cost to you. You can read our disclaimer for more info.
Want To Learn More About Sales Funnels?
Get Free Sales Funnel Tips, Examples, and Other Helpful Resources To Grow Your Business Better.