SEO: An Easy Beginner's Guide [2023]
It's time to learn search engine optimization (SEO).
Why?
Because you can't afford not to.
If you're online and you're not using SEO, I've got some news for you… you're doing it wrong!
I know that's a bold statement, but it's true.
If you don't learn how to use SEO you're missing out on HUGE opportunities.
Here's the thing…
Every single day, people are searching Google for a solution to a problem they have. And guess what?
They are looking for your product or service!
But if they can't find you because you have poor SEO, they'll keep searching until they find someone else who can help them instead.
Then they'll buy from that company rather than yours because they have no other choice.
And that's a tragedy for you!
So what can YOU do about this?
Well, learn how to use SEO so that when people search for solutions on Google, they'll see YOUR website first.
With good SEO, you'll get more traffic, more sales, and grow your business faster than any other way out there!
But, if you're like most people, you might be thinking: "I'm not a techie. How can I be an SEO expert?"
Well, guess what? You don't have to be!
All it takes is a little bit of knowledge, and a whole lot of action.
And once you start seeing the results… well, let's just say that once you see those results, you'll never want to stop.
So, to help you learn more, I've put together this easy SEO for beginners guide to get you started.
I'll explain what SEO is, how it works, and some of the different types. Then I'll show you the most effective way to get started with your own SEO campaign in just a few simple steps.
Ready to start ranking higher in Google?
Great. Let's dive in!
What Is SEO?
So, what does SEO stand for and what does it mean?
SEO is a term that gets thrown around a lot in digital marketing, but not many people actually know what it means.
In the simplest of terms, SEO stands for "search engine optimization."
Search engine optimization (SEO) is a process of making your website visible to Google, Bing, and other search engines.
The goal of SEO is to get your site listed highly in the search results for popular keywords or terms. This, in turn, means more visitors or traffic to your website.
As you might expect, this is a challenging task and requires a combination of content creation and technical implementation.
If you want to rank high on Google, then you'll need to optimize your website for search engines. This means making sure that your content is relevant and useful to users.
It's also means ensuring that search engines can easily crawl through your site and find the content they need to display on their results pages.
What Is SEO Marketing?
The terms 'SEO' and 'SEO Marketing' are very often used to mean the same thing but there is a subtle difference.
SEO is the process of ranking higher in search engines.
SEO marketing is the process of using SEO to promote your products, services and business in the search engines.
Although SEO marketing uses optimized content to rank higher in search engines, its main purpose is to use this content to attract new customers and convert them into leads.
What's The Difference Between SEO and SEM Marketing?
SEM stands for search engine marketing. It refers to all the ways businesses use paid advertising to bring traffic to a website from search engines.
Although SEO and SEM marketing are closely related and often used interchangeably by businesses and marketers alike, they're actually different services that each have their own goals.
SEO is about getting free or 'organic' traffic from Google and other search engines by improving your website's ranking. It's an ongoing process that requires continual tweaking so you stay ahead of your competitors' rankings.
SEM is about bringing in paying customers through ads on Google and other platforms. These ads can be text ads or images. They both contain a link that takes users back to your site.
Need Expert Help Turning Browsers into Buyers?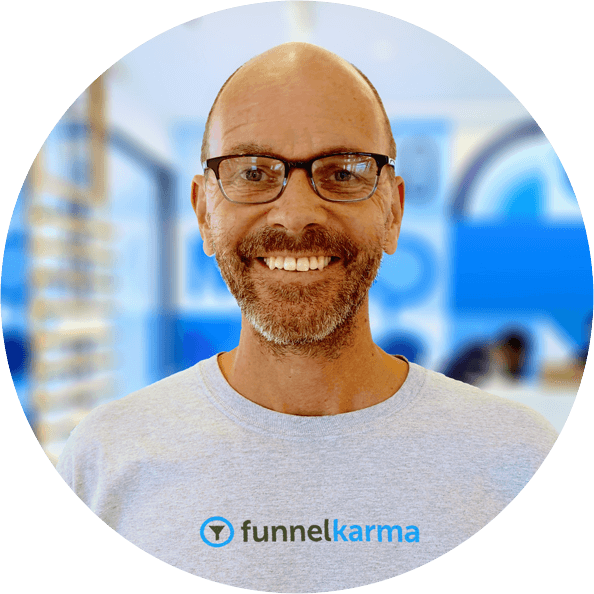 Let's Personalize Your Sales Funnel Together!
Ready to Master the Visitor-to-Customer Dance and Elevate Your Online Success?
How SEO Works
SEO works by getting your website to rank higher in search engine results.
The higher you rank in search results, the more people will see your site and click on it. The more people who click on your site, the more visitors or traffic you get.
So, in basic terms, SEO works by increasing the amount of relevant traffic that comes to your website from search engines.
When someone searches for something on Google, the algorithm that Google uses looks at all the sites that are relevant to that search and ranks them based on how well they match what people are looking for.
The algorithm does this by analyzing hundreds of different factors on your site, including keyword density (the number of times a word appears on a page), the age of the website, backlinks (links from other websites), and more.
But, the most important factor for Google SEO (and SEO from other search engines) is the relevance of your content to the keywords searched by users.
So if you want more love from Google, you need to make sure that everything you publish online is relevant to what people are looking for when they type those keywords into Google.
If you can do that, it will naturally lead to higher rankings and more traffic from Google's search engine.
There are many different ways to do this, but the most important thing is that you're creating content that people want to read, share, and link to.
This tells Google that your content is valuable, and it will reward you for it by ranking you higher in search results.
But, here's the thing…
Search engine optimization doesn't happen overnight. You need to be patient and consistent with your efforts.
SEO is a long-term, organic process. It's not something that you can pay for and get results right away.
In fact, SEO can take months to show results, but when it does, it's well worth the wait!
Why SEO Is Important
Here are 7 reasons why SEO is important:
1. Free Website Traffic
Search engine optimization is a natural or 'organic' way to get more traffic to your site. Unlike paid advertising, SEO doesn't cost any money – it's free! You can think of it as a long-term strategy that will continue working for you at zero cost so long as you keep up with it.
2. Higher Ranking In Search Engines
SEO helps you rank higher on search engines. This means that your site will be found more easily by users. When you rank higher, you get more traffic. In fact, when done right, SEO can keep your site in the top rankings for years to come.
3. Increased Visibility
SEO gets you noticed by new customers and prospects who may not have found you otherwise. This means new business for you from people who were not aware of your business and products before.
4. Increased Brand Awareness And Trust
SEO helps build brand awareness and trust. Ranking higher in Google for example, is a sign that Google trusts your site and considers it a good source of information. This means that users will find you more credible and are therefore more likely to trust your brand.
5. Increased Conversions And Sales
SEO increases conversions and sales for your business. By ranking higher in Google, you get more traffic to your landing pages and sales funnels. With more traffic, you have a higher chance of converting that traffic into customers. This means more sales for your business.
6. Local SEO – More Customers Through Your Door
SEO can help you get better rankings in local searches, which means more foot traffic to your business location(s). Known as local SEO, it is a great way to attract new customers that are nearby. It also helps you rank higher in Google Maps.
7. Builds Industry Expertise
SEO helps establish your online reputation as a go-to expert in your industry. This can lead to more speaking engagements, consulting opportunities, media coverage and more business leads over time – even if they're not directly related to your search engine optimization efforts.
To learn more about how to drive traffic to your sales funnels, be sure to check out our guide:
Types Of SEO
There are many types of SEO, but they all have one thing in common: They help to get more visitors to your website by improving its rank in search engine results.
The different types of SEO can be broadly categorized into:
On-Page SEO
Off-Page SEO
Technical SEO
On-Page SEO
On-page SEO is the most basic type of SEO and can be done on any website, regardless of its size or budget.
It involves making sure that each page of your website is optimized for the most common keywords and keyphrases related to your business.
This can be done by improving page titles and descriptions, as well as adding relevant keywords and keyphrases within the content itself.
Off-Page SEO
Off-page SEO refers to refers to the activities that you can do outside of your web page to increase your search engine rankings. This type of search engine optimization includes link building, social media marketing and more.
Off-page SEO is about gaining links from other sites and getting your site noticed by others.
This helps increase the amount of 'link juice' flowing from those sites over to yours, which increases your authority and ranking power with search engines.
Link building is one of the most important parts of off-page SEO.
When you think about it, links are the only way to pass on credibly to a search engine that your site is valuable enough for them to rank well.
If people link to you from reputable sources, then they're saying "Hey Google, this site is worth looking at!".
In turn, Google then looks at those links, sees that they're coming from good places, and gives your site a boost in rankings.
So, you need backlinks… and the more the better.
Three of the best ways to build links include:
Content Marketing – Create great content on your website that other people want to link to.
Social Media Marketing – Promote your content on social media social media sites such as Facebook, Twitter, or Pinterest where people can share it with their followers or friends.
Guest Posting – Reach out to relevant websites that have an audience similar to yours and offer to write a guest post for them. When you create content that's valuable to their audience, they'll link back to yours!
Got The Vision But Need The Right Tools?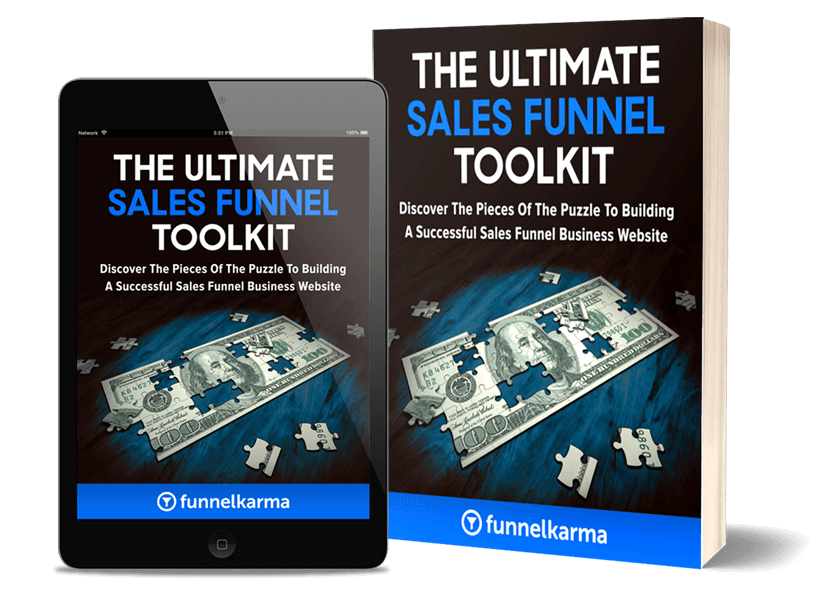 Unlock The Toolbox That Turns Browsers Into Buyers
Dive into our Ultimate Sales Funnel Toolkit for FREE and grab our exclusive selection of 37 pivotal sales funnel tools – every tool a game changer for savvy professionals!
Technical SEO
Technical SEO is the less glamorous side of search engine optimization. As the name suggests, it's more technical and less creative, but it's still crucial to your overall strategy.
Technical SEO is essentially everything that happens on the back end of your website, from coding to site structure to site speed. For example:
Crawling and indexing
Website speed optimization
Mobile-friendly responsive design
Duplicate content issues
Sitemaps and Robots.txt files
In reality, technical SEO is actually part of off-page SEO. But many SEO experts refer to it as a separate category because it's so important to the overall health of your site.
This type of optimization is often overlooked by many marketers, but it can have a huge impact on how well your site performs in search results.
Search engines need to be able to find your site and index it. If you're using WordPress to build your website, then the best themes already have great technical SEO built in.
White Hat Vs Black Hat SEO
When you're learning about the different types of SEO, at some point you're going to come across the terms 'White Hat SEO' and 'Black Hat SEO'.
If you want to be loved by Google and the other search engines, it's very important that you know the difference between the two – so, please pay attention here.
White Hat SEO
White hat SEO is a technique that uses the best practices as defined by Google to increase your search ranking. It works by creating content that's useful, relevant and high quality.
White hat SEO also involves creating good links, building a brand and community, and earning social signals. This is the way to go if you want to build a long-term relationship with Google.
Black Hat SEO
Black Hat SEO is the opposite of white hat SEO. It uses unethical tactics such as keyword stuffing or cloaking in order to manipulate search engine rankings for profit.
Black hat SEO also use spammy links, such as those from link farms or hidden text on websites to improve rankings.
It's been around for years but remains frowned upon by Google because it creates poor user experiences and doesn't help anyone find what they're looking for on the web.
Not only will these practices get you banned by Google, but they can also result in penalties like a lower rank in search results and a loss of credibility with viewers.
Bottom line – if you want to succeed online, then please stick to the best guidelines and use white hat SEO. Thanks!
How To Do SEO
SEO can be done by anyone who is passionate about their business and willing to learn. All it takes is a little time, patience and effort.
The best way to learn SEO is by doing it yourself on your own website or ecommerce store.
Or at least on a site without any real traffic yet so that if you mess up it won't matter much anyway!
Here are 7 simple steps you can follow to start doing SEO for your website:
Keyword Research
Create Content
Optimize Your Content
Get Backlinks
Optimize Your Site Structure
Speed Up Your Website
Analytics – Measure Your Progress
Let's have a closer look at each of these steps:
1. Understand Keywords and Your Audience
The first step to any SEO campaign is understanding what keywords you want to target and how they are used.
Keywords are the words or phrases that you want to be associated with your site, such as "New York Cake Decorator", or "How To Train A Dog For Beginners".
You can do this by using tools like Google Ads Keyword Planner, which shows you how many people search for a particular keyword and what they're searching for.
You can also use keyword research tools like Semrush, Ahrefs, and Moz Keyword Explorer to get a sense of what terms people are using to find your site.
2. Create Content That Readers Will Love And Share
Search engines like Google reward quality content.
If you want your site to rank higher, create high-quality articles that are well researched, insightful and helpful.
To give your article an edge, add images and videos that complement the content. Use effective copywriting to create copy that compels your readers to take action.
And to succeed, make sure you write content that is also unique. This means not copying and pasting text from other sites into yours.
If Google catches you doing this, it will penalize you in its rankings system. Instead, write original content that offers value to users who visit your pages.
Remember to not just rely on your readers to share your content. Make sure you are letting all your followers know when you create something new.
Why is this critical for your SEO?
Because email marketing can boost your SEO too!
That's right… email marketing is one of the most effective tools to inform your subscribers that you have new content.
So, send emails to them with links to your content.
This is a great way to drive traffic to a new post or article, and to get it to rank higher in Google's search results even quicker.
3. Optimize Your Content For Search Engines
Search engines are the gatekeepers to the internet, but they don't care about your content unless it's relevant to their users.
If you want to rank high in search results, you have to make your content search engine friendly.
The first step in optimizing your content for search engines is making sure that it's easy for them to read and understand what your page is about.
This means using keywords in your content, creating a sitemap, writing descriptions and headings, and more.
You don't want to overdo it with keywords or you will come across as spammy. But don't be afraid to use them when they make sense in context.
You should optimize all of your pages, including homepages, blog posts and product pages.
But there are some key areas where you want to focus extra energy. These include:
Using Proper Heading Tags
Use H1, H2 and H3 heading tags properly. Search engines use these headings as a way to classify content and determine where certain keywords are placed on a page.
Use them correctly, or else search engines won't know what goes where.
Using An SEO Plugin
If you're using WordPress, then install the Yoast SEO plugin to help you optimize your site content – it's free.
Yoast SEO will make sure that you are using the most appropriate keywords, and that you are using the right headings on each post.
The plugin will also automatically create a sitemap for you, and much more.
The second step in optimizing your content is to make sure you have a good internal linking structure.
This helps search engines to understand the structure of your site and determine how it's related to other pages on your website.
However, you don't want all of your links to be pointing at the homepage.
Instead, make sure that you link out to other relevant pages on your own site as well as external resources like industry or news articles, etc.
Once again, if you're using the Yoast SEO plugin, it will check your internal linking structure to make sure that you're using the right links.
And, it will even suggest additional links based on what you've already published.
4. Get Backlinks From Other Sites That Have An Overlap With Your Audience And Content
Getting backlinks is one of the most important things you can do for your website SEO.
Backlinks are the way search engines determine the authority and value of your website, so getting them is essential for any SEO campaign.
In order to build authority and get more traffic, you need backlinks from sites that are relevant to both your content and audience.
The more authoritative sites that link back to yours, the better for you SEO!
The best way to find potential sources of backlinks is by doing research on competitor sites or seeing what kind of links they have pointing back at their own content.
You can use tools like Semrush or Ahrefs to find out where they're getting their links from and find similar sites that you can get links from too.
One way to get backlinks is through guest posting.
This is when you write an article for another blog or website. When your article is published there, the other site links back to yours.
One of the best ways to find new opportunities for guest posts is by building relationships with other bloggers in your field or niche.
This means commenting on other blog posts, engaging on social media channels like Twitter or Facebook, and asking questions about their blog posts, etc…
This shows other bloggers that you're interested in what they have to say and want to learn from them. When you're ready, ask if they would be willing to let you write a guest post on their blog.
Once again, just make sure that you get backlinks from relevant sites that have an overlap with your audience and content.
If the site you're getting a backlink from has nothing in common with yours, Google will likely consider it a link farm instead of an actual link.
This means it won't be counted towards your site's overall authority or credibility in the eyes of search engines.
Worse still, if you have too many of these links, Google will think that your site is spammy and de-index it altogether.
5. Optimize The Structure Of Your Website
This is an important aspect of search engine optimization that many people overlook.
The structure of your website is critical to its success in search engines, and it's a mistake that can cost you dearly in traffic and sales.
So what exactly is site structure?
It's the way you categorize and organize pages on your website. You can think of it as an outline for your website, or like folders on a computer.
The goal of site structure is to help visitors (and Google) find what they're looking for quickly and easily.
If Google thinks your information is neatly laid out and easy to navigate, it will reward you with higher rankings.
On the other hand, if your site structure is cluttered and confusing, then Google will penalize your SEO and drop your rankings.
Therefore, you should organize your website's content into logical categories and subcategories so that your visitors can easily find what they are looking for.
Good site structure also means having a simple navigation bar at the top and bottom of every page.
This helps users can easily find what they're looking for without having to scroll through multiple pages or hunt around for links.
The good news is that site structure isn't difficult to create and maintain.
It's like keeping your desk tidy – you just need to make sure everything has its place and is easy to find.
Just remember, keeping it simple works best for SEO.
6. Speed Up Your Website So Pages Load Quickly
One of the best ways to improve your search engine rankings is to make sure that your website loads quickly.
Google search engine optimization now uses page speed as a ranking signal in their algorithm.
This means that if you want your site to do well for Google SEO, it's important that it loads quickly.
Four simple ways to speed up your website include:
Using a good hosting and a fast theme – the way your site is hosted and the theme you use can have a large impact on its performance. Make sure that you're using a fast, reliable hosting provider and website theme so that everything loads quickly, including images and other media.
Reducing the file size of your images – reducing the file size of your images can help speed up your site. To do this, use Photoshop, or a free tool like TinyPNG to compress your images before uploading them.
Removing unnecessary plugins – while plugins are great for adding extra functionality to your site, they can also slow it down and hurt your SEO.
Using a caching plugin can help speed things up by caching your pages so that they don't have to be generated every time someone visits them. It doesn't get any better than WP Rocket for speed (I use it on this site). If you need a good free solution, Cache Enabler is good plugin too.
7. Measure Your Progress By Using Analytics
To do SEO right, you need to know how to measure your progress. And you do this using analytics.
No matter how good your SEO is, it's only as good as the data you collect.
You can't tell if your SEO efforts are working unless you know how many visits your website is receiving and what channels those visitors came from.
There are many different tools that can help you with this, but Google Analytics is one of the best.
This is a free tool from Google that will tell you how many visitors are coming to your site, where they are coming from, which pages they visit, and how much time they spend on each page.
This information is useful for everything from content creation – are people liking my page? – to site navigation – which pages are users spending the most time on?
If you're using a content management system like WordPress, it is easy to set up Google Analytics tracking so you can start monitoring your SEO efforts right away.
If you want even more useful SEO information then use Google Analytics together with other tools like Google Search Console (formerly Google Webmaster Tools) and with Google AdWords Keyword Planner.
Bottom line… If you're not using Google Analytics, you should be!
So, that's how you do SEO.
Simply follow these 7 steps and you'll be on your way to mastering the art of SEO.
Just remember that it's an ongoing process…
You can't just do it once and expect it to work. To get the best results, you have to keep at it and stay on top of your SEO efforts.
You'll soon have more visitors than you know what to do with!
Conclusion
If you're not using SEO, you're missing out on a HUGE opportunity to grow your business.
Learning how to use SEO is like giving yourself the keys to the kingdom.
It's like learning how to work the magic of Google so that you can get more traffic, more customers, more money – more of everything that matters to you!
I'm not saying it's going to be easy – but if you follow my advice in this guide, it will be a lot easier than you think.
And remember, the only way to get good at SEO is by doing it.
So what are you waiting for?
Start learning SEO today… so when Google decides to love your site – which it will someday soon – it'll also make sure that everyone else loves it too!
Search Engine Optimization FAQs
Here are some frequently asked questions about SEO that I often get asked by beginners:
Want To Learn More About Sales Funnels?
Get Free Sales Funnel Tips, Examples, and Other Resources To Help You Build A Business And Lifestyle You Love.