8 Types of Sales Funnels Proven to Convert and Sell More
Sales funnels are key to online business success. But with so many types of sales funnel available for different products, services, and goals, how do you know which type to choose?
In order to convert and sell more in sales funnel marketing, you simply need to plan ahead. This means you need to choose the right types of sales funnel that will work best for each of your specific online marketing goals.
In this guide, I'll show you examples of 8 different types of sales funnel that are proven to work and convert more visitors into paying customers.
You will also learn where to find these types of funnels so you can get started and increase your sales today.
8 Types Of Sales Funnels Proven To Convert And Sell More
Here are 8 types of sales funnel that are proven to convert and sell more:
1. Opt-In Lead Generation Funnel
The Opt-In Lead Generation Funnel is the type of funnel that every website must have. It is simple to use, and has the basic building blocks of every other type of sales or marketing funnel used in digital marketing. It is also called a lead magnet sales funnel.
As the name suggests, the goal is to get leads on the front end of the funnel. But, this type of sales funnel also converts leads into paying customers on the back end.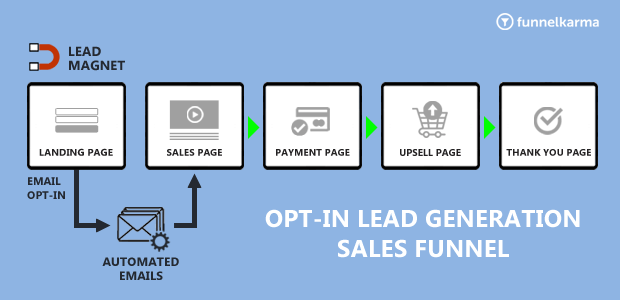 Visitors are attracted in to the sales funnel via a lead magnet like a free guide, ebook, or video. This will be on your website homepage, or a dedicated sales funnel landing page.
Here, visitors give you their email address in exchange for your free offer. You then reach out to your new leads via a series of automated emails with priced offers.
Each offer guides visitors to a sales page and then to a payment stage to buy. After paying, your new buyers are offered an upsell. This is an opportunity to upgrade, or buy an additional product. It also helps you to increase your cart value.
After the upsell, your paying customers are taken to a thank you page.
These types of funnels are perfect for you to grow your email list and start making sales too. The work extremely well for low-ticket offers between $1 and $97.
Opt-In Lead Generation Funnel Examples
Opt-in lead generation funnels sound very simple, but even the biggest companies in the world use them to build their email list. In 2022, email marketing is still the most effective form to convert visitors into paying customers.
You often hear people saying "Nobody uses newsletters anymore, right?". Well, the truth is, they work and successful companies know it.
Here, Tesla uses a simple newsletter opt-in lead generation landing page to get more leads.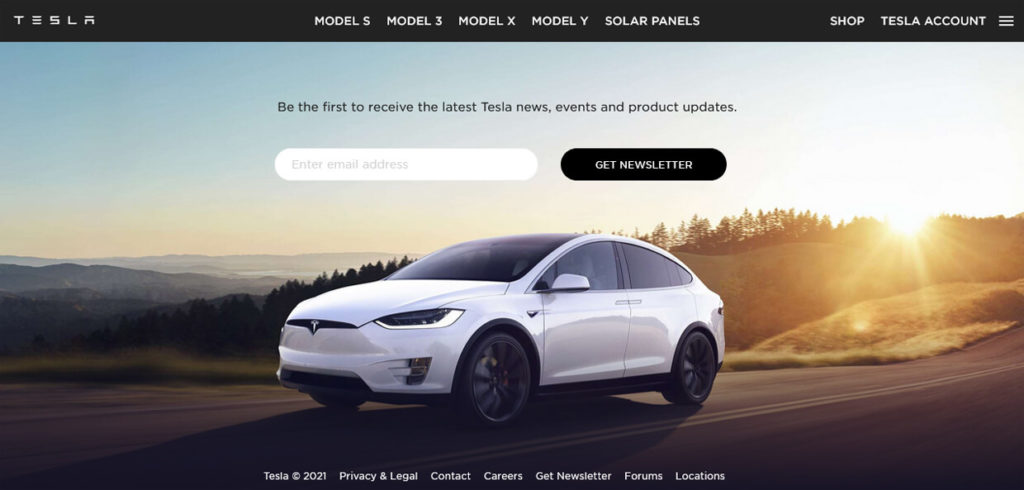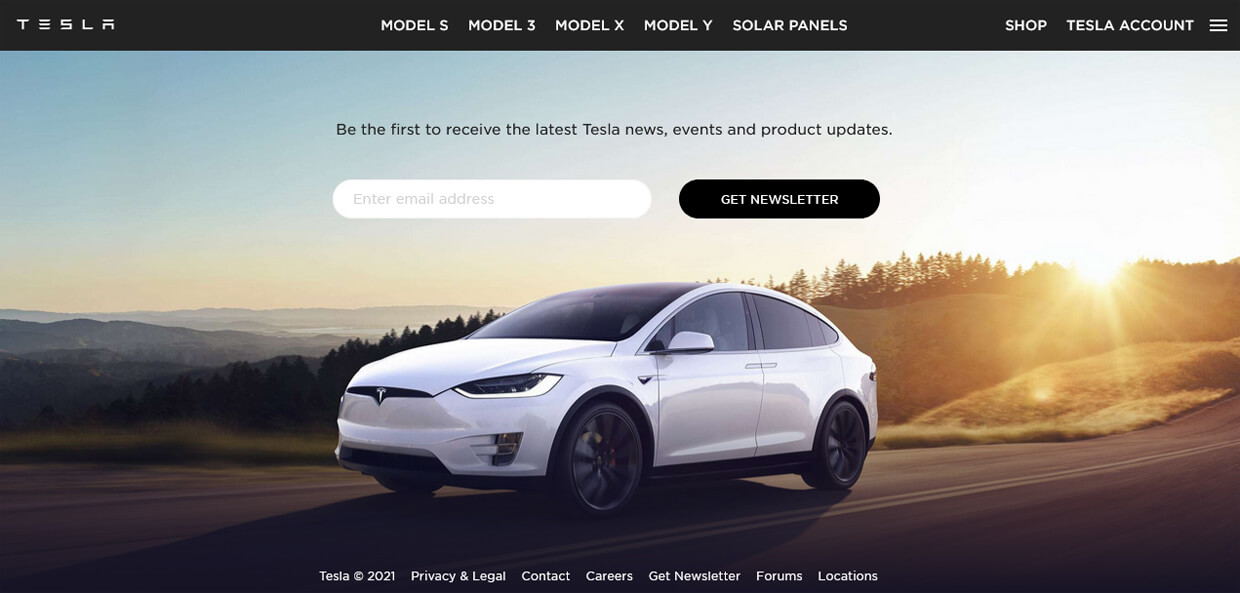 It's through this simple opt-in, that you enter the start of Tesla sales funnel. Its email marketing and marketing automation takes over and informs you of news, events, and new products.
As another example, Netflix asks you for your email address on its homepage. You can't create or restart your membership without it.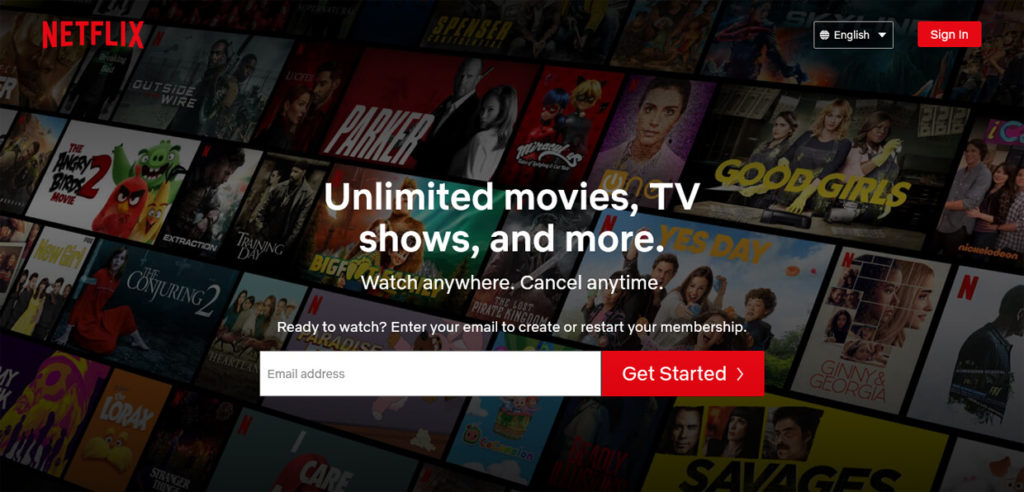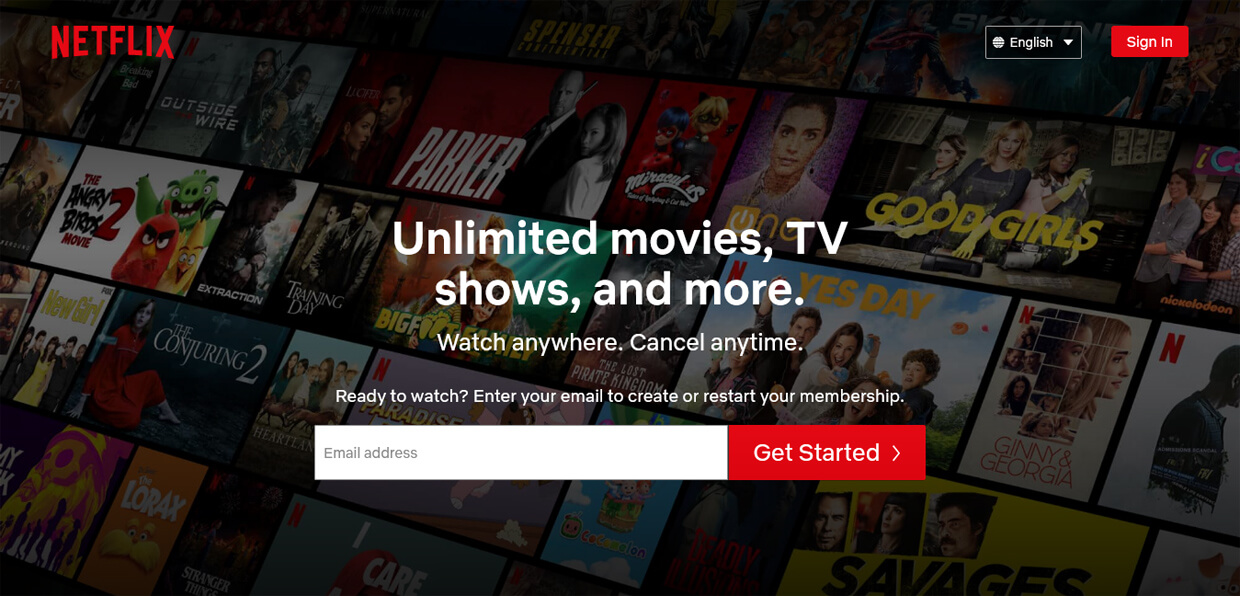 Once again, Netflix knows the power of a simple and clear email opt-in. Netflix knows that many visitors will leave its sales funnel early. So, it has powerful email marketing automation to woo you back.
Creating a simple opt-in lead generation funnel is very easy.
Using a landing page builder or sales funnel software, you can easily choose a pre-designed template that's ready to go.
Each template can be simply edited for your product or service, and its ready for the start of your funnel.
2. Free-Plus-Shipping Sales Funnel
The Free-Plus-Shipping Sales Funnel offers something in the $5 to $7 price range. These types of sales funnels are also very effective to get your visitors to start buying from you.
Although you may initially lose money on the front end, the goal of this funnel is to get a buyer. Once you have a paying customer, you can then move them to upsells to increase your profit on the back end.
Books, wellness products, and low-ticket consumables work well with these kinds of funnels.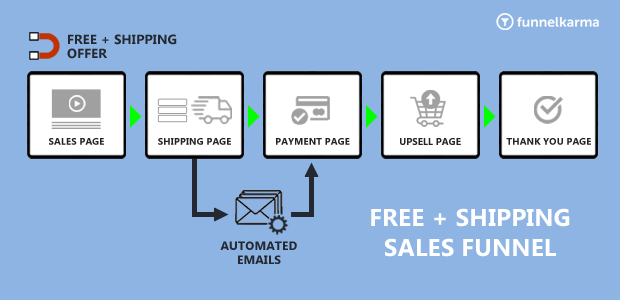 Here, visitors are attracted in to yours sales funnel via the free-plus-shipping offer. The first page is a sales page with a video or images of your offer.
You then guide your visitors to a shipping page for their email address and delivery details.
They then move to a payment stage for the shipping and handling charge. If a visitor leaves before paying, you can woo them back using automated emails.
Please note, it is important to be upfront with this shipping cost on the sales page. It is only ethical to do so. If you don't, your customers will leave your sales funnel and never return.
After the payment page, visitors are offered an upsell. Finally, visitors are taken to a thank you page.
These kinds of sales funnels are proven to work on people or traffic that is new to you. They are low risk for the buyer. They also work well because people tend to buy an upsell when they've only paid a little for something with a lot of value.
Free-Plus-Shipping Funnel Examples
Here's two good examples of the free-plus-shipping funnel. Entrepreneurs Dean Graziosi and Grant Cardone both use this type of funnel very successfully.
Firstly, author and investor, Dean Graziosi uses free-plus-shipping funnels to sell all of his books online.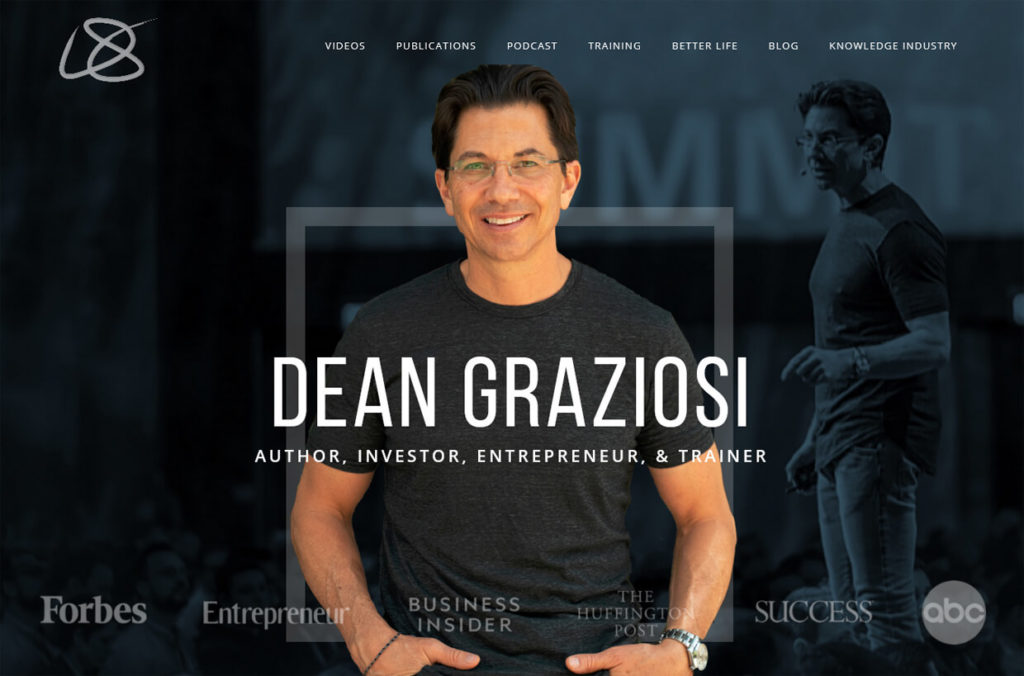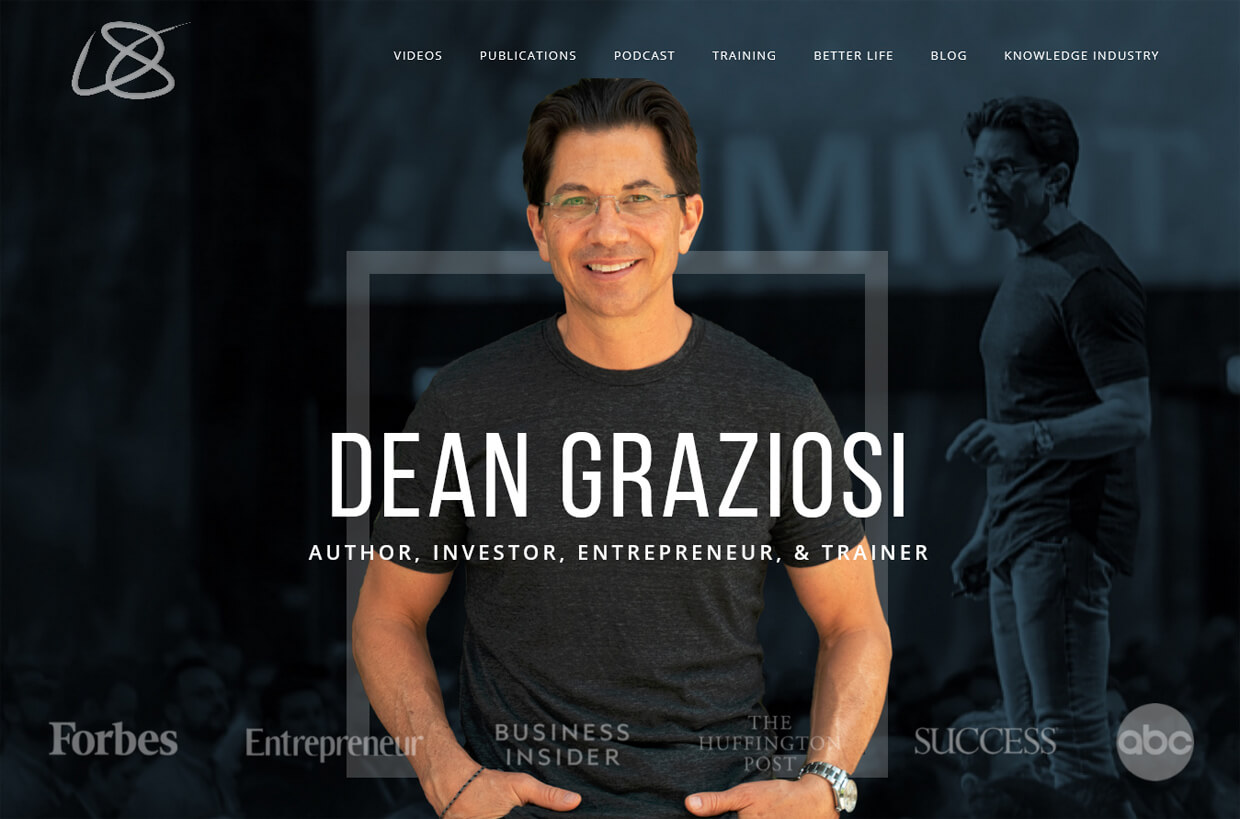 For example, here Dean uses this a simple free-plus-shipping landing page to sell his Millionaire Success Habits book.
In this case, Dean uses a simple template with effective copywriting to get your attention. The page also includes a short video, bonus information, and two call-to-actions to help you move forward in the funnel.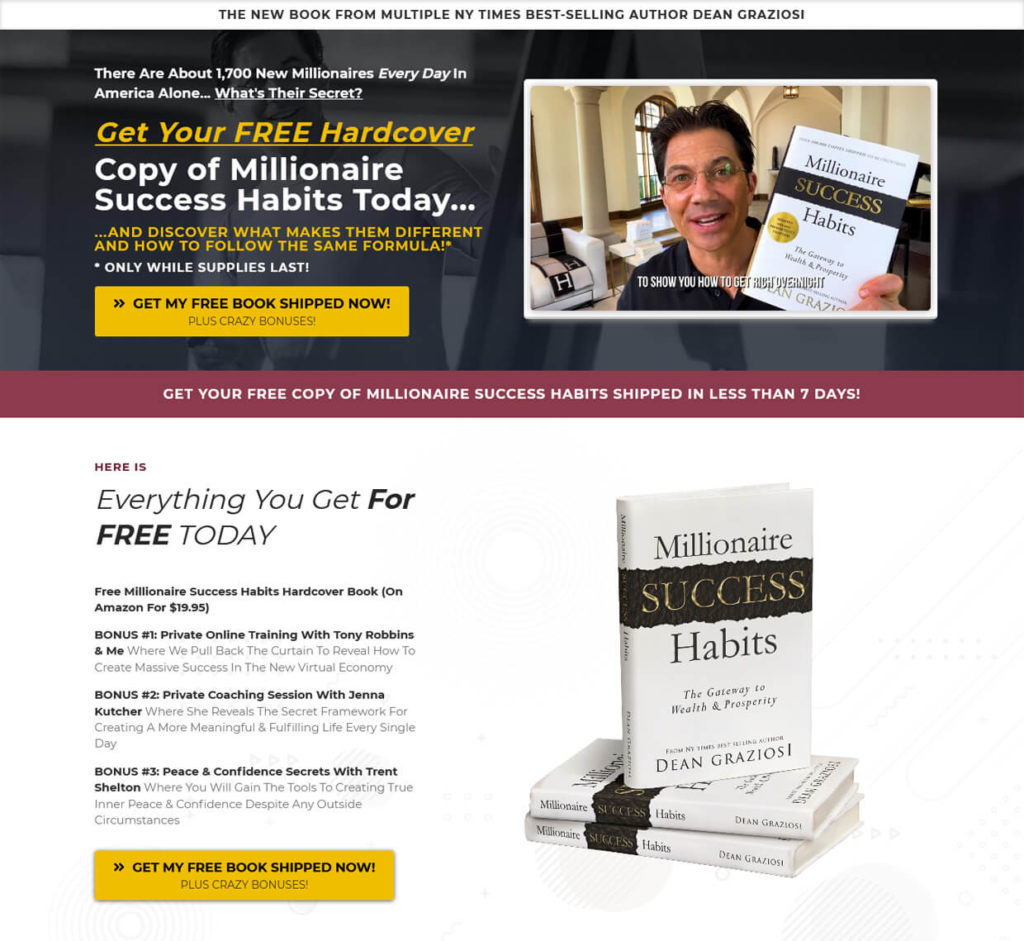 Using a simple two-step tripwire free-shipping funnel, Dean collects your email on a simple popup.
Once you have submitted your email, you are taken to the second part of the popup to enter your credit card details.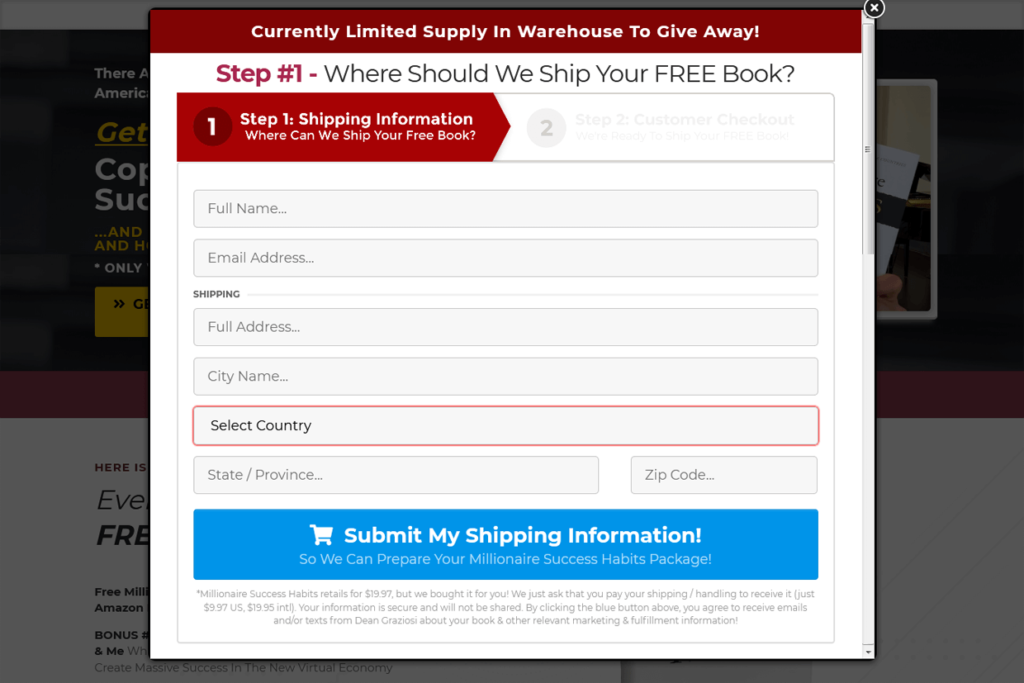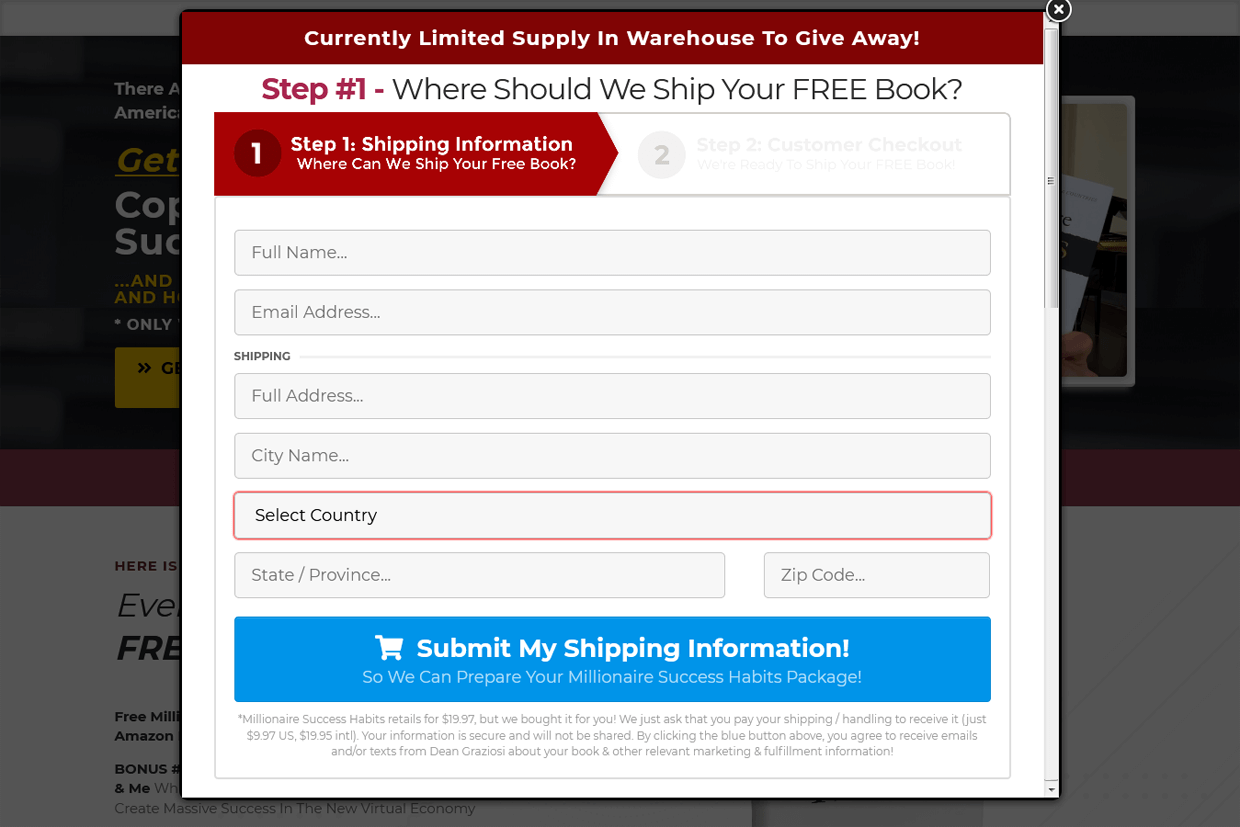 This is an extremely effective type of funnel. Like with Netflix, if you leave the funnel before payment, Dean has a way to remind you come back, or offer you more of his products.
In a similar way, bestselling author, entrepreneur, sales trainer and real-estate investor Grant Cardone also uses these types of funnels to sell all of his books too.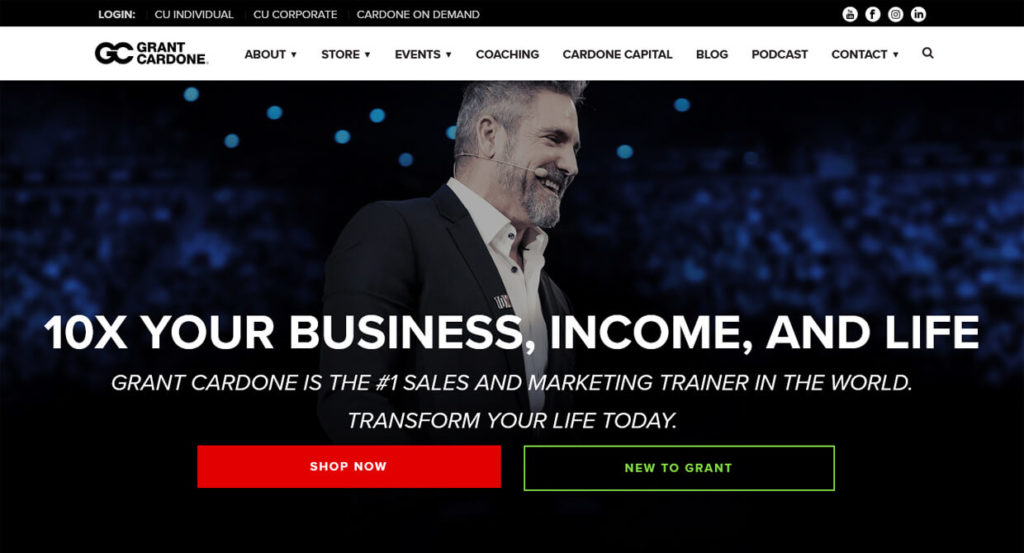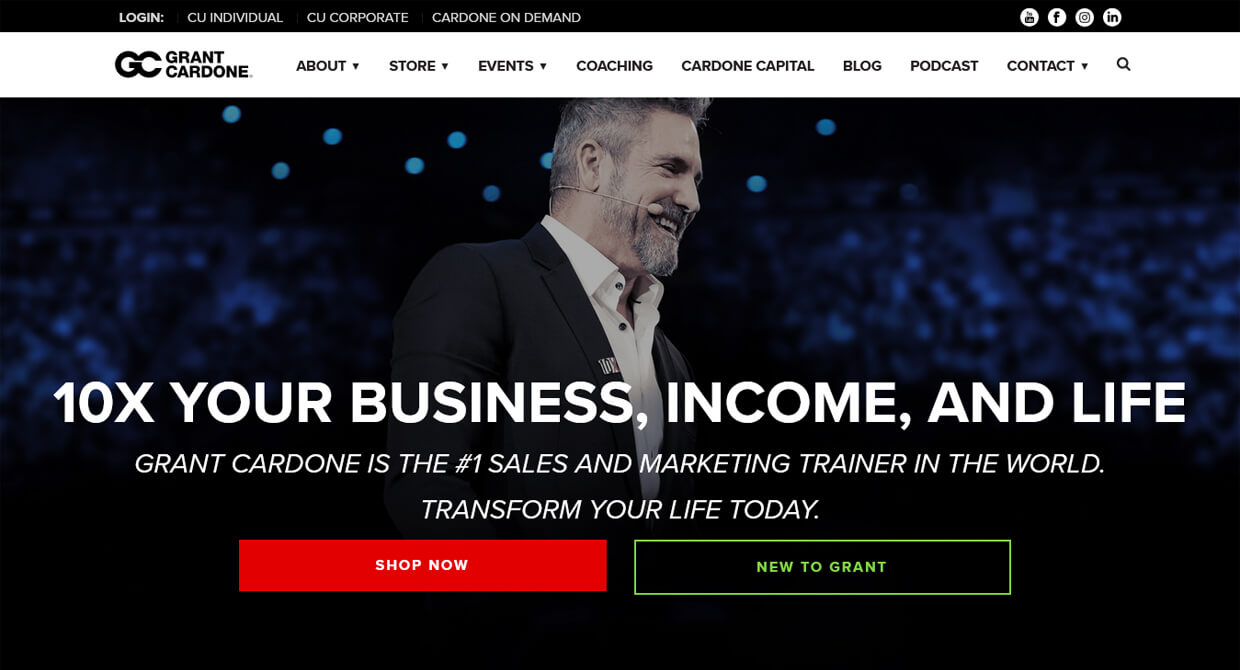 In this case, Grant uses a simple free-plus-shipping sales funnel template similar to the type used by Dean Graziosi. This template does not use popups to enter your information.
Instead, it includes two order bump upsells via an 'Upgrade' and a 'Special Offer' once you have entered you name and email address. This is designed to specifically increase cart value.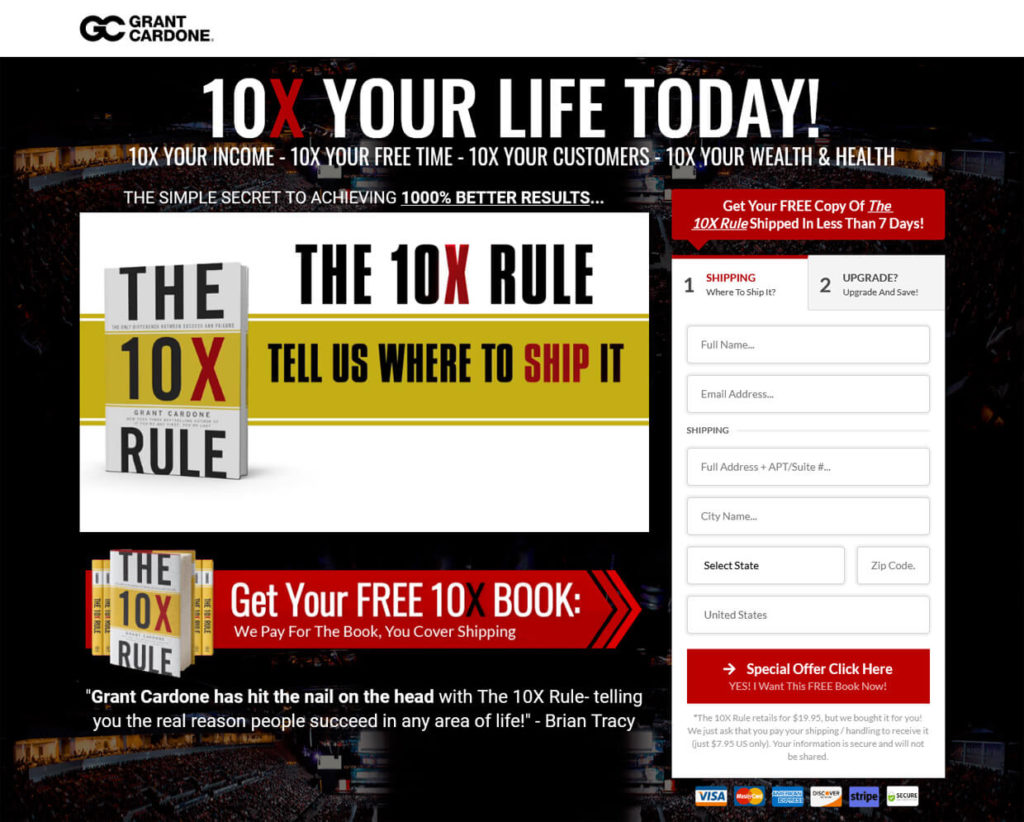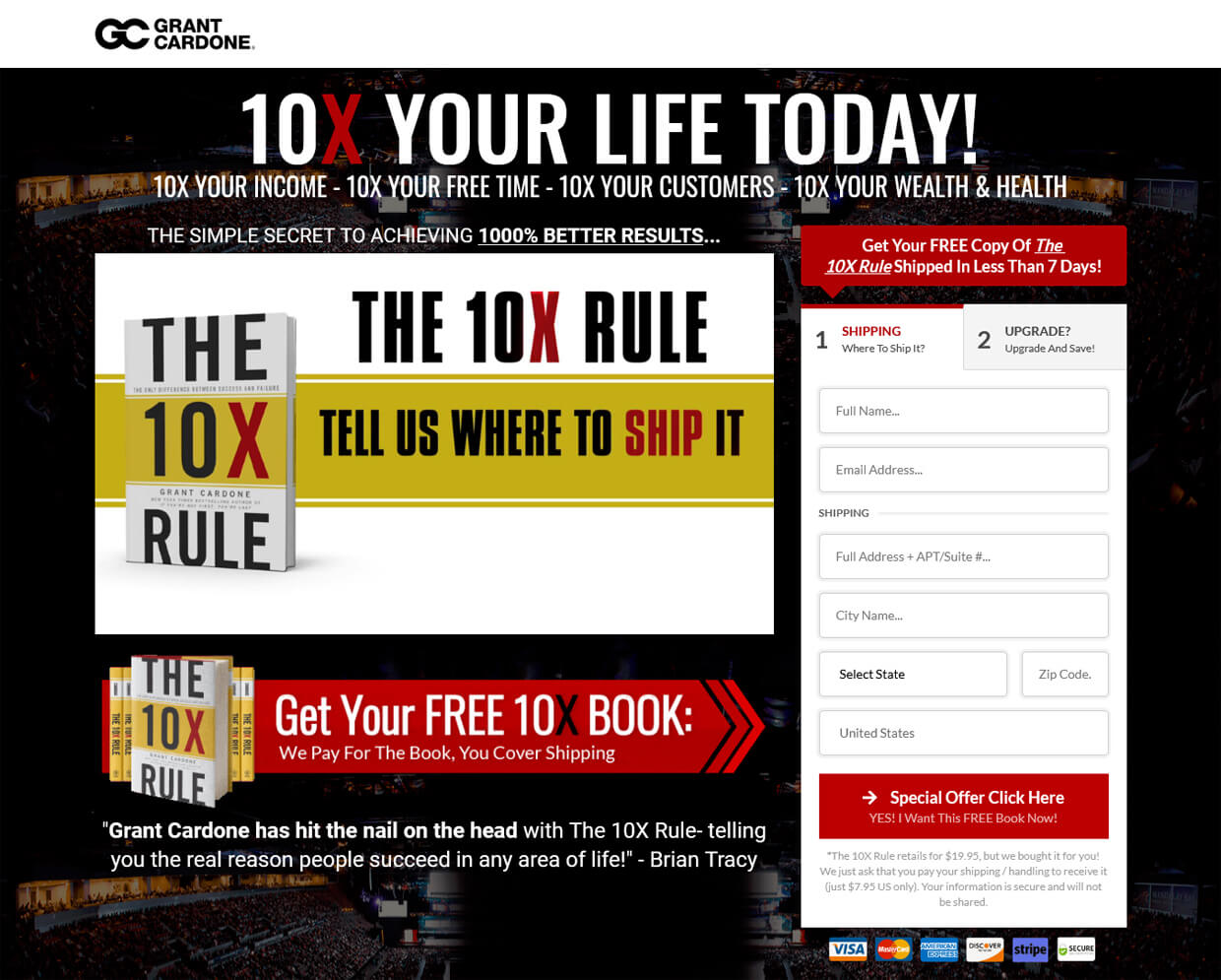 In each of these cases, Dean and Grant have both used exactly the same type of sales funnel template from ClickFunnels®.
3. Self-Liquidating Offer (SLO) Sales Funnel
The Self-Liquidating Offer (SLO) Sales Funnel is a type of sales funnel that covers its own traffic costs. It is able to 'liquidate' its advertising expenses using a higher priced front-end product.
This means that you are technically getting higher quality leads for free. And, if you can do that, then all your future upsells on the back end of the funnel are pure profit.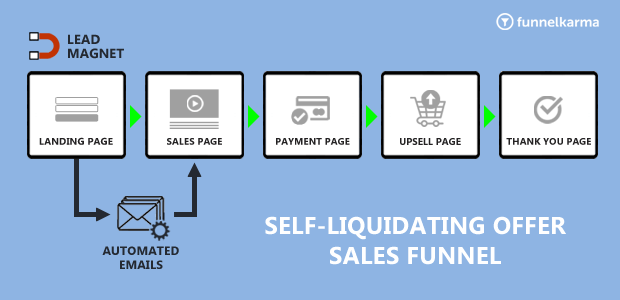 As you will see from the stages above, this type of sales funnel is very similar to the opt-in lead generation funnel. Visitors are attracted by a lead magnet on a landing page. A free guide, report, or video is the offer in exchange for their email address.
But, instead of waiting for an email to direct them to the funnel, here you guide your new leads directly to a sales page with a higher priced front-end offer. The following stages are the same as the opt-in lead generation funnel.
Once again, if your leads leave the funnel before payment, another series of emails guide them to return and buy.
These sales funnel types work well for products priced from $27 to $99.
Self-Liquidating Funnel (SLO) Examples
Grant Cardone also uses this type of funnel for his higher priced goods. Here he uses an SLO funnel to sell an official recording from his 10X Growth Conference.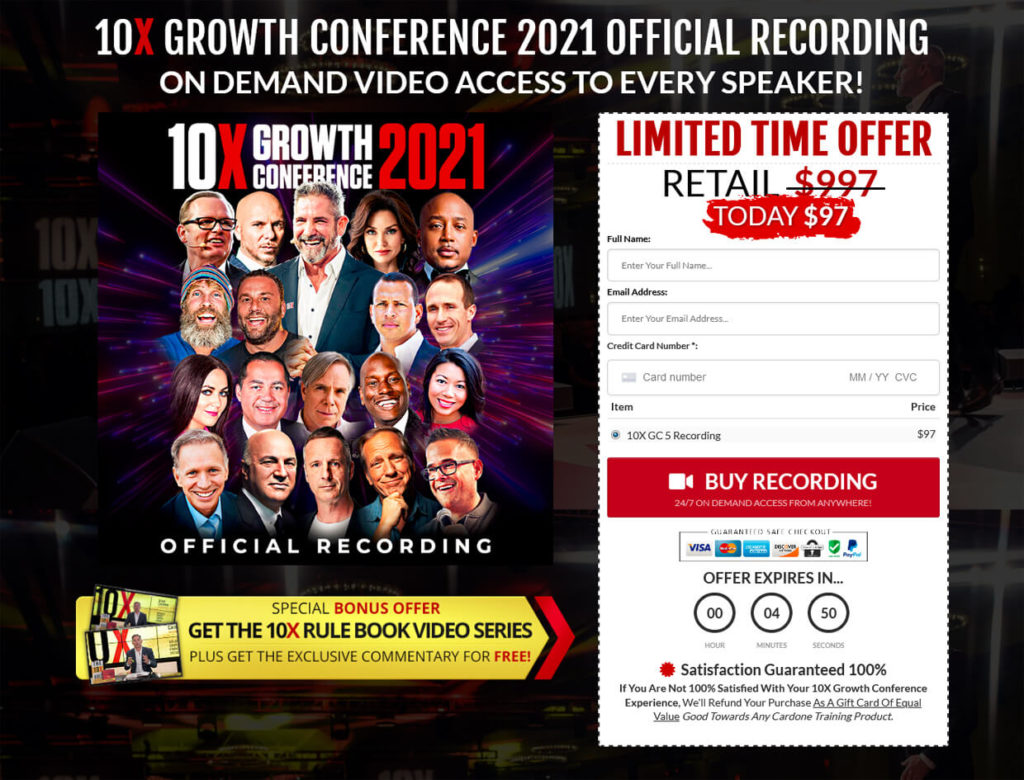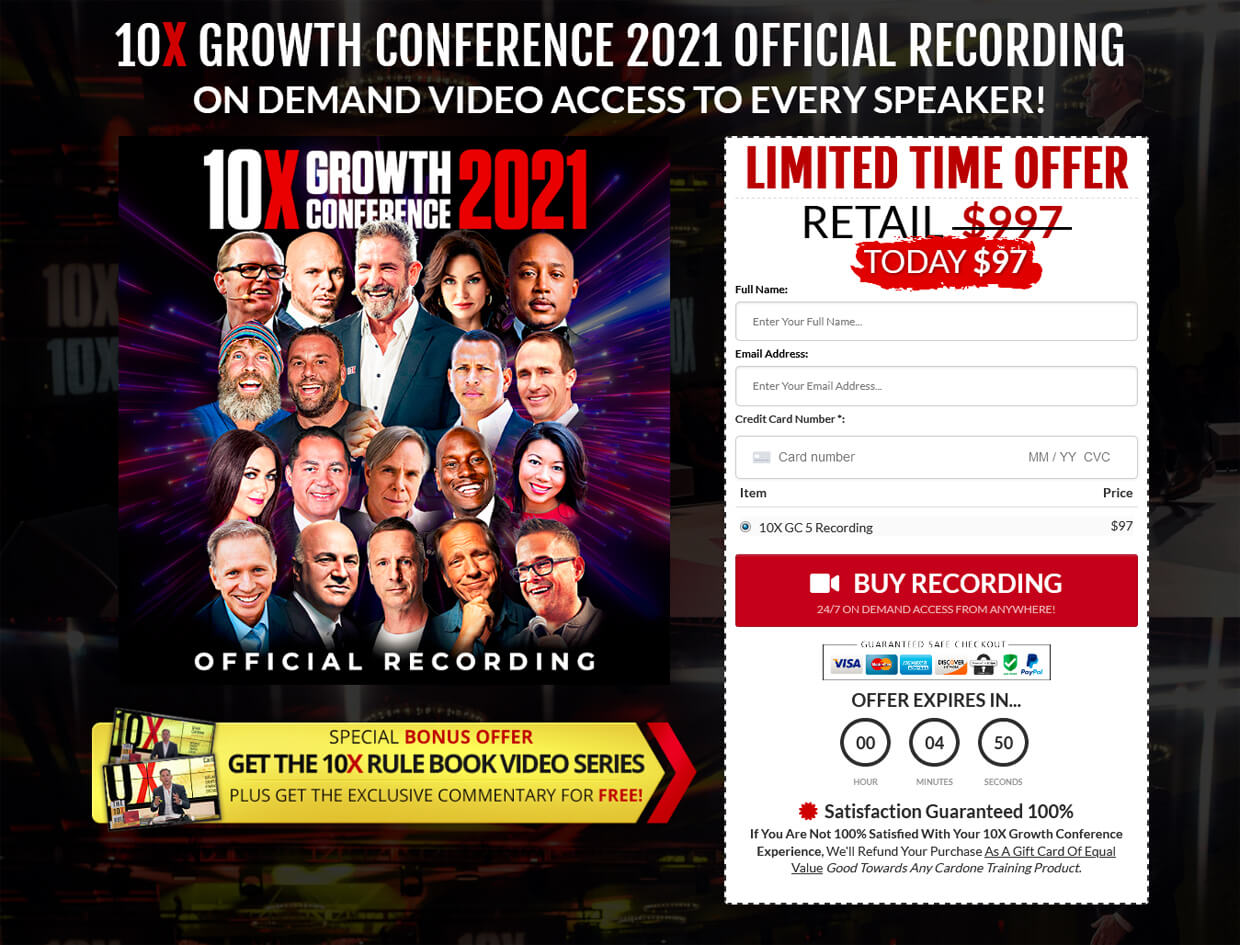 But one of the most successful examples of a self-liquidating offer funnel is from Mike Dillard.
Mike is a lifelong entrepreneur and network marketer, with expertise in personal branding, product development, list-building, and affiliate marketing.
His passion is to mentor new entrepreneurs who want to start and grow their business of their dreams.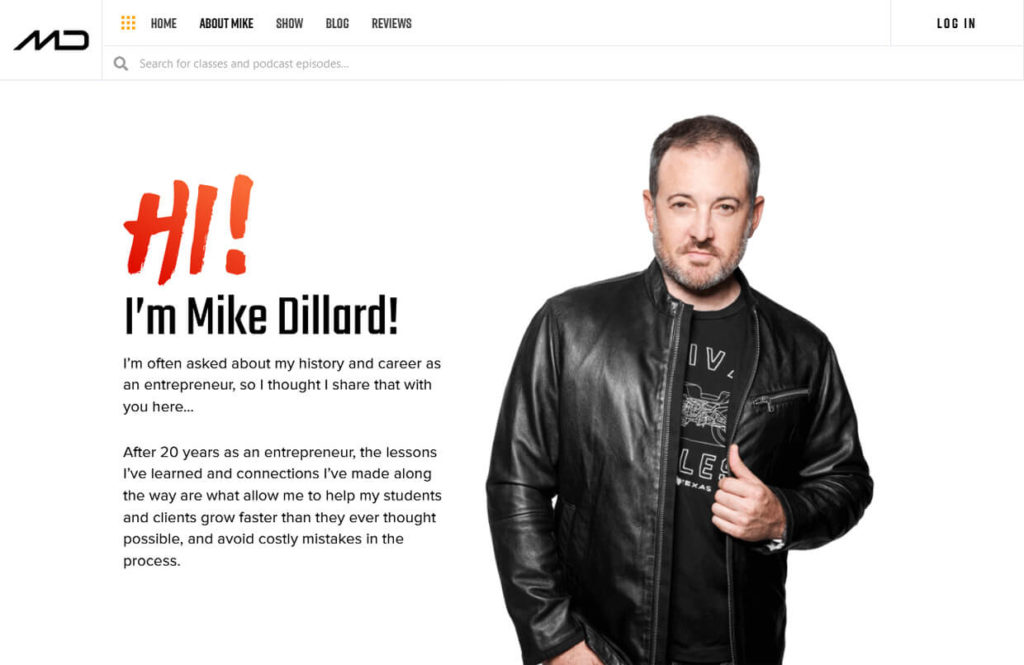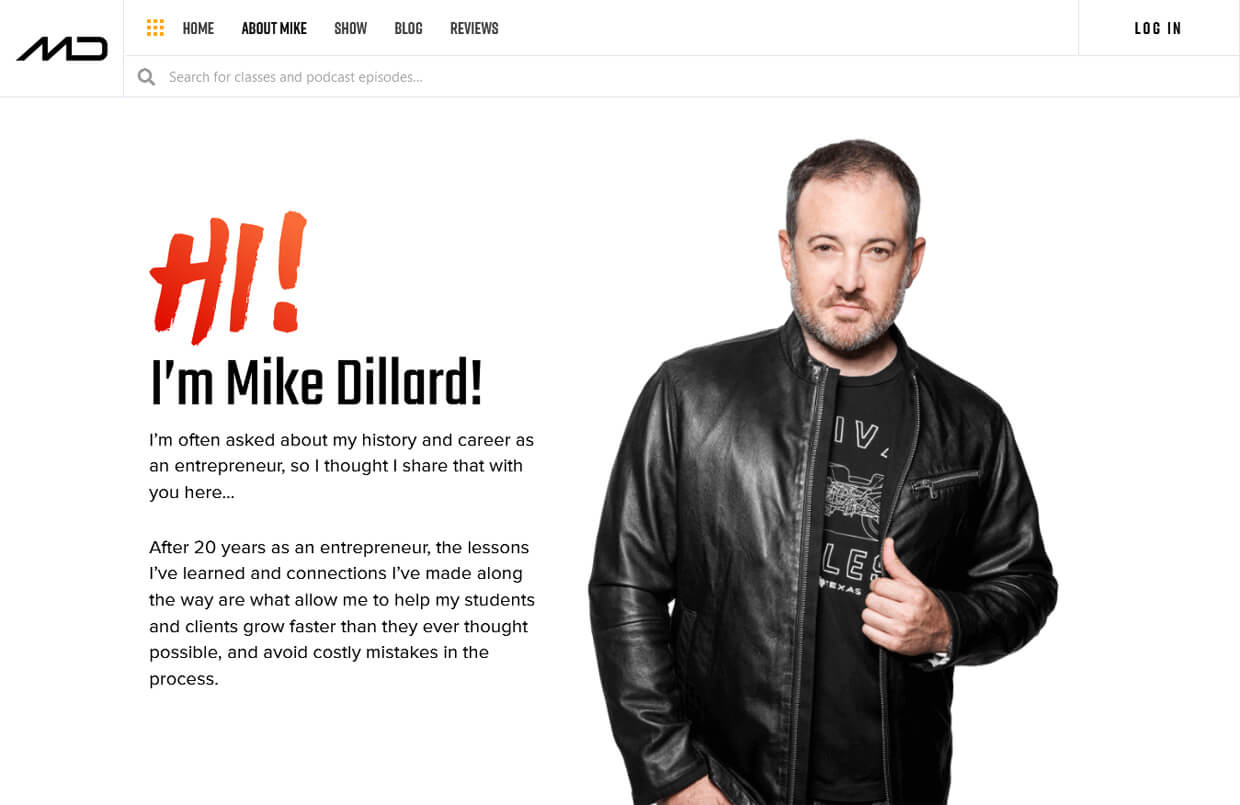 In 2005, Mike wrote a 55-page booklet about attraction marketing that was printed at a Kinkos photocopy shop for $1.50.
According to Mike, it was never spell-checked, or edited. But with some advertising using Google Adwords, within three months, he was selling over $50,000 per month of Magnetic Sponsoring at $40 per copy.
Better still, within 18 months, he went from waiting tables to a millionaire by the age of 27.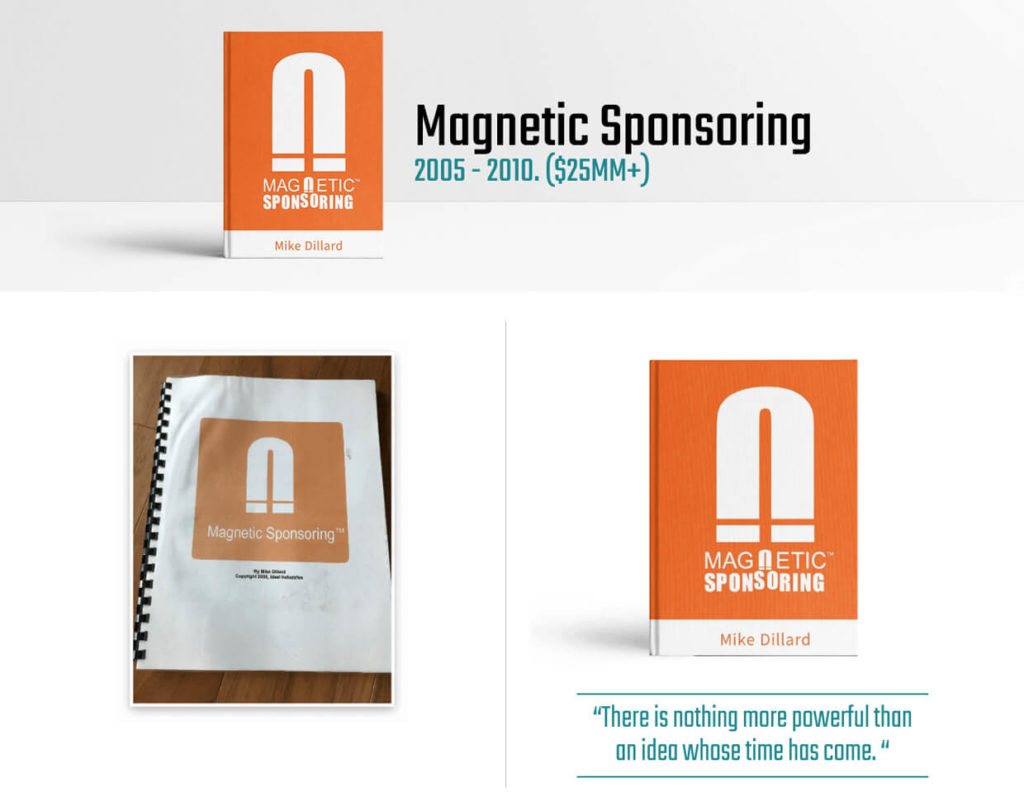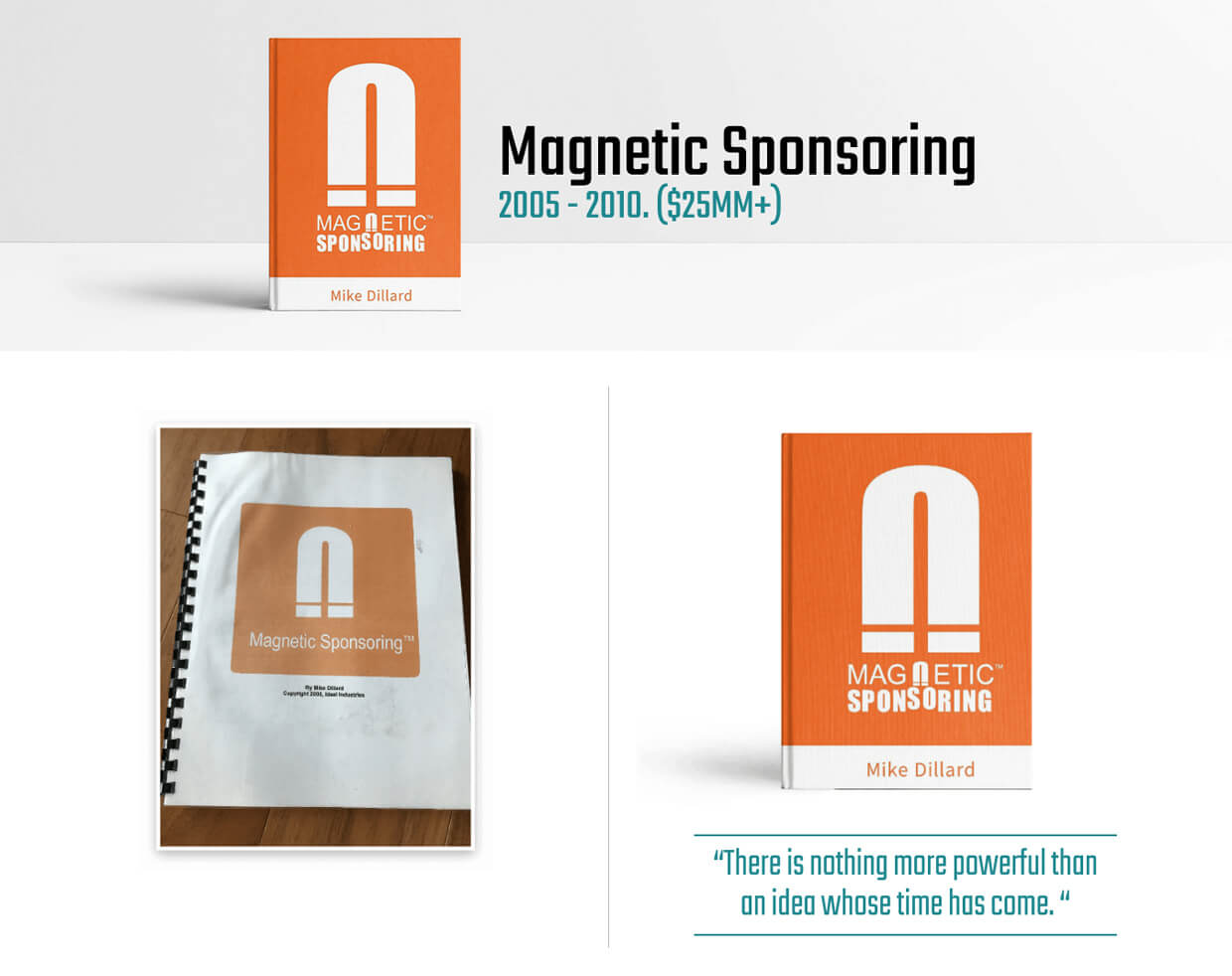 Over the next few years, he partnered with Elite Marketing Pro and grew the publishing side of his business to over $25 million in revenue. And it all started with just one offer, a few ads, and a sales funnel. That's the power of funnels.
Today, this type of SLO funnel still exists via Elite Marketing Pro's website.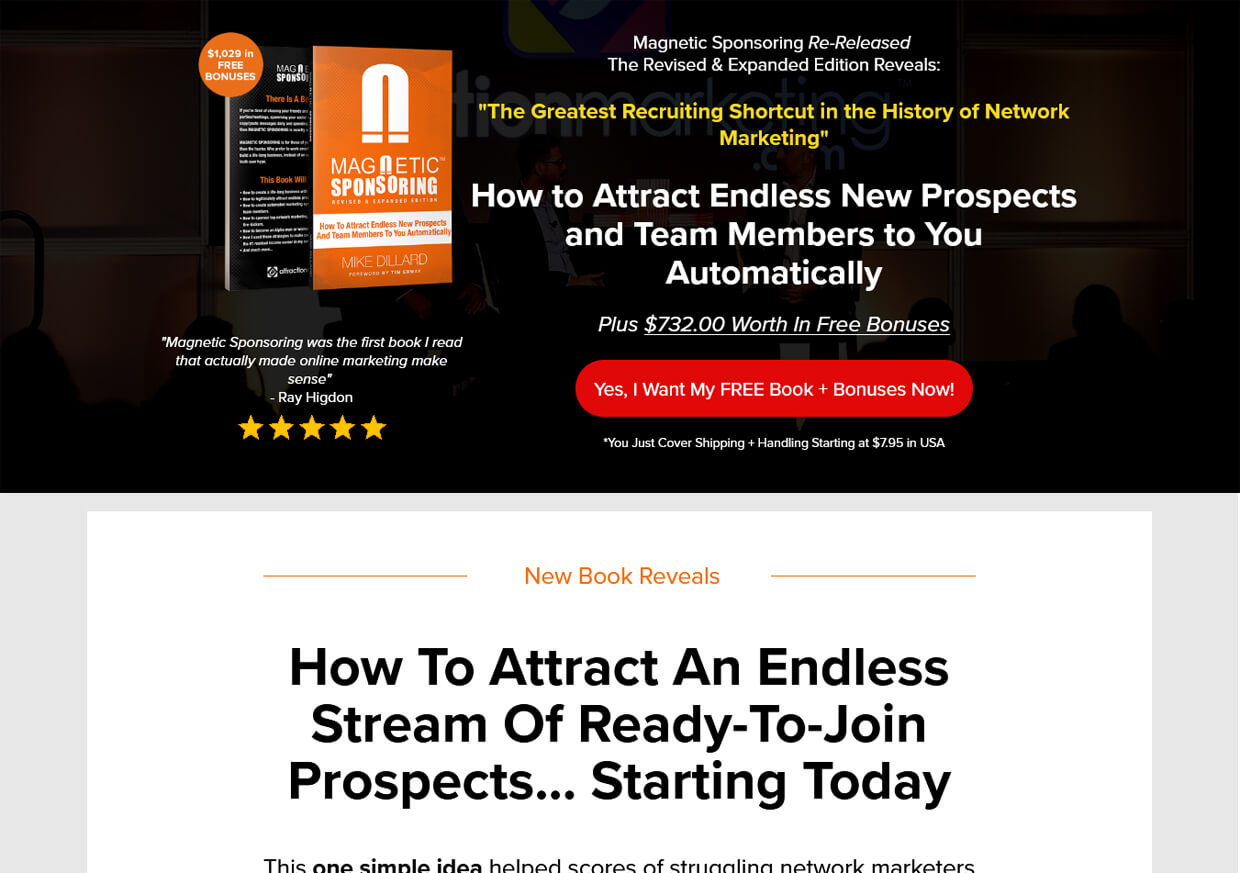 Like the other kinds of opt-in and free-plus-shipping funnels, it uses a very simple template.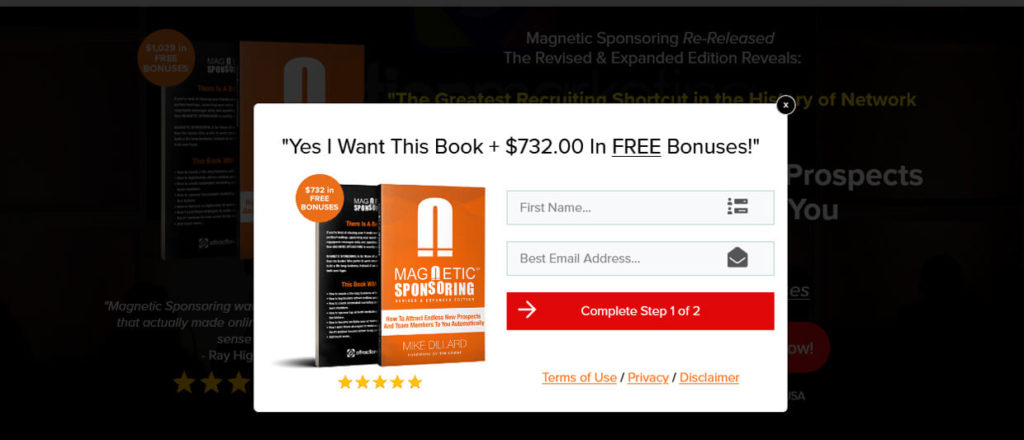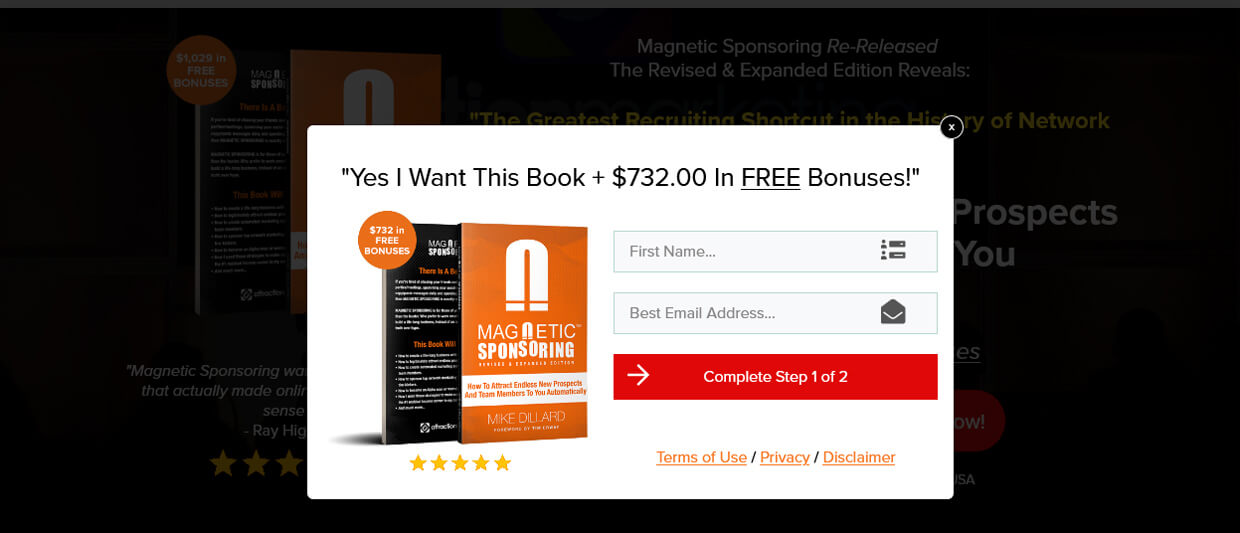 4. Continuity Funnel (Membership Funnel)
The Continuity Sales Funnel is a type of funnel to get visitors to sign-up and pay regularly for access to content or a service. It is also called a membership sales funnel.
These types of sales funnel typically provide recurring income every month.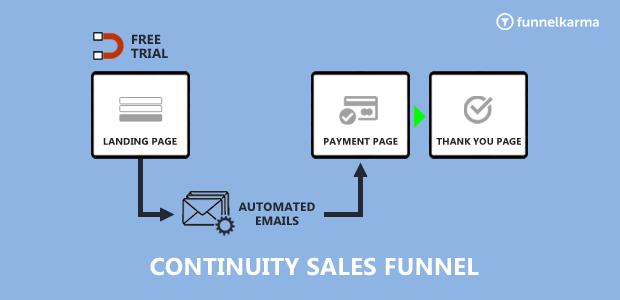 Here, visitors are attracted to a landing page with a free trial, or very low $1 offer to get them to sign-up. Once on your email list, you can direct them to a full membership funnel via a payment page.
These kinds of sales funnel are great to generate leads on the front end. But, they are most profitable on the back end. With the right content or service, they can easily convert leads into full paying consumers and members.
Membership Funnel Examples
There are many types of membership funnels around us every day. Some very obvious, others not so much. Here are a few examples.
The dating site eHarmony offers guides and advice on dating, and helps compatible singles to find love.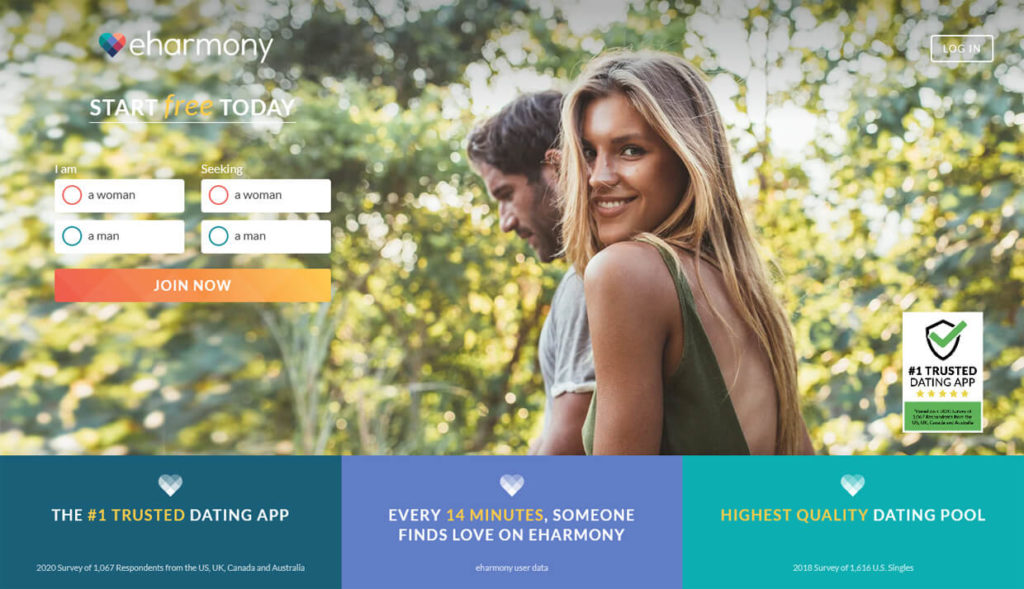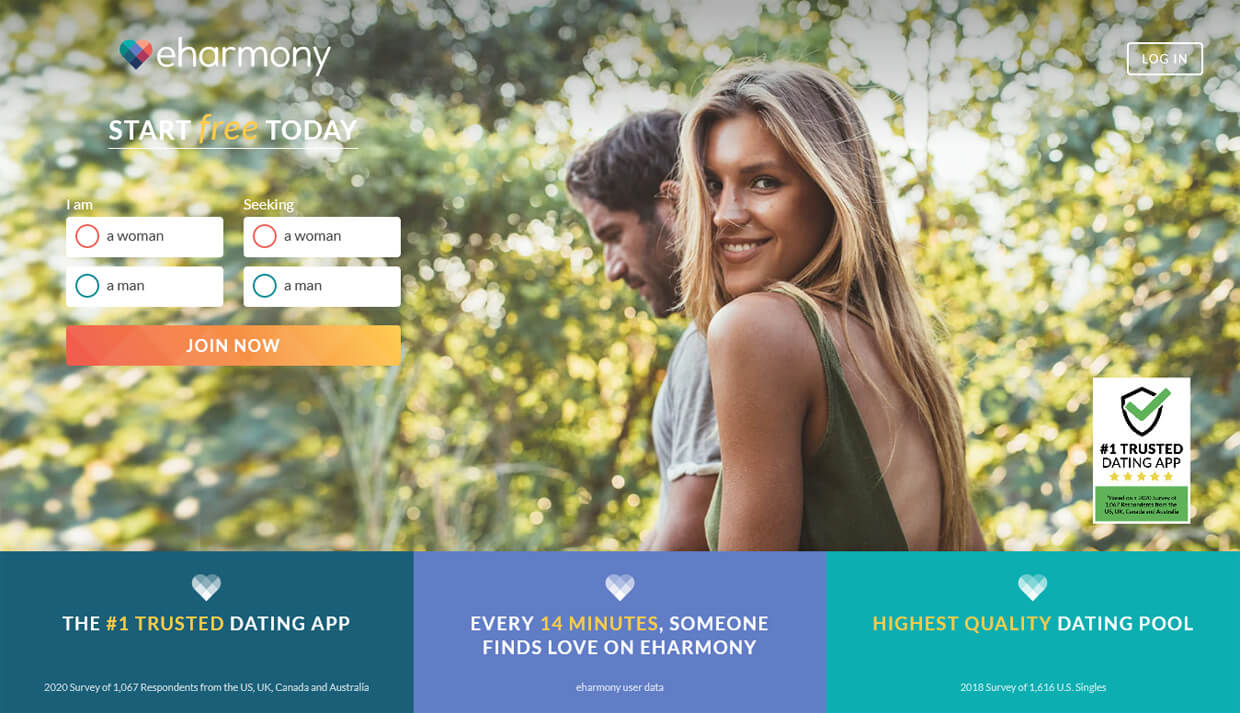 As a free member, you get basic profile information. But, on its paid plans, it offers suggested matches' photos and the ability to send personalized communications.
Linkedin is a social network for professional networking and career development. Most people use Linkedin for free, to display a resume, search for jobs, and to interact with other professionals.
However, Linkedin also offers a premium subscription version of its service called Linkedin Premium. For a monthly membership, you get access to online classes and seminars.
You also get valuable insights in to who is search for you or viewing your profile.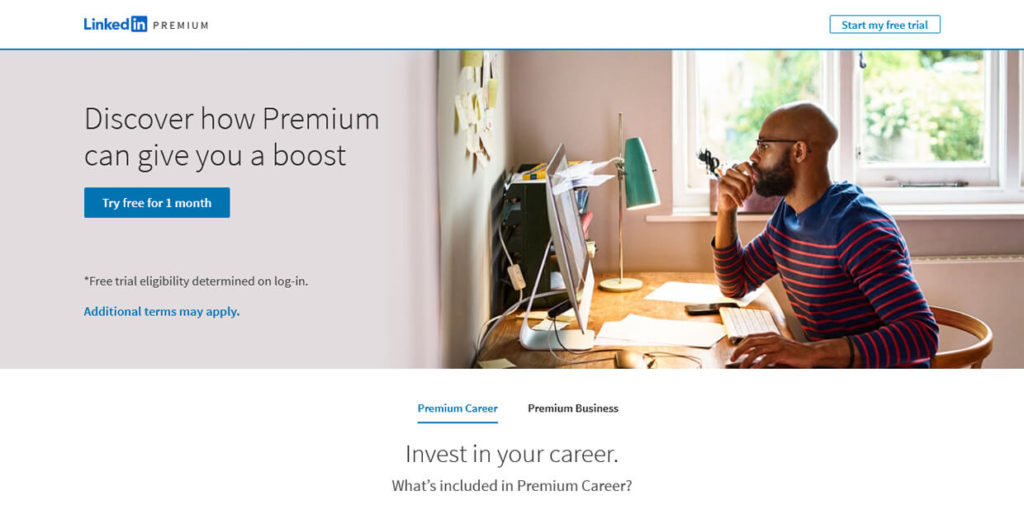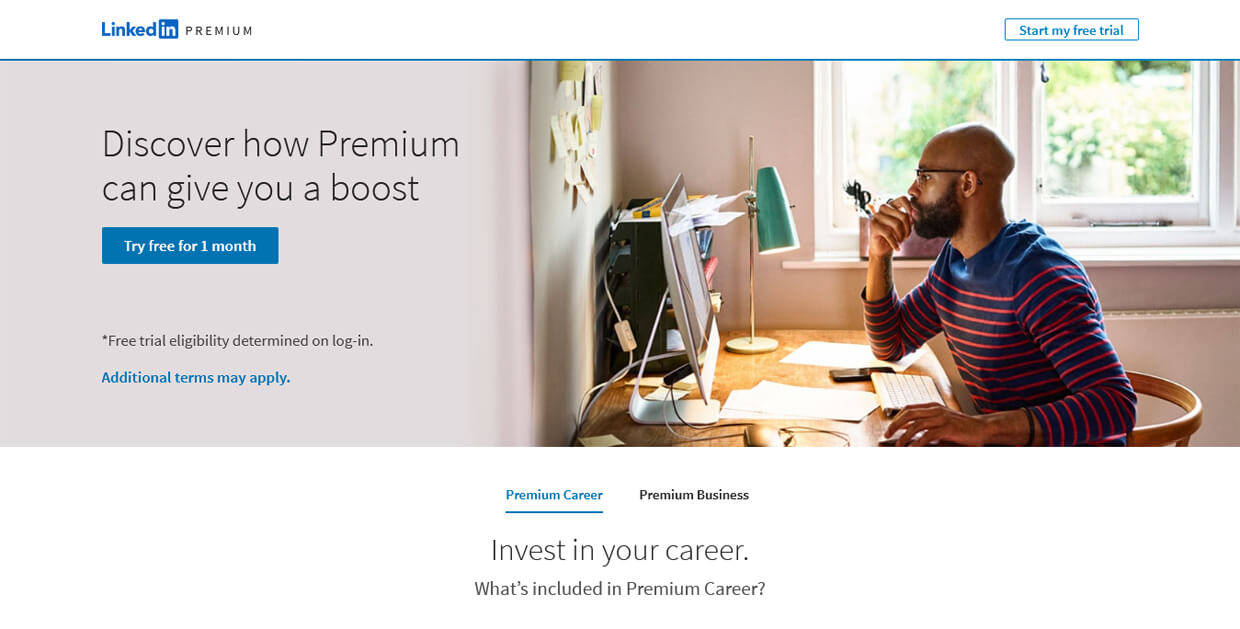 Lurn is a learning resource website designed to empower, encourage, and educate entrepreneurs.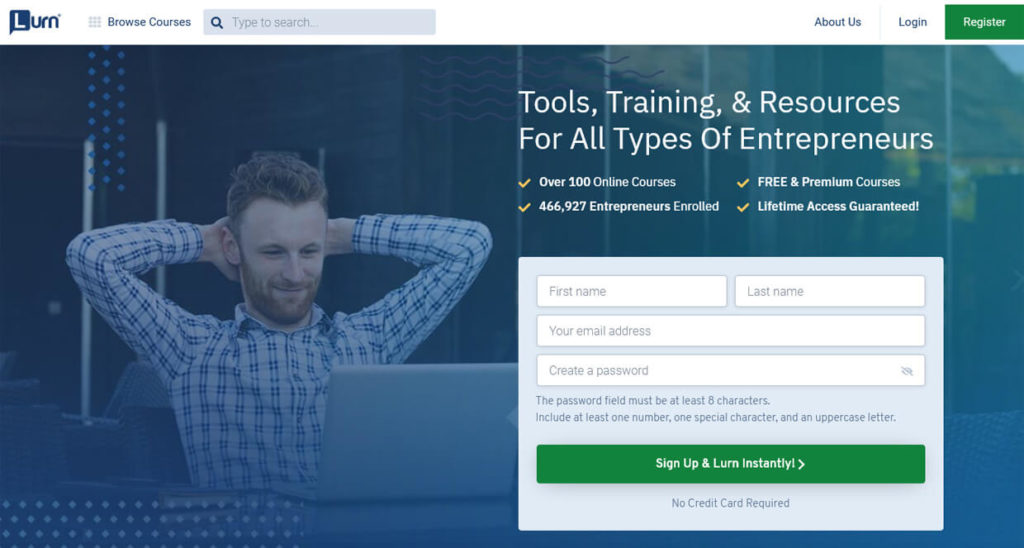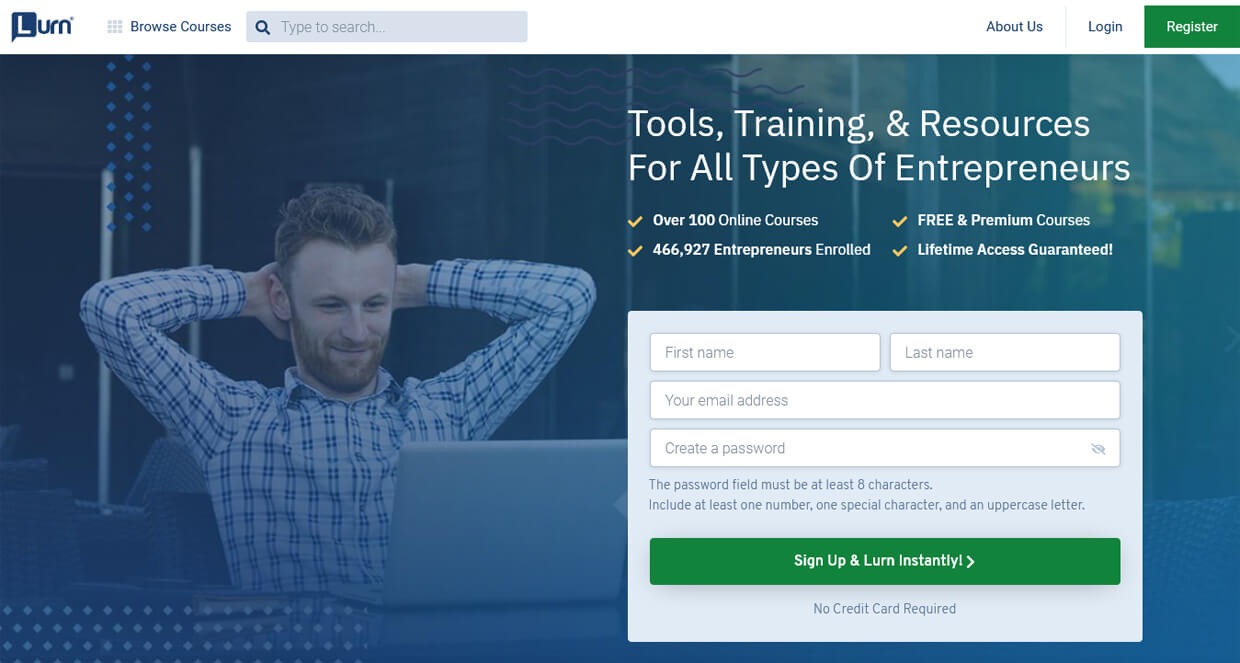 Lurn's experts include successful entrepreneurs like Robert Kiyosaki, Bob Proctor, Daymond John, Jimmy Kim, and Fred Lam.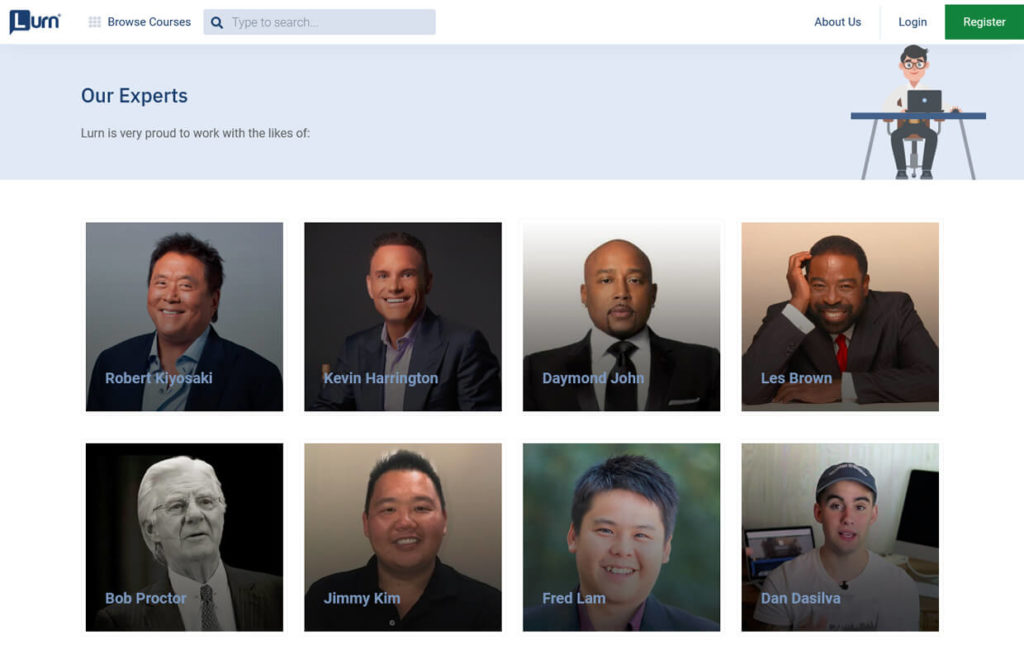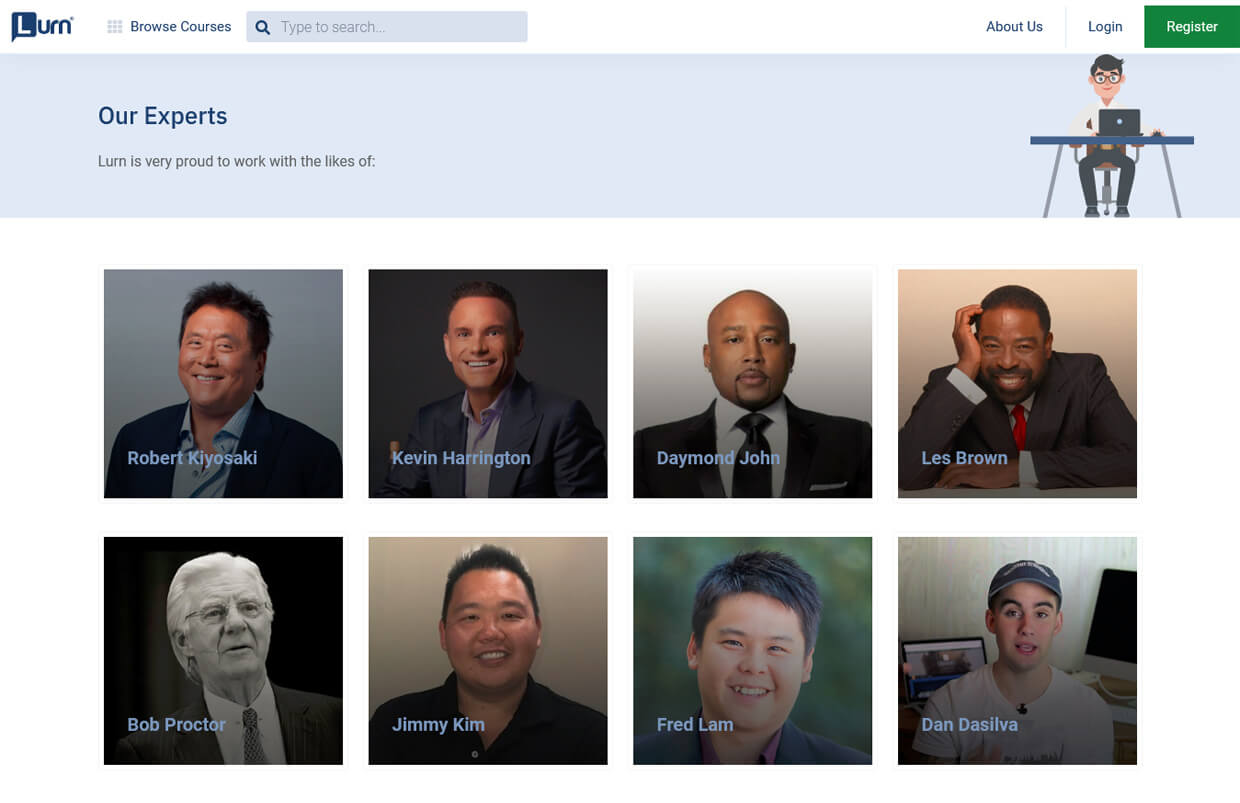 Anyone can join to get a membership for its free course. But, as a paying member you then get access to its premium learning content.
As another example, Allas Yummy Food is a membership site for those passionate about baking and cooking.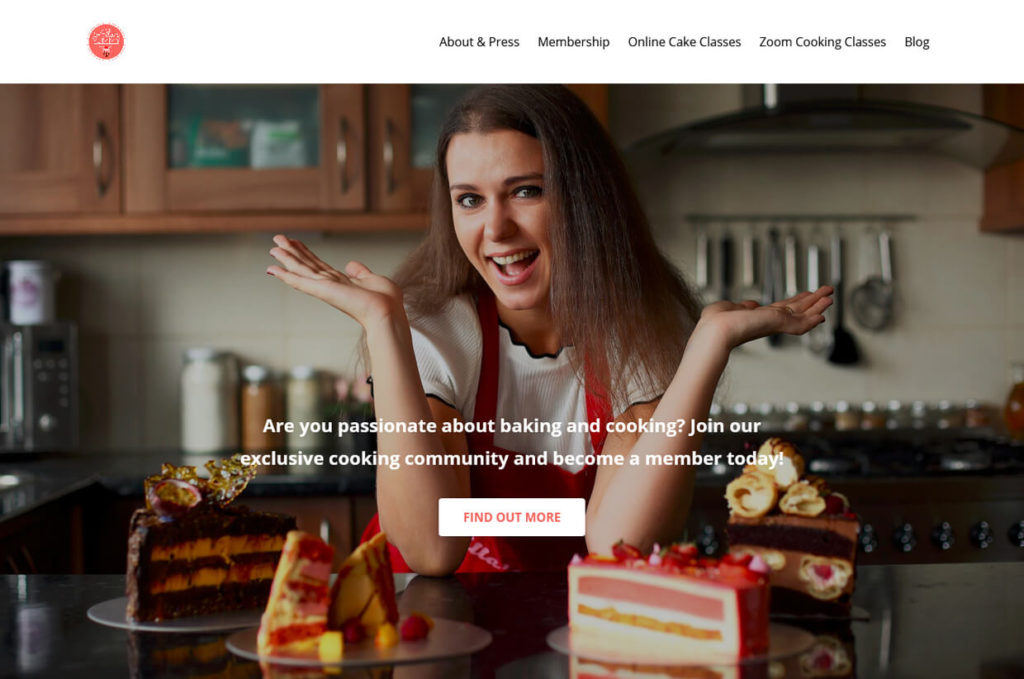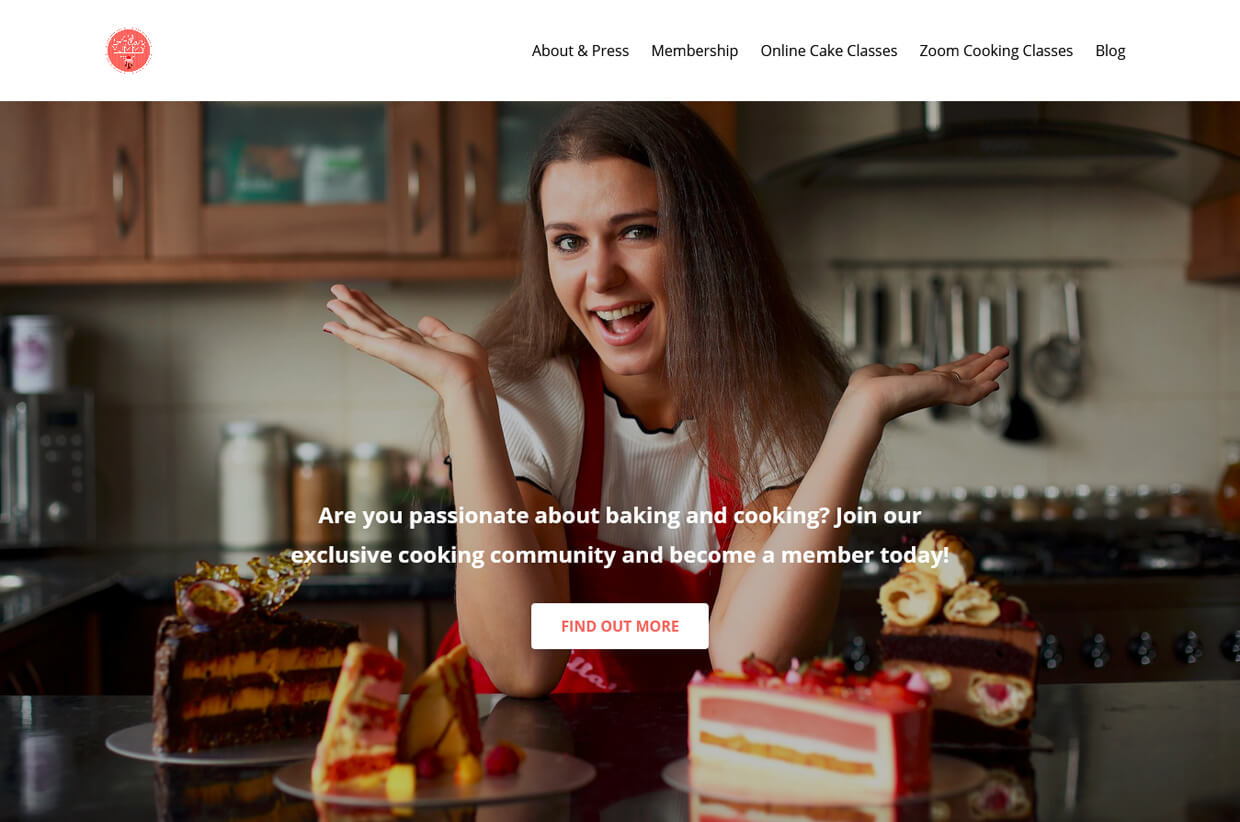 Allas Yummy Food follows a classic membership type of sales funnel model. It offers valuable cooking content for free. It then offers premium content to its paying members.
Using a simple email opt-in, you can sign up for free. This gives you access to regular free recipes and cooking tips.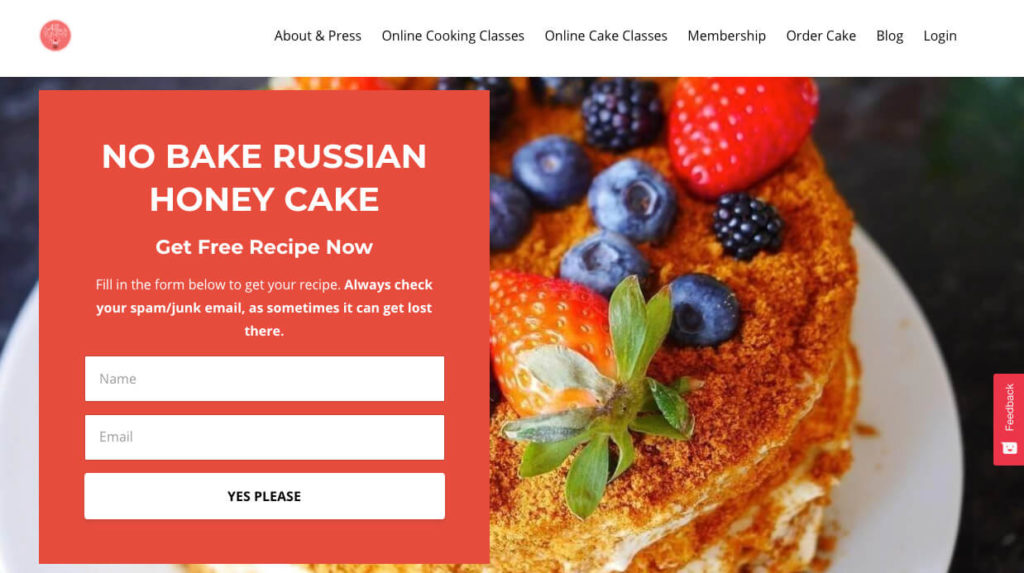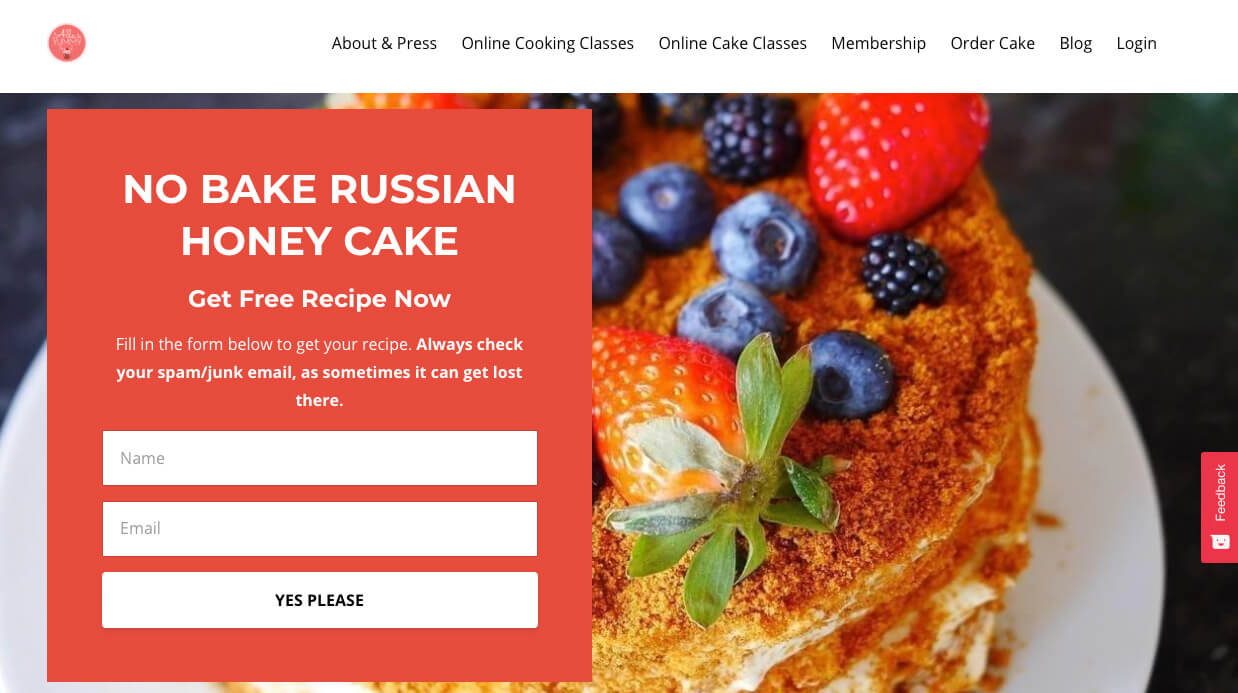 But, as a paid member you get access to a whole lot more.
Alla offers you premium recipes, live cooking classes, meal planning, and the opportunity to be part of her own cooking community.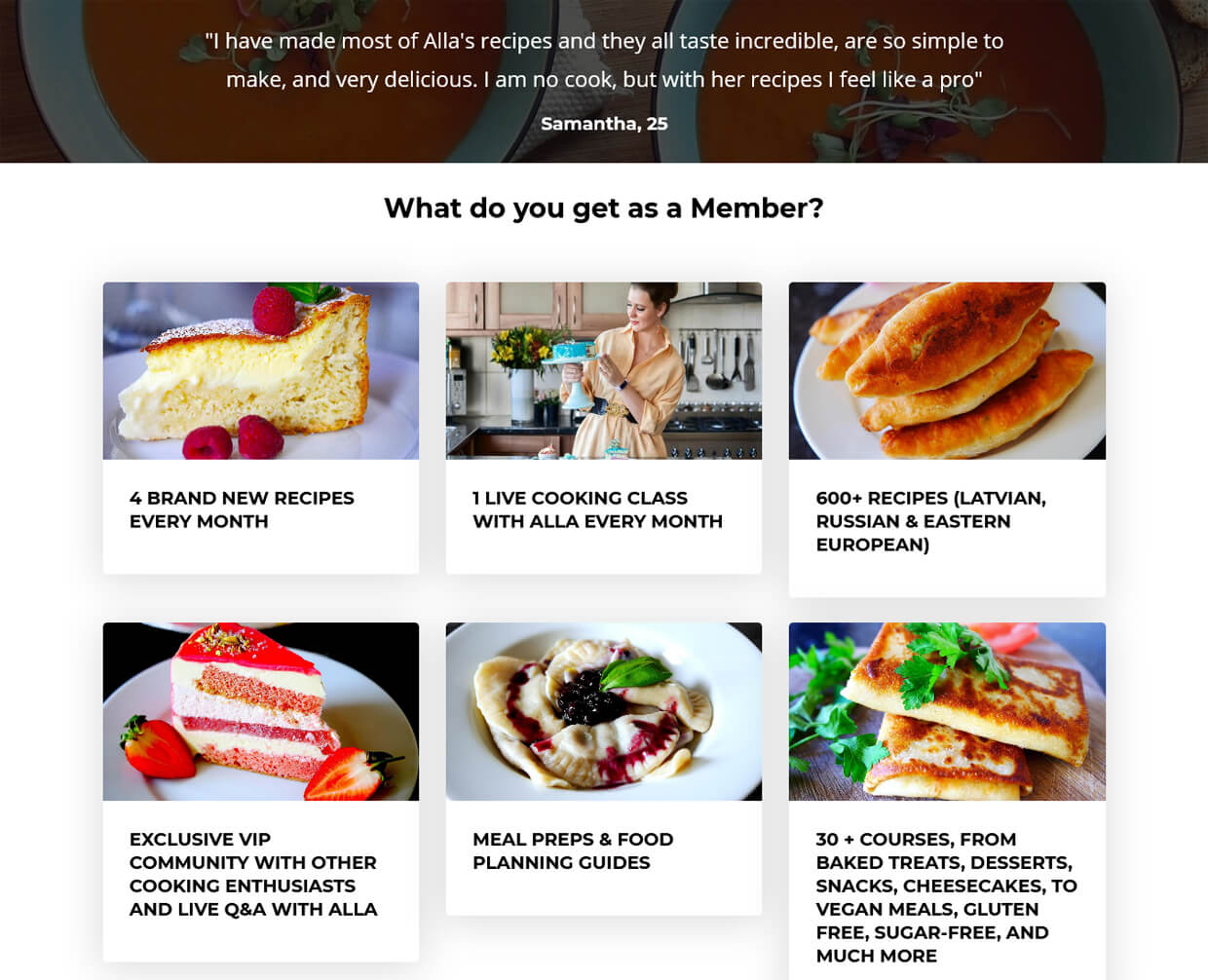 In this case, Alla has found a very effective way to monetize what would normally be a simple blog.
It's a great example of a powerful way to use sales funnels to turn visitors into paying customers.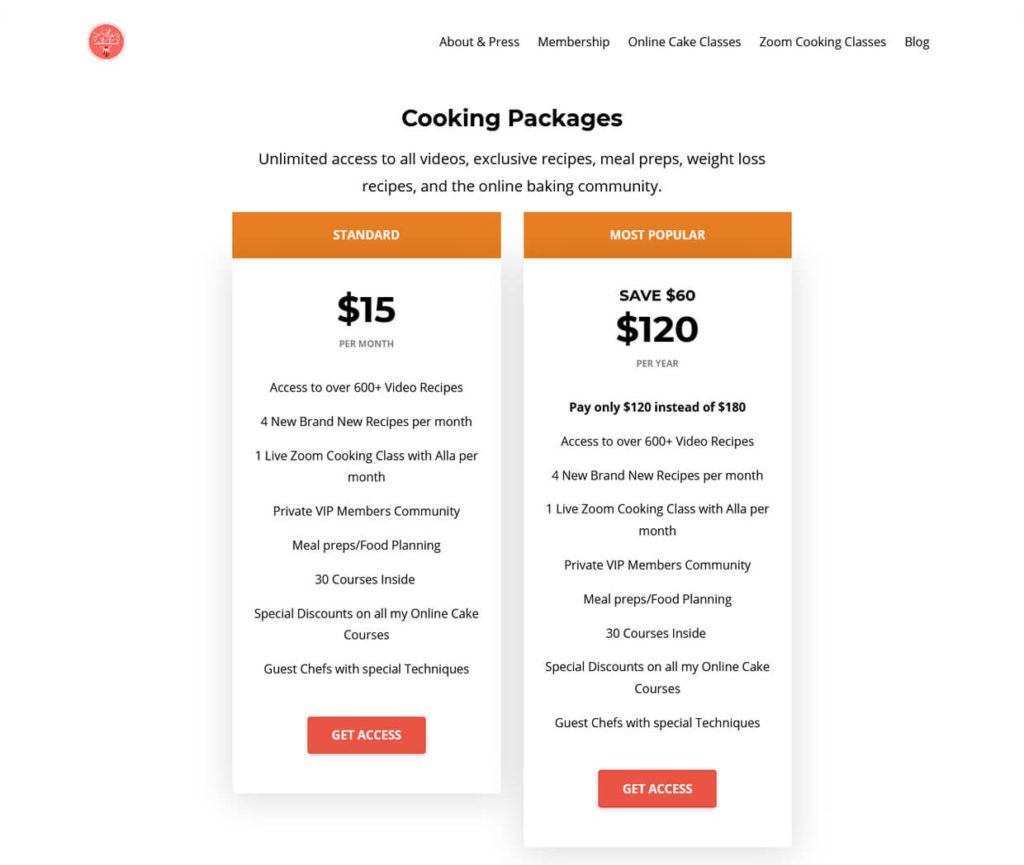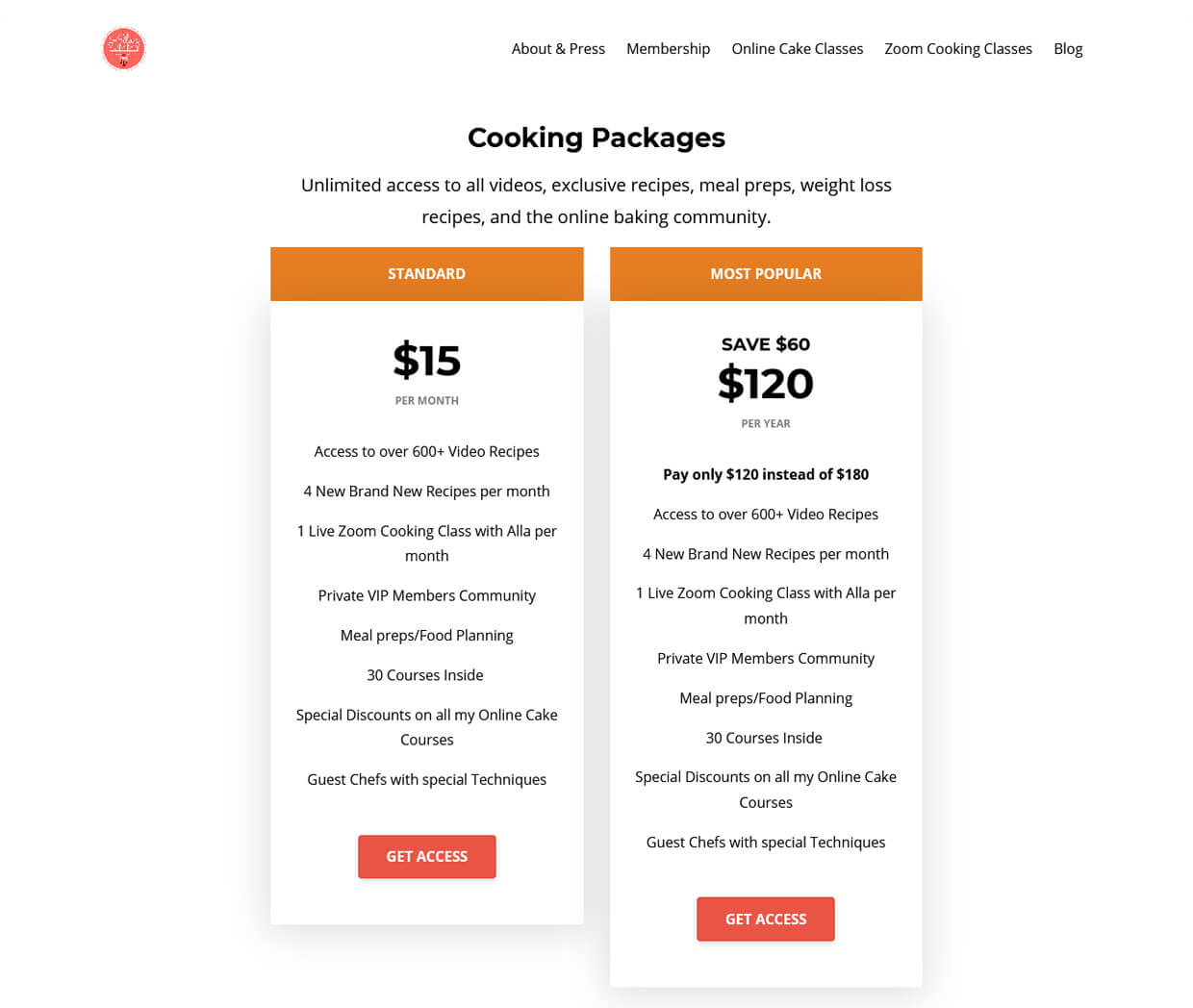 All of these types of memberships funnels rely on offering something for free.
Then, using effective email marketing and marketing automation, they all continue to add value, so that you return to join as a paying member.
5. Webinar Funnel
The Webinar Sales Funnel gets visitors to sign-up and attend a live webinar. This type of sales funnel is great for selling training, coaching, or course related products.
Webinars are now one of the best ways to deliver your sales presentation to anyone in the world. They are typically broadcast live but can be recorded. They can also be paid for or free.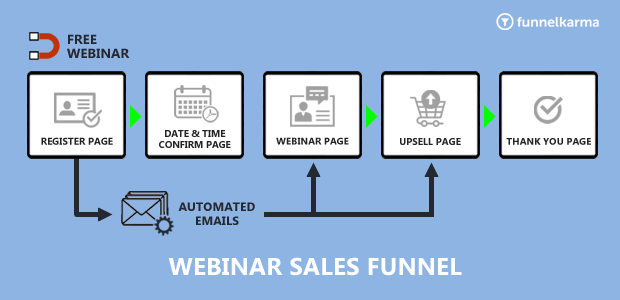 In this kind of funnel, visitors are attracted by a free webinar and land on a registration page. In exchange for a name and email address, they are directed to a date and time confirmation page.
Automated emails remind your new leads of the upcoming webinar. They also help to build interest and excitement.
After viewing the webinar, your leads are offered upsells. This could be a premium paid webinar, or webinar related products of higher value. Leads are then taken to a payment stage (not shown), and finally a thank you page.
If your leads leave during (or after) the webinar, and without buying the upsells, you can reach out to them with emails to woo them back.
As a bonus, you can record a live webinar and resell it again and again using an automated webinar sales funnel. These types of funnels are extremely profitable and work very well for products and services up to $1997.
Webinar Funnel Examples
Returning to the Allas Yummy Food website, here is a good example of one of Allas webinar funnels.
In this case, Alla is offering the opportunity to attend a Zoom class for one of her cheesecake recipes.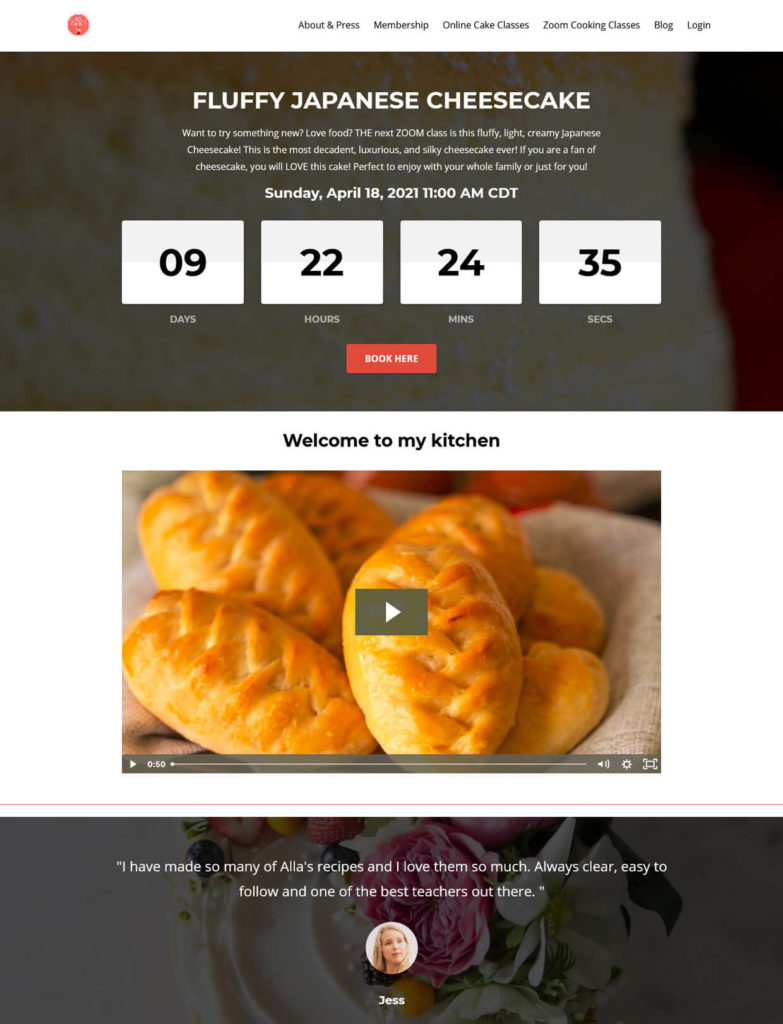 The webinar funnel landing page uses a large countdown timer, with a supporting video, and a testimonial.
A call-to-action (CTA) takes you to a separate registration page so that you can book your place.
Another example of a webinar funnel comes from Salesforce.
As one of the largest customer relationship management (CRM) platforms, Salesforce conducts hundreds of industry leading webinars. As a result, Salesforce is an expert in these types of sales funnel.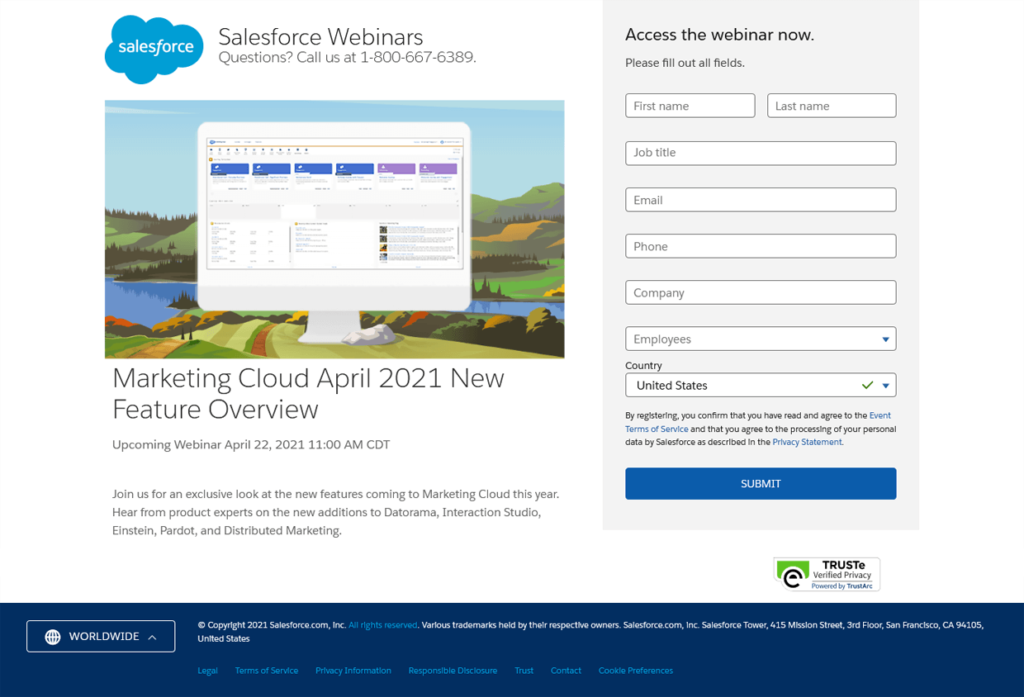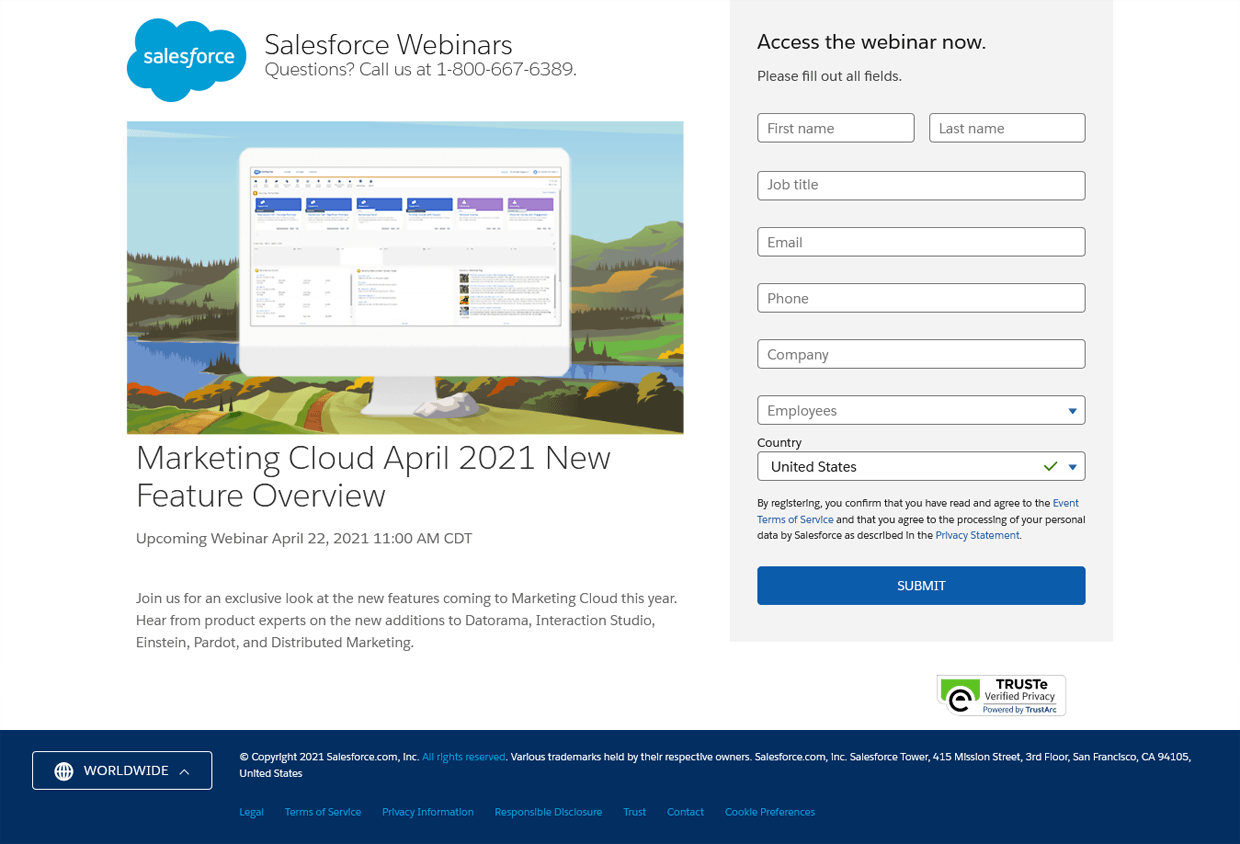 That said, Salesforce use a standard webinar funnel template for every registration. The page includes all the necessary details of the webinar together with a contact form for the registrant.
6. Product Launch Sales Funnel
The Product Launch Sales Funnel builds anticipation before people can buy from you at a specific time. As the name implies, these types of sales funnels are for physical products. But they can be also be used for services.
These funnels are excellent at building a sense of scarcity and urgency to buy your products. Done the right way, these kind of funnels can drive up an insatiable demand prior to launch.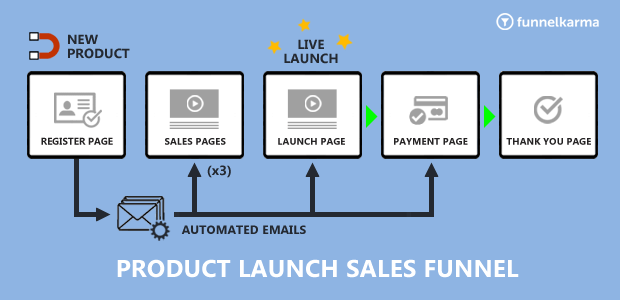 Visitors, leads and existing customers are attracted to a registration page by your new product offer. Here, they register to get exclusive access to watch your upcoming live launch. They are also signing up to exclusively pre-order too.
Shortly after registration, a series of three emails are sent to your registrants. Each email has a link to a sales page with a different pre-launch video for your product. Each video helps to build more awareness, interest and desire for the launch.
The final email is the launch invitation. Here, registrants watch and participate in the live broadcast. This then gives them access to a payment or reservation stage to pre-order and buy your product.
If registrants drop out during the launch, or after watching but before ordering, emails are used to woo them back.
These types of sales funnel work extremely well for limited edition products. For example, Apple and Tesla are experts in using these kinds of funnels for all of their launches.
Product launch funnels also work very well for limited time, or limited access, information products like training courses. In these cases, waiting lists generate leads and create even more demand for when your courses are ready to open.
Product Launch Funnel Examples
For a great product launch sales funnel example, look no further than Harry's. In fact, Harry's used a type of product launch funnel to launch its entire business in 2012.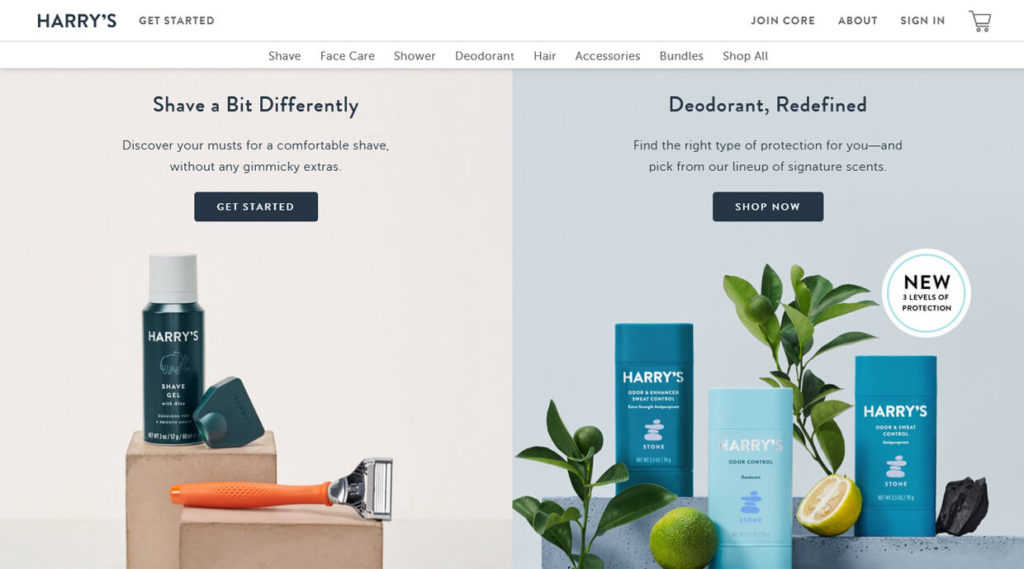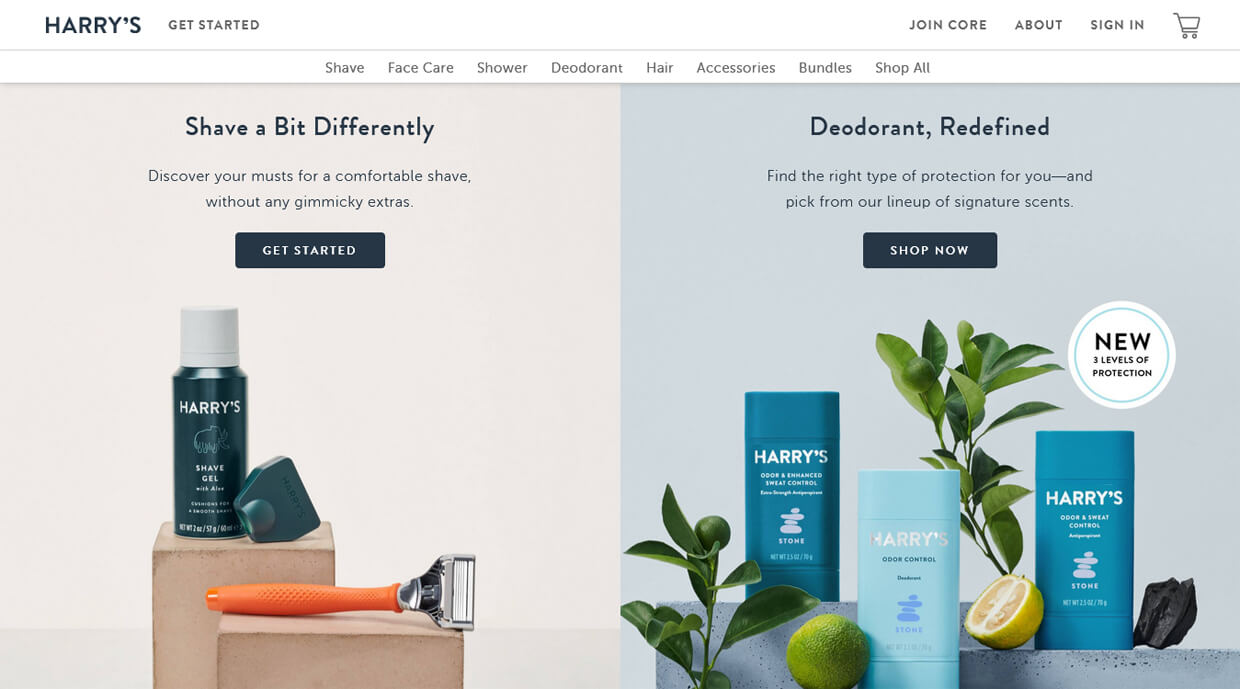 Harry's sells shaving equipment and personal care products via online and retail channels.
Prior to its official launch it generated traffic via social media and advertising. This traffic was then directed to a simple sales funnel landing page with a single email opt-in for them to collect leads.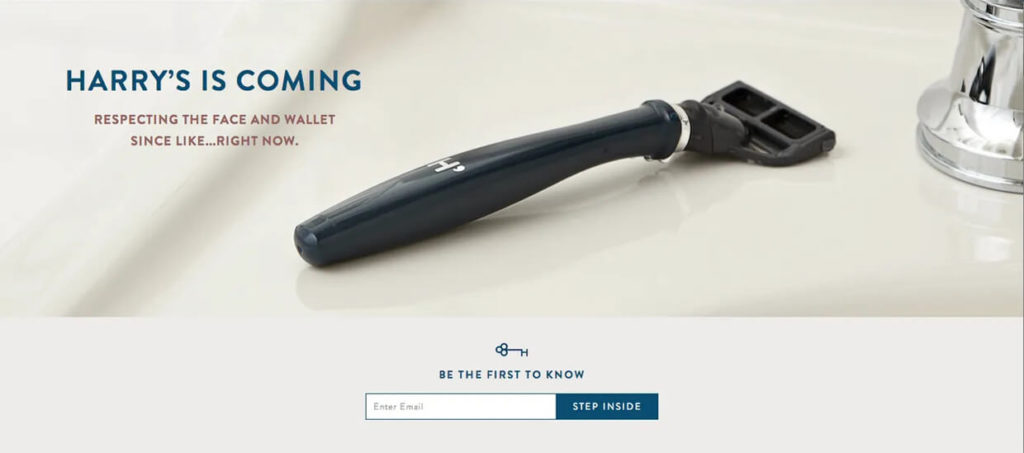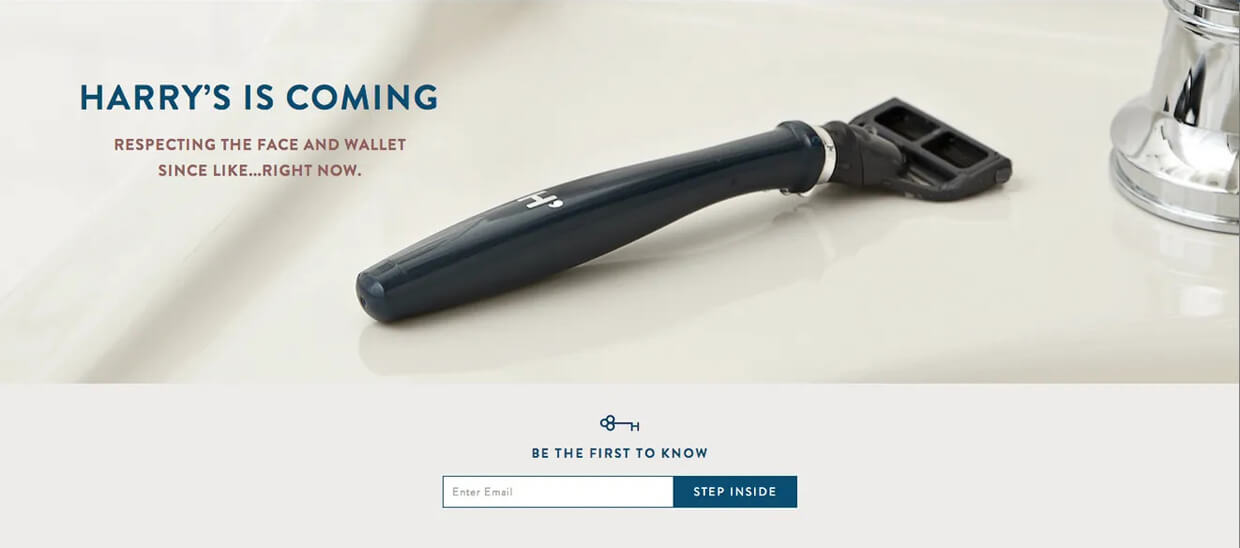 Email marketing and marketing automation was then used to add value to all its leads with offers for its range of shaving products, and its industry-changing subscription service.
7. Consultation Sales Funnel
The Consultation Sales Funnel gets visitors to speak to you directly about your products and services. These types of sales funnels are great for generating leads. They are also a good opportunity to convert visitors into paying customers immediately.
This kind of funnel works for products or services that require a conversation before purchase. For example, information products, personal training, and products with multiple add-ons.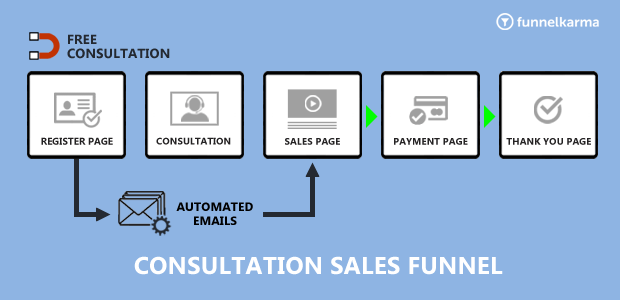 Visitors are attracted to a registration page via the offer of a free consultation. On signing up, a free one-on-one consultation is arranged. Shortly thereafter, you consult with your new lead via phone or a Zoom/ Skype video call.
After the consultation, emails promote your full priced products and services. Each email offer directs new leads to a sales page, and then a payment page for purchase. Emails are also used to offer new paid consultations.
Of course, with this type of sales funnel, you can also convert leads into paying customers during the free consultation.
These sorts of funnels work well at all price levels including higher-ticket service packages up to $1997.
Consultation Funnel Examples
Similar to the other types of sales funnel on this list, when you start looking consultation funnels are all around us too.
For example, here is an example of the consultation funnel used by the home improvement specialist The Home Depot.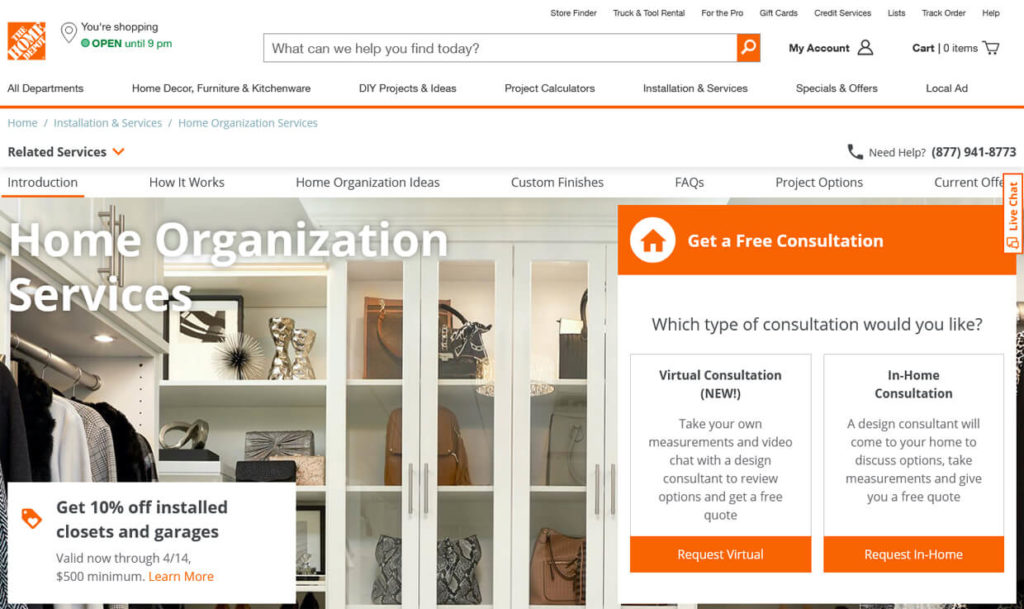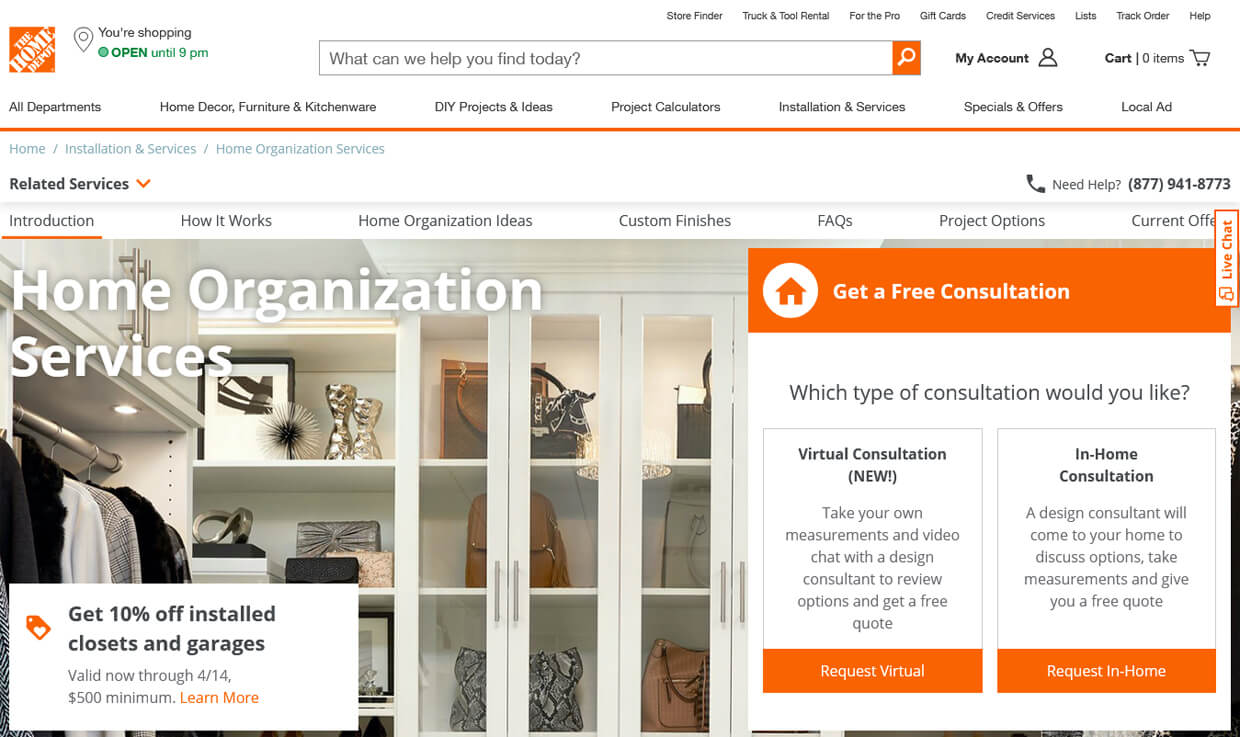 In this case, The Home Depot offer you two kinds of consultation; virtual, or in-home.
No matter which type you choose, you are then taken through several sales funnel stages to give additional information.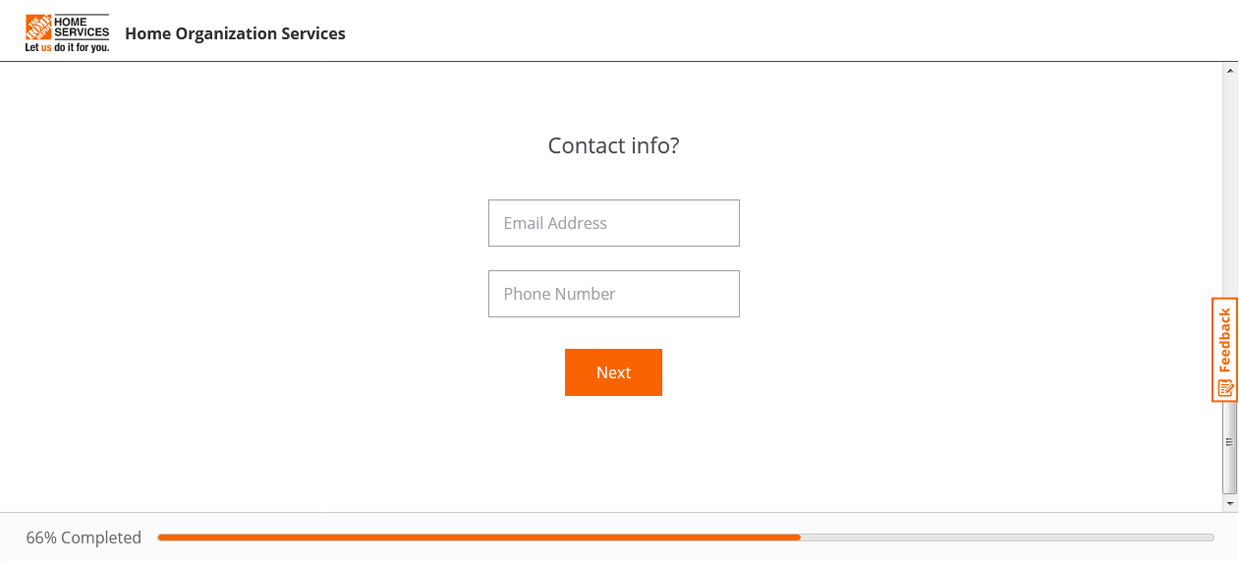 For another good consultation funnel example, let's return to Grant Cardone.
In order to get access to personal coaching from Grant, you are required to reserve time with him via his website.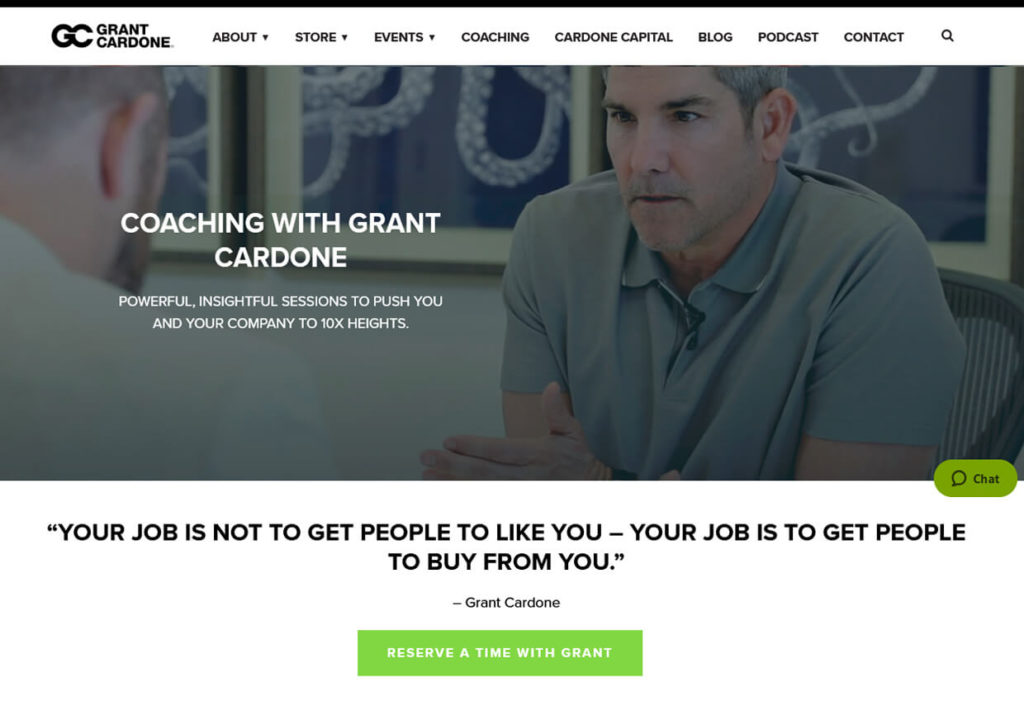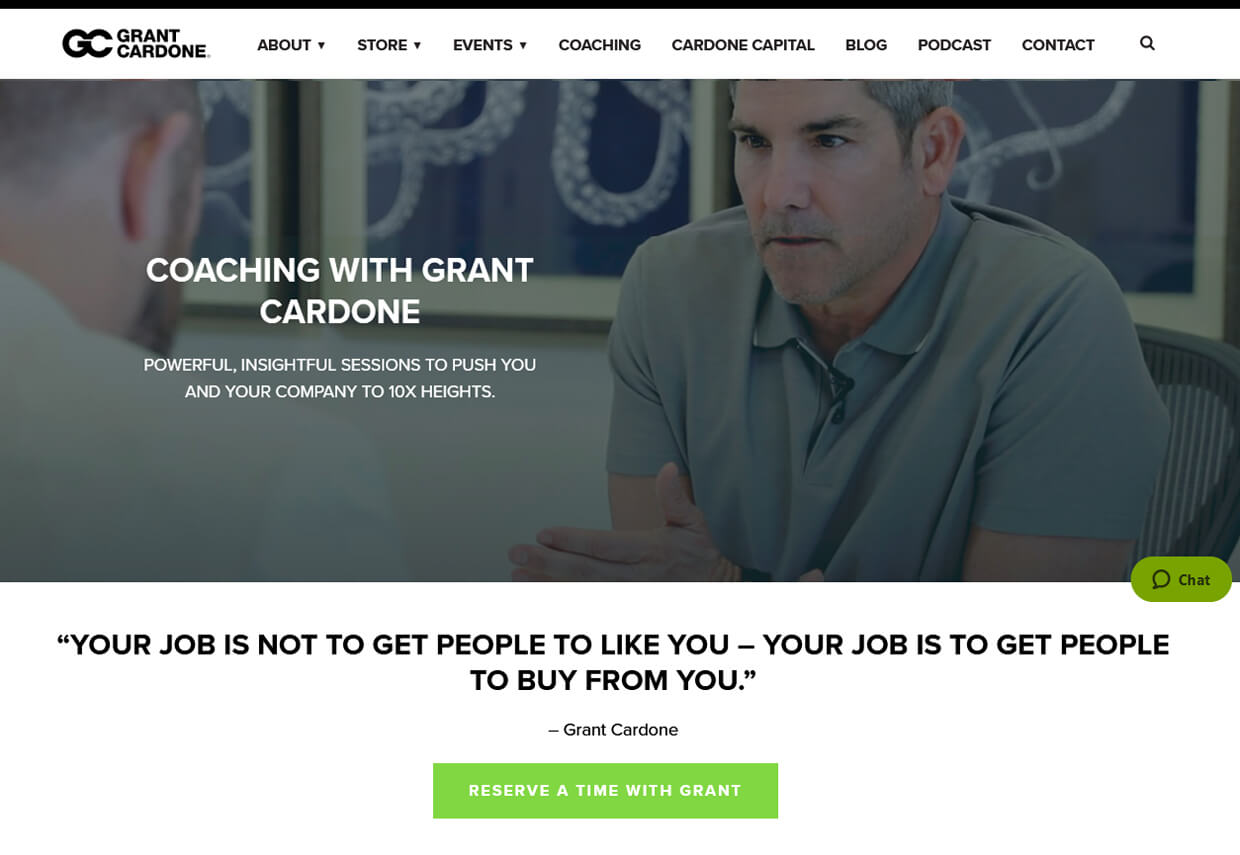 A call-to-action opens a popup requesting two forms of contact information to continue.
As Grant charges $40,000 for just one hour of personal coaching session (yes, you read that right!).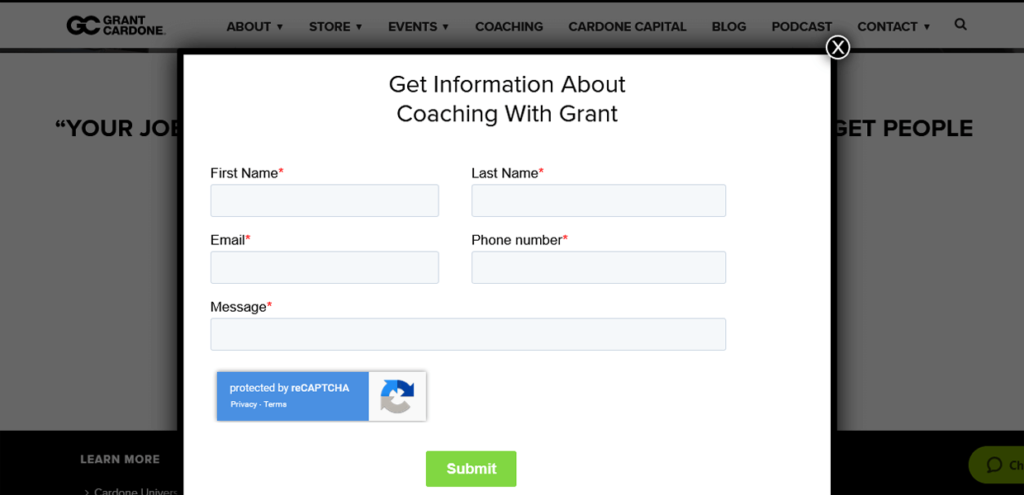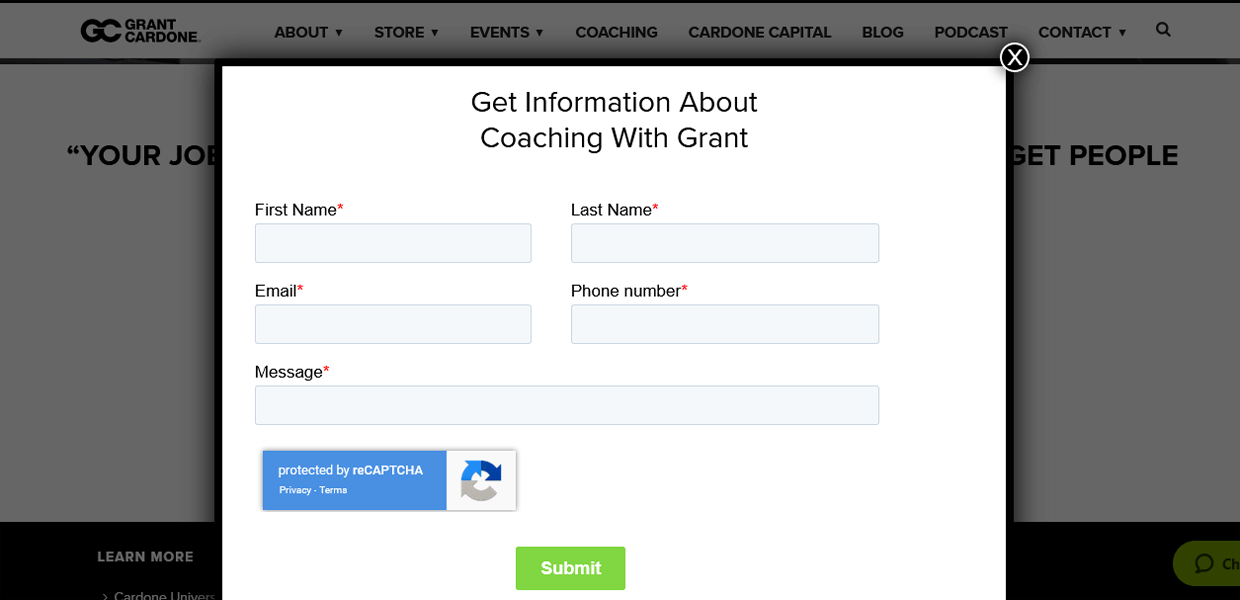 The information you initially give is for his sales team to reach out to you to see if you're a good fit.
When you're ready to go ahead and buy your session, you are directed to his online store.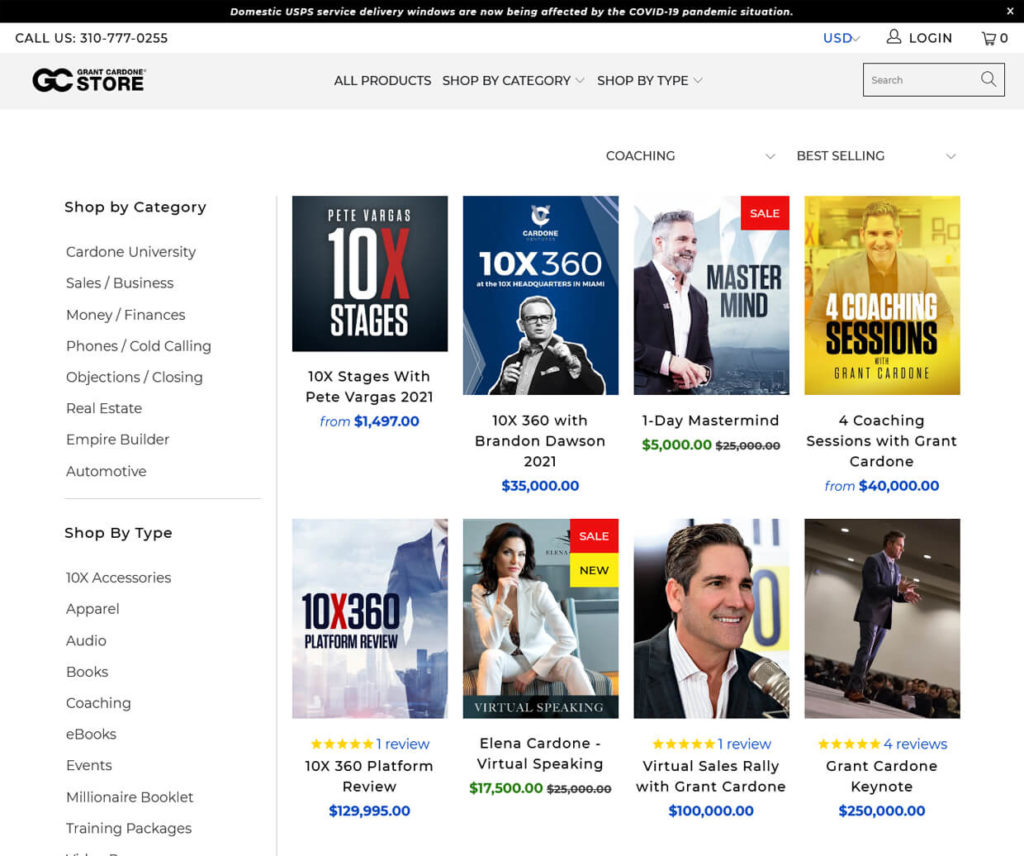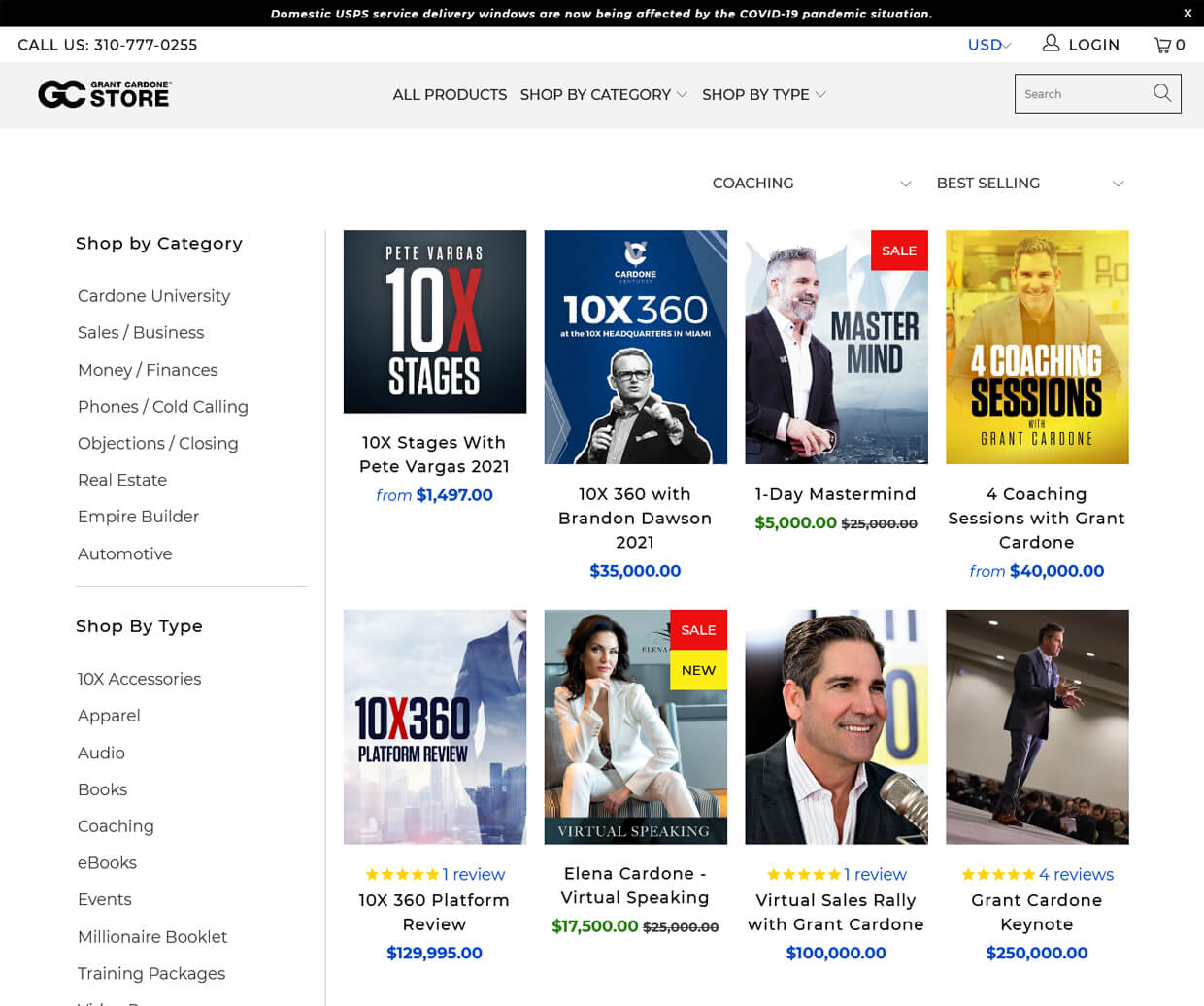 You can then go ahead and purchase your face-to-face session as planned. Grant's consultation sales funnel now receives payment using a standard checkout page.
This type of page is easy to recreate with any good sales funnel software. You just need to connect it you to payment provider of choice (PayPal, Stripe etc).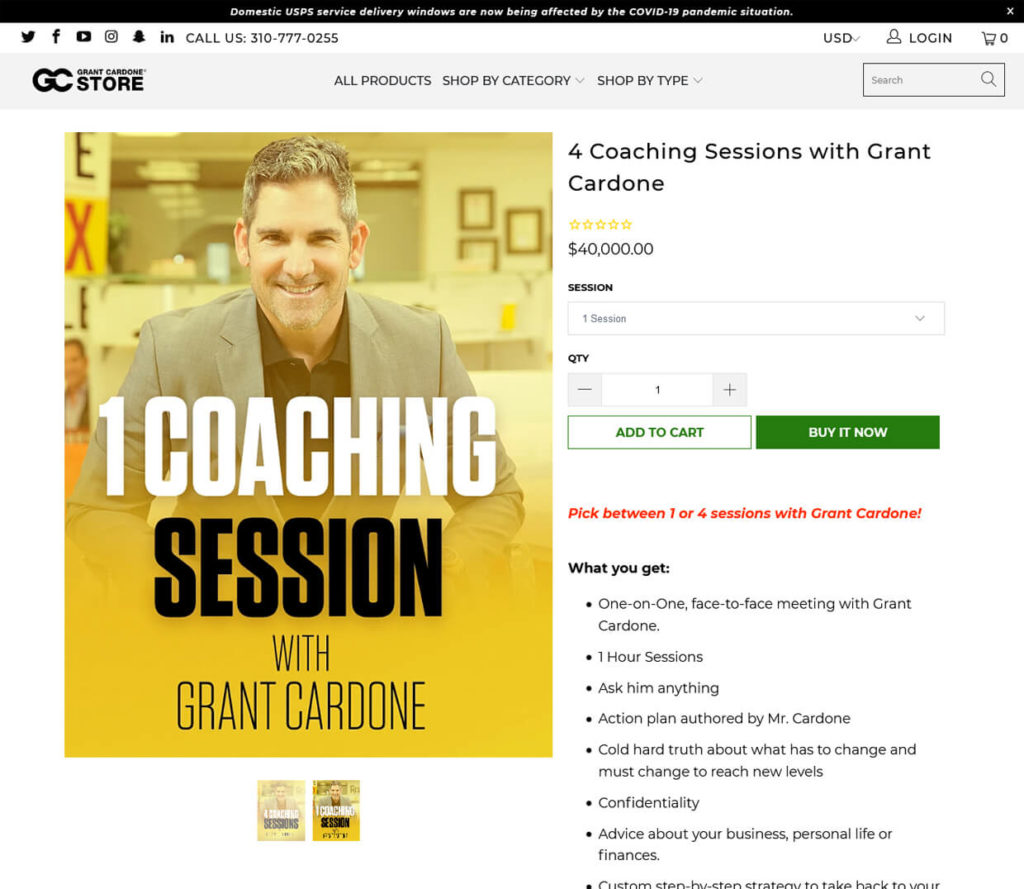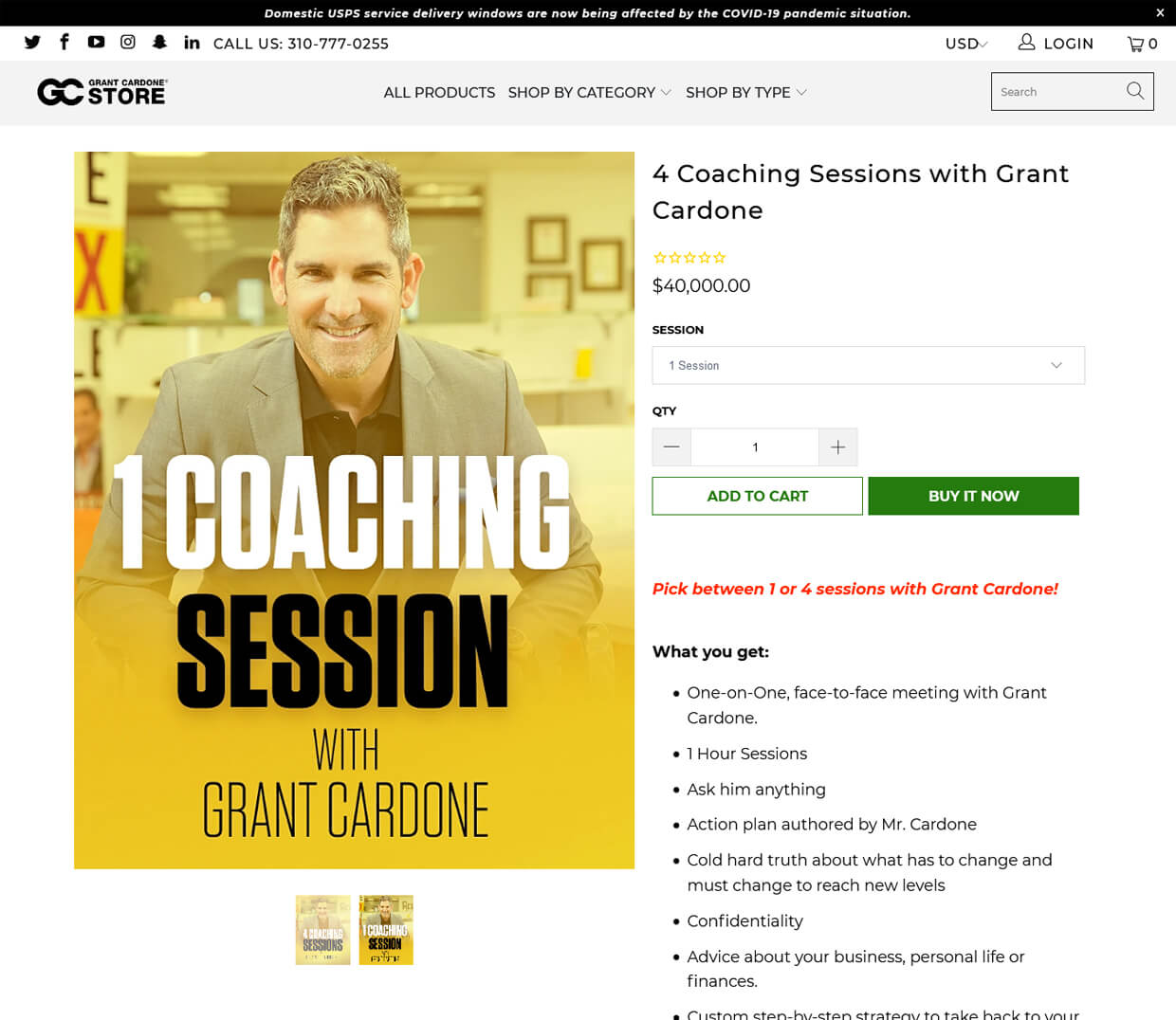 Here is another example of a successful consultation sales funnel. This time from entrepreneur, bestselling author, and leading life strategist Tony Robbins.
Like Grant Cardone, Tony uses the same kind of consultation funnels to sell personal coaching via his website.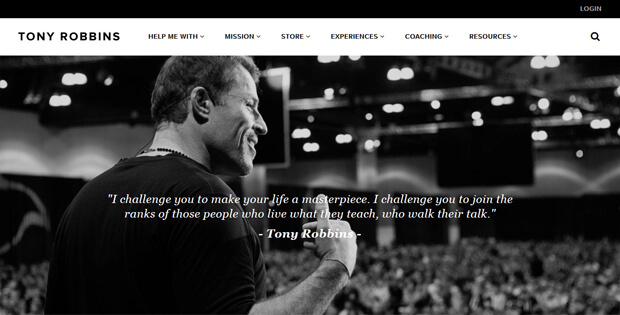 In this case, Tony uses a sales page to offer an introductory coaching session from one of his Results Coaching Specialists.
The sales page is very clear and explains more about his life coaching and expectations.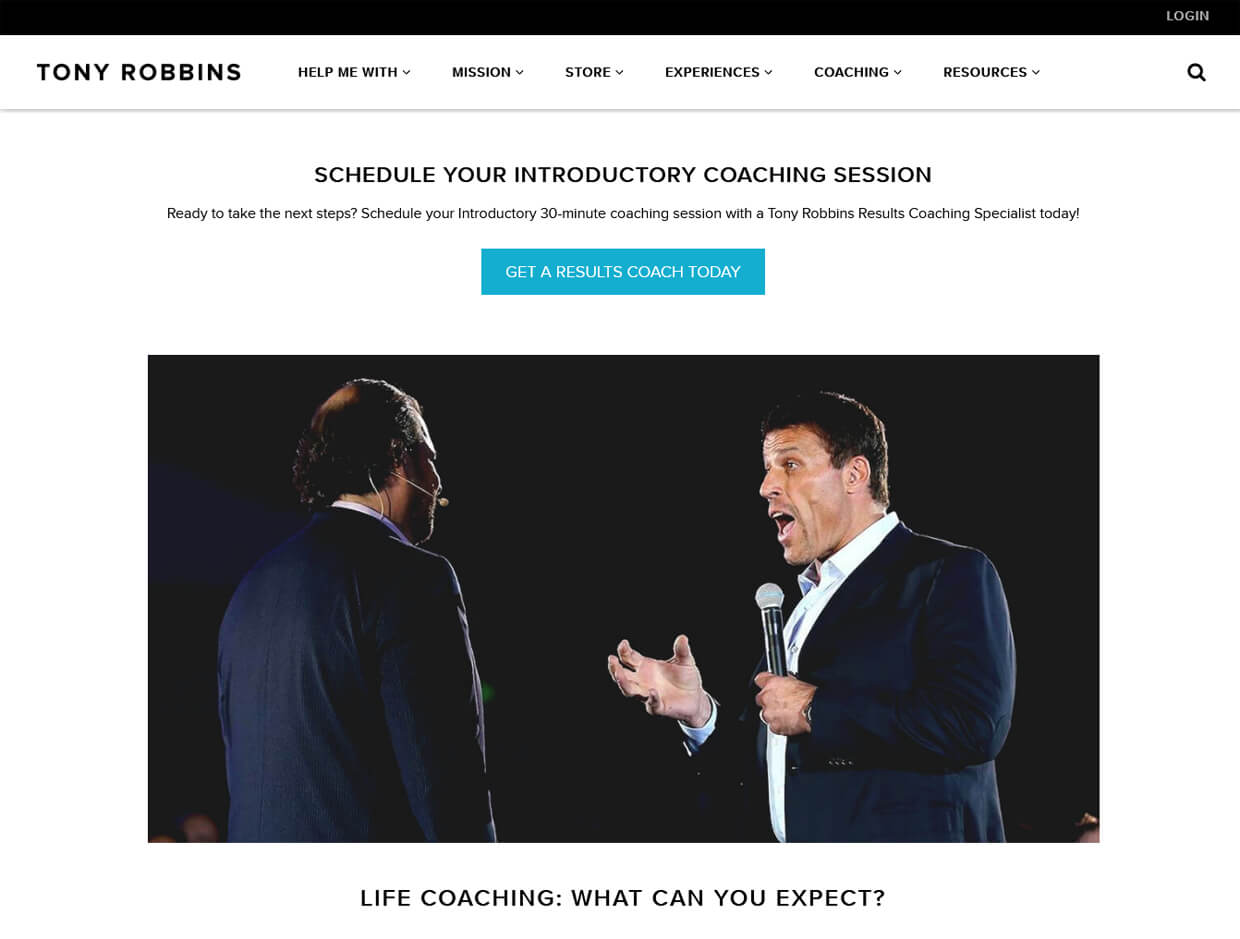 Similar to Grant Cardone, Tony's site uses a single call-to-action to trigger a popup for more contact information.
This information is then used by his sales team to move forward with one of his coaching specialists.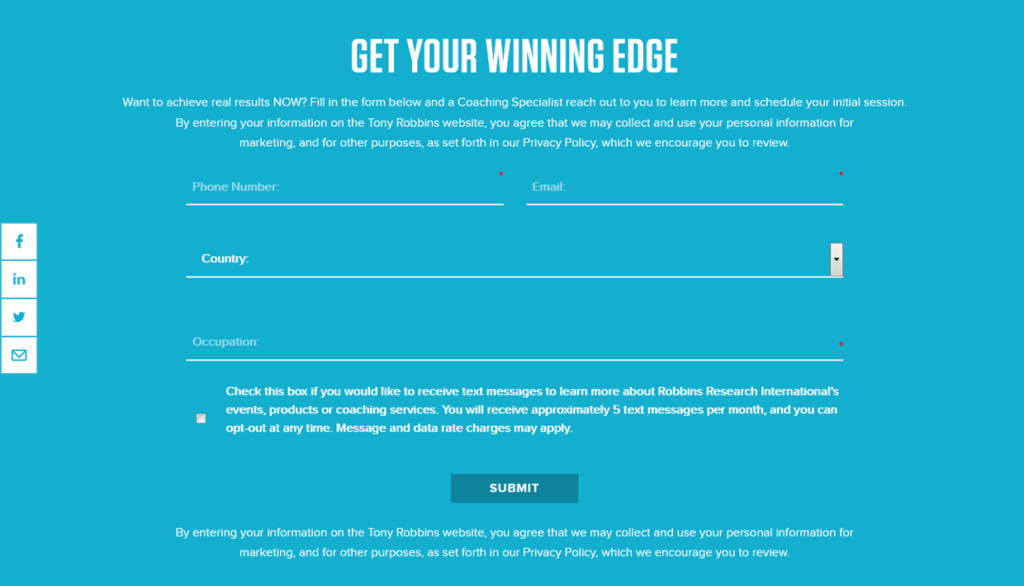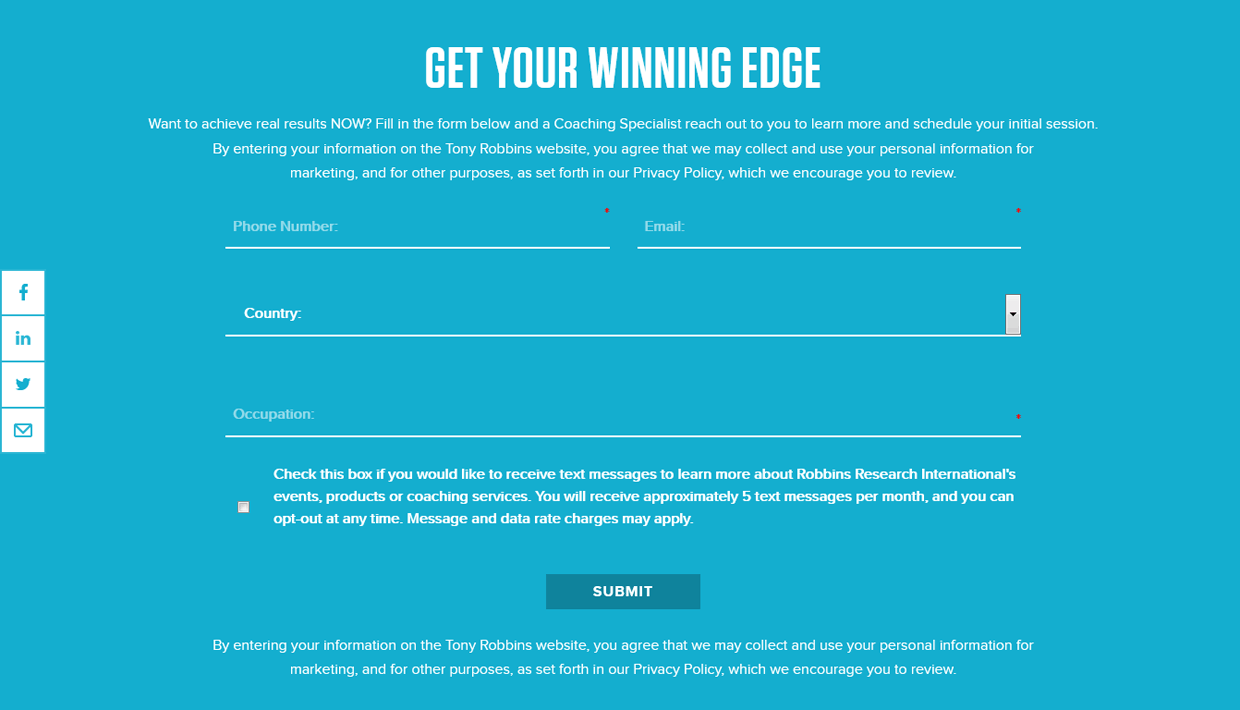 8. High-Ticket Sales Funnel
The High-Ticket Sales Funnel gets visitors to apply before they can buy premium products from you. These types of sales funnels allow you to better qualify your potential clients.
Also called an application sales funnel, high-ticket funnels work best for selling high-end coaching packages, and consulting services over $997. These kinds of sales funnels uses the psychological principle of "the take away sales close".
With a very select offer, it gets rid of objectives, and pre-frames your prospect to the higher cost. It also gets them to prove to you why you should take them on as a client.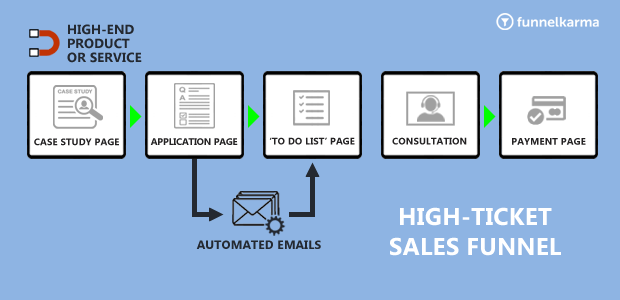 Visitors are attracted to a case study page by a high-end product or service. Here, a video explains the results your clients achieve with coaching from you.
Having watched the video, you then guide them to an application form page. Here, they have to complete a questionnaire to pre-qualify for your services. This helps to increase interest and demand for your service. It also helps you to qualify your leads.
On submitting the application, you guide your leads to a 'To Do List' page. Here, they are instructed to read and watch further resources like:
Videos on what you need to succeed with the coaching
Why your coaching or training is so unique
Further case studies and testimonials from previous clients
Upcoming steps in the process if they are accepted
Once qualified, you contact your client to arrange a phone or Zoom/ Skype consultation call. This is your chance to sell your service or product one-on-one. People who pay thousands of dollars for something usually want to talk to real person.
After your consultation, you guide your new client to a payment stage. Of course, payment can also be done by phone, or during the consultation if the client prefers.
High-Ticket Sales Funnel Example
Grant Cardone's consultation funnel (shown earlier) is clearly a very high-ticket sales funnel for high-end clients. But, in terms of the initial online application and the to-do list normally associated with a high-ticket funnel, it is not similar. Instead, in Grant's case, his consultation funnel relies purely on his direct sales team.
So, for a better example of a high-ticket sales funnel with an initial application, let's take a look a funnel created by Russel Brunson, the co-founder of ClickFunnels®.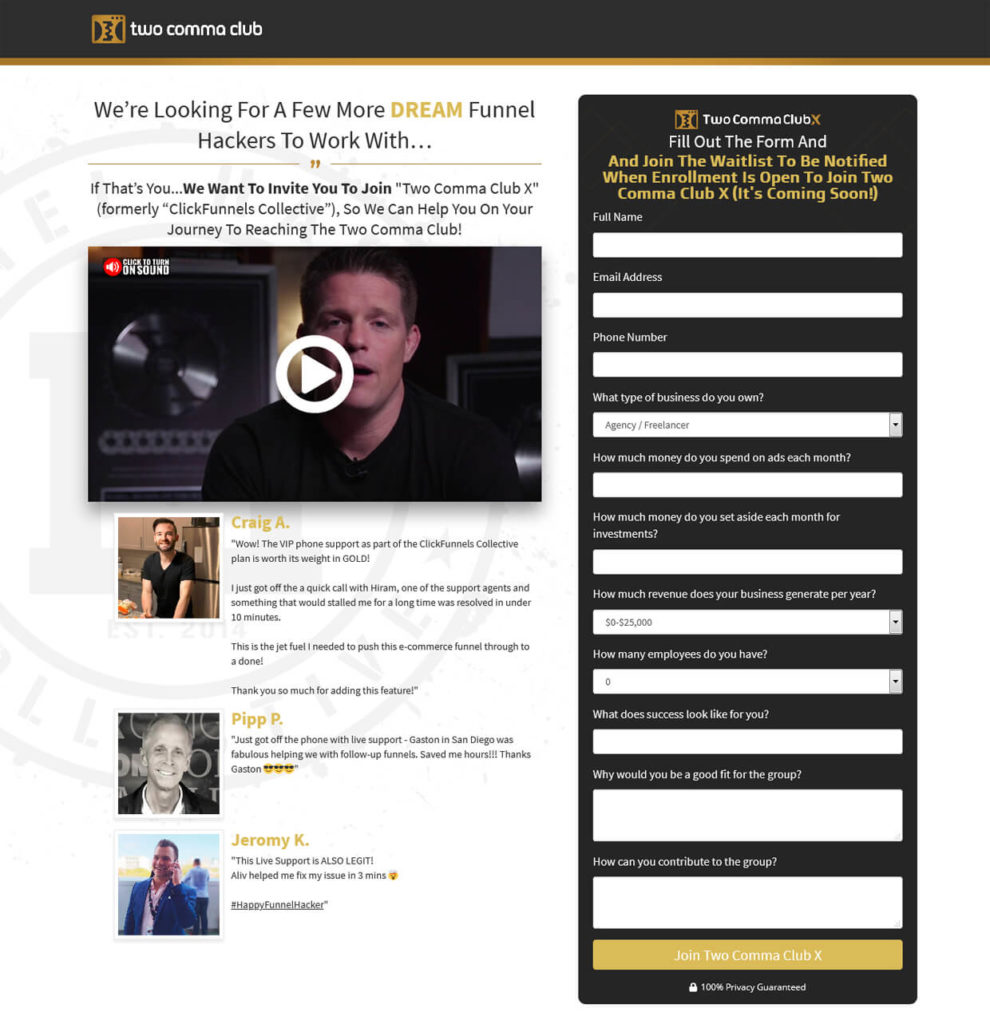 The Two Comma Club is a community of online entrepreneurs who have made over one million dollars using ClickFunnels®. It offers the highest level of sales funnel coaching you can find. And, in order to join the club, you need to apply.
For this Russell uses one of his own type of sales funnel templates, with introductory video and testimonials. It also include a much more detailed application form for his sales team to review.
Following the online application, sales consultations calls are used as costs to join range from $1997 to $14,997 depending on the level of coaching you want.
At the end of the day, all of these types of sales funnel can help you succeed online.
As I have shown here, these funnels have already helped some of the best entrepreneurs to have more success. Therefore, I know they can help you too!
Types Of Sales Funnel FAQs
How Many Types Of Funnels Are There?
There are many types of funnels in digital marketing. From simple lead funnels to webinar funnels, and product launch funnels to high-end consulting funnels, there are funnels for everything. Different types of sales funnels have different purposes like to give information, sign-up for an event, or make a purchase.
Different people refer to these types of funnels with different names so there are some overlaps in what they are called.
But, to name just a few. Here's a list of many types of funnels:
Lead Generation Funnel
Lead Magnet Funnel
Free-Plus-Shipping Funnel
Squeeze Page Funnel
Reverse Squeeze Page Funnel
2-Step Tripwire Funnel
Self-Liquidating Offer Funnel
Sales Letter Funnel
Video Sales Letter Funnel
Continuity or Membership Funnel
Webinar Funnel
Auto Webinar Funnel
Podcast Funnel
Product Launch Funnel
Survey Funnel
Content Marketing Funnel
Ask Campaign Funnel
Application Funnel
Bridge Funnel
Consultation Sales Funnel
Live Demo Funnel
Invisible Funnel
Homepage Funnel
Hero Funnel
Storefront Funnel
Daily Deal Funnel
High-Ticket Sales Funnel
Summit Funnel
Cancellation Funnel
What Is The Best Type Of Funnel?
The best type of funnel is the type of sales funnel that turns a visitor into a paying customer. The best funnel also maximizes conversions and sales. Funnels get visitors to give information, sign-up for events, or make purchases. So, the best type of funnel is the one funnel that does this job best for your specific business.
What Are The Stages Of A Sales Funnel?
There are six stages of a sales funnel. Four funnel stages are from the AIDA model of awareness, interest, desire, and action. Two more sales funnel stages include retention, and repeat action (or advocacy).
What Are The Two Types Of Marketing Funnel?
In today's online digital world, the 'two types of marketing funnel' is actually a misnomer. The 'two types of marketing funnel' refers to the two main types of funnels that have historically been used since the creation of the AIDA sales model in 1898.
This includes the traditional marketing funnel that focused exclusively on marketing. It also includes the traditional sales funnel, which was used separately to close the sale.
However, in digital marketing today, every type of online funnel is now generally classed as a 'sales funnel' instead of a marketing funnel.
Even if the purpose of the funnel is more marketing than sales, the ultimate goal of every funnel is a financial one. That is to guide a visitor into a buying decision and, therefore, increase sales. Hence, the name sales funnel.
How To Choose Which Types Of Funnel To Use?
Many people make sales funnels complicated and confusing. But they don't need to be. Choosing which type of sales funnel strategy to use is easier than you think.
The truth is, these 8 types of sales funnel will work for any business. Using these simple sales funnel pages as basic building blocks, you can build any type of funnel you need.
To make it easy for you to choose a type of sales funnel, here are three simple steps to remember:
Ask yourself why do you need a sales funnel and what is its goal? Do you need more leads, clients, or sales? Do you need to raise awareness for a new launch or opening? Or do you need people to sign up for an event or webinar?
Look at these 8 types of sales funnels and see which ones look similar to what you're trying to do. One or two will stand out.
Check out the ecommerce businesses from others who are doing what you want to do. If these people are successful, they will be using sales funnels. Now, look at the types of sales funnel they have and use them as models to get started.
If you do your homework right, you'll find that your competitors' funnels will be one of these 8 main types.
Simply follow these easy steps and you'll have a great funnel with lots of benefits. Better still, you will save yourself a lot of time and money as you grow your business.
Can You Combine Multiple Funnels?
The short answer: Absolutely yes!
Combining multiple or different types of sales funnels is where their true power lies. It's like bolting an extra few engines onto your rocket ship.
As you build you email list, you can use multiple sales funnel types for various stages of your customers buying journey.
For example, if you sell informational products or services, you can use a free-plus- shipping, or a self-liquidating funnel to get customers. Then you can guide these paying customers through a continuity funnel for regular monthly access to premium training.
Or, you can add on a free-plus-hipping sales funnel to a free webinar funnel. For example, if you have a book or product that is mentioned in your webinar. Sometimes customers need a lot of nurturing to start buying from you.
With multiple types of sales funnels set up, you can use different funnels for visitors and leads that leave before buying.
Often one funnel might not convert for one customer. But, guiding them down an alternative funnel will get you the sale instead.
Where To Find These Types of Sales Funnels?
All of these 8 types of sales funnels can be easily created using online sales funnel software, also known as a sales funnel builder.
The best bit, sales funnel software already have ready-made templates for many funnel types. All you have to do is pick the type of funnel you need, choose a template and edit it for your business.
Depending on the type of funnel you need you actually have two choices.
You can build your funnel with dedicated sales funnel builder software that has email marketing and marketing automation already included.
Or, you can use a landing page builder to create your sales funnel pages. Then, you just need to integrate your favorite email marketing software or marketing automation provider. All of the top landing page builders will allow you to do this very easily.
To help you get you started, here are some of my funnel building software guides:
Nearly all of these builders have free trials so you can find the one you like best. It's that easy to get started and create the kind of funnel that's right for you!
For examples of some of the best types of sales funnels used by the most successful companies, check out some of my step-by-step sales funnel examples.
You will see how these multi-million dollar businesses use EXACTLY the same types of sales funnel as the ones in this guide.
Disclosure: This content is reader supported, which means that if you click on some of our links then we may earn a small commission at no cost to you. You can read our disclaimer for more info.
Want To Learn More About Sales Funnels?
Get Free Sales Funnel Tips, Examples, and Other Resources To Help You Build A Business And Lifestyle You Love.